Last Updated: October 12, 2022
The Beringer White Zinfandel is an award-winning white wine from Napa Valley. Crafted with crisp and refreshing fruit flavors, the Beringer White Wine is a sweet and enjoyable sipper for various occasions and food pairings. 
That's why…
In this Beringer White Zinfandel review, we look at why this wine is one of America's best White Zinfandels and why you should consider it for your social occasions.
What Is White Zinfandel?
Zinfandel, also known as Primitivo, is one of the popular varieties grown in Northern California. While the Zinfandel grapes typically produce red wine, the Sutter Home Winery pioneered in 1972 the making of White Zinfandel by removing the grape skin immediately after crushing.  
Beringer is a Napa Valley winery established in 1876 when Jacob and Frederick Beringer bought 215 acres in St. Helena, Napa Valley. The Beringer vineyards are California's longest continuously operating winery.
Beringer is also the first and only winery to have a red and a white wine win a top spot in the Wine Spectator, #1 Wine of the Year accolade. 
The Beringer Main & Vine wine series started in 2016, and their White Zinfandel is one of the best under $10 wines due to its sweetness and fresh fruit flavors. 
It is a semi-dry wine that pairs wonderfully with various meals. It also has a low tannin level and a 10% alcohol content, making it attractive to a broad range of consumers.
---
Beringer White Zinfandel Tasting Notes
White zins are typically light-bodied with low tannin and alcohol percentage levels. They can also be medium-dry or sweet with berry and citrus flavors that make the wine bright and refreshing.
In this Beringer White Zinfandel wine review, we'll go through the taste profile in a few simple steps:
Appearance
White Zinfandel is also known as blush wine or Zinfandel Rosé due to its pink-colored hue. When you observe it through a wine glass, it is light with some sheeting action at the rim when poured and has a slight effervescence. However, the wine leaves a residue, and I recommend decanting it when serving.
Aroma
The nose is sweet from the berries, with some mango and subtle hints of mint and candy apple. While this wine has lots of ingredients, the fruitness is the most pronounced aroma. 
Taste
The wine is as sweet as one would expect, with dominant flavors of pineapple, stone fruit, and lychee. You'll also get peach, cantaloupe, and apricot notes in the taste profile. 
However, this White Zinfandel is outstanding due to its lemon and grapefruit flavors that give it a zesty and refreshing taste. 
Wine Texture
The Beringer White has a light feel with a creamy texture in the mouth and a slightly acidic taste at the end. It has a long finish typical of Zinfandel wines with some nutty flavors on the tip of the tongue and notes of cocoa and mango on the back palate.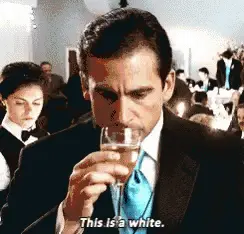 Verdict
The Beringer White Zinfandel is an excellent summer-time sipper with a sweet and refreshing fruity taste. It appeals to novice wine drinkers and is flexible to pair with cookouts and fun meals.
Fun Fact: Improve your wine-tasting ability by joining a wine club such as the gold medal wine club!
---
Beringer White Zinfandel Wine Review Food Pairing
As a white wine, the Beringer Main & Vine White Zinfandel pairs well with white meats such as chicken, seafood, and pork. It is also a sweet wine with low astringency for serving with acidic and spicy foods and meals with crispy flavors. 
Other food pairings you can consider having with this wine include creamy and fruity desserts, lemon cakes, spicy snacks, and various cheese bitings.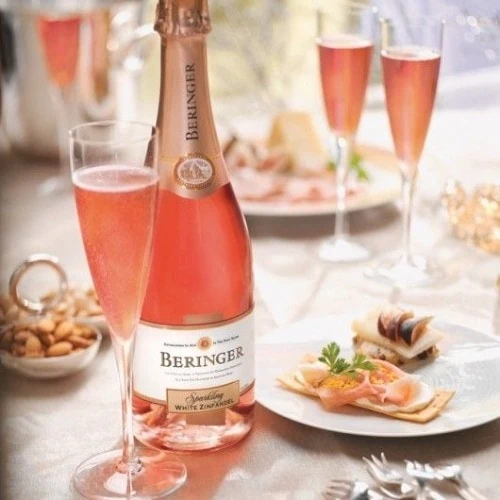 Fun Fact: White wine appears to be one of the most paired wines with food. If you like pairing your white with food, then try wine pairing with lobster for a sumptuous meal!
---
Beringer White Zinfandel Review Alternatives
White Zinfandels are excellent wines because they are sweet and have low alcohol and calories. However, California zins also come in various styles, from light to full-bodied with different acidity levels. For my Beringer White Zinfandel wine reviews, I provide some great alternatives for you to try out. 
Sutter Home White Zinfandel

This White Zinfandel is the original White zin that Sutter Home Winery in St. Helena developed in 1972 and shares many similarities with our Beringer wine. The wine is an award-winning off-dry rosé with red berries, stone fruit, and apple notes. 
It also features pronounced bubblegum and cotton candy elements that make it sweeter than the Beringer White zin. 
Adorada Rosé 2017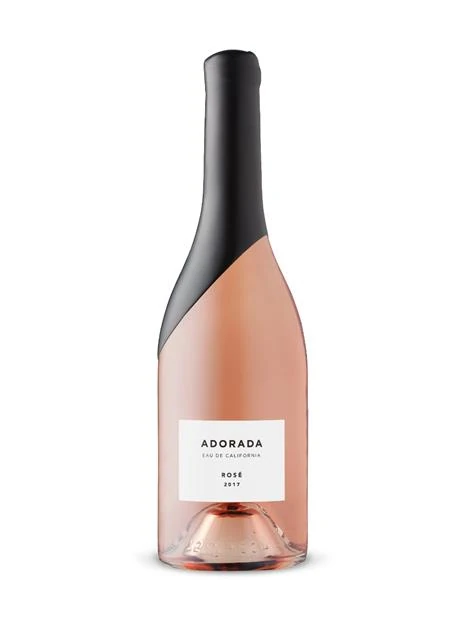 Adorada Rosé 2017 is a popular California dry rose produced by winemaker Margaret Leonardi. The 2017 vintage tastes better than any other year, and it costs slightly under $30 per bottle. The rosé pairs well with shellfish, spicy foods, and fruity desserts. It has red fruit, peach, apple, and honey notes on its taste profile.
---
General Impression
Great Boons
Exciting taste profile with sweetness and slightly acidic notes
Pairs well with a variety of spicy foods, white meats, and fruity desserts
Sweet with a low 10% ABV makes it a favorite among newbie consumers
Slight fizziness makes it a refreshing wine for hot days
Huge Let Downs
Slight astringency at the end of the long finish
Leaves a residue at the bottom of the glass
The wine does not pair well with flavorful dishes
Taste Test: Did you know that aside from wine is mead? We bet you have an idea of what the latter is but not as much compared to the former. Our comparative article could shed some light on this interesting topic. Our post is located here -- The Right Choice Between Wine vs Mead.
---
Frequently Asked Questions
Is Beringer White Zinfandel sweet?
Yes, the Beringer White Zinfandel has low acidity levels with tropical tree fruit taste notes that make it sweet and exciting. It also has a creamy bittersweet finish with nutty and cinnamon spice flavors that add to its dynamic taste profile. 
---
Conclusion
I hope my Beringer White Zinfandel reviews have given you a complete understanding of this wine. Overall, it is an excellent summer sipper with a sweet and tropical fruit flavor that makes it appealing to new and seasoned wine consumers alike. 
Additionally, it goes well with various spicy and fruity dishes and desserts. I recommend serving it chilled in medium-sized glasses to enjoy its full flavor and aromatic profile. 
The Beringer White comes at a fantastic price to bulk buy for social occasions such as weddings, cookouts, and family gatherings.