Last Updated: October 11, 2022
Getting a wine cooler can be pretty tough, especially when you don't know what its components are for. 
When you're in an appliance store and the seller mentions words like thermoelectric units, insulation, double-paned glass, and much more, it's normal not to understand.
Are you lost, now?
No worries. That is exactly why out of the 12 bottle wine cooler reviews, this is the one you can be sure to discuss all the crucial factors. 
Our best-reviewed product is the Ivation 12 Bottle Compressor Wine Cooler, it covers all of the requirements for an ideal wine fridge, read further and find out why!
The 5 Best 12 Bottle Wine Coolers Reviewed
1.
Ivation 12 Bottle Compressor Wine Cooler
- Best Overall
This model is a compressor-based wine cooler weighing only 37.5 pounds (17 kilograms) and has the dimensions of  9.92 x 17.72 x 31.18 inches (25.20 x 45.11 x 79.20 centimeters).
The Ivation 12 Bottle Compressor Wine Cooler is vibration and sound-free so you are safe from noise irritation and your bottles are safe from sediment disturbance. 
It uses a digital adjustment display where you can turn on the energy-efficient LED light that illuminates your curation safely, and adjust the cooling temperatures. 
Because of its compressor unit, this cooler has superior insulation to maintain stable environments for your wines. You can set it to temperatures ranging 41°F to 64°F (5°C to 18°C), perfect for storing both red and white wines and good enough to cool specialty wines. 
It also features the Fahrenheit or Celsius option for a more preferable temperature adjustment unit. And you can lock in these temperature settings with its lock button to make sure you don't accidentally adjust the cooler's temperature. 
The cooler's internal temperature won't be affected by the external temperatures, this is with the help of its tiny built-in fan that helps circulate air evenly and keep the temperature consistent. 
With its double-paned right hinged glass door, your collection is properly chilled with interior insulation and safe from tannin and flavor damage due to harmful UV rays. It is also condition ideal because of its reinforced rubber gasket that seals the cooler airtight. 
This comes with 6 sliding and easily rearrangeable wire shelves where you can store standard designed bottles of 750 ml. 
It is a freestanding model, which means that you can place this cooler also anywhere! That's because its vent is placed in the front, underneath the door, so whether you put it in free space, or under a countertop, you're free from overheating.
The model powers at 120 volts/ 95 watts/ 1.2 amperes. It is power-saving and eco-friendly
Pros
Power saving

Eco friendly

Freestanding

Shelves are both sliding and rearrangeable

Has a built-in fan for air circulation

Double-paned glass food

Anti UV

Interior insulation

Temperature settings include choosing between Fahrenheit and Celcius 

Digital display

Vibration and sound free
Cons
Can only chill standard sized and narrow shaped wine bottles

The interior LED light only stays on for an average of 10 minutes
Takeaway
This cooler is overall the best choice for you if you drink all sorts of wines in standard-sized bottles. It is single zoned so you can only store one type of wine, but the temperature ranges allow you to store all wine types, separately though. 
---
2.
Koolatron WC12DZ Dual-Zone Thermoelectric Cooler
- Best Budget Buy
The Koolatron WC12DZ is a dual-zone thermoelectric cooler with dimensions of 10 x 20 x 26 inches (25.40 x 50.80 x 66.04 centimeters) and a weight of 30.2 pounds (13.70 kilograms).
Its dual-zone component allows you to store two wine types at the same time. Red, white, and specialty wines all have their required temperature ranges that are barely close to each other, but this separately controls the temperature zones. Each zone holds approximate 6 bottles
This is a freestanding model that can be put anywhere, as long as it is near a power source. You can put it under kitchen counters and free spaces without the threat of it overheating. 
Its thermoelectric cooling allows the cooler to chill at temperatures ranging from 46 to 66°F (8-18°C). This also assures a quiet cooling without any vibration at all. 
It is an eco-friendly and energy-saving model that only consumes an average of 235 Kilowatt Hours. It functions at 110 volts and 110 watts. 
It has a digital display where you can adjust the temperature for each zone and turn the interior LED light on and off. 
This model features four removable wire rack shelves for each zone. Its door is a right door-hinged double-paned and made of mirrored glass.
The company itself suggests that you set up the unit away from other appliances that produce heat or anywhere that allows direct sunlight. This is to avoid it from overheating. 
Pros
Power saving

Eco friendly

Freestanding

Removable wire rack shelves

Digital display

Double-paned and mirrored door

Quiet operation

No vibration

Dual zones
Cons
Dual temperature zones do not completely maintain different temperatures, there are a few degree difference in-between zones. 
Takeaway
This is the high-end cooler with a budget-friendly price for you, that is If you don't really mind the few degree allowances per zone. 
---
3.
NutriChef 12-Bottle Freestanding Wine Cooler
- Best Temperature Stability
This wine cooler features a single zoned compressor unit that has an accurate precision and an advanced cooling system. This model shows no sign of vibration which means it only gives very little functioning noise too.
The NutriChef 12-Bottle Freestanding Wine Cooler controls the exact temperature of your preference, from 41 - 64°F (5-18°C). Its interior environment is guaranteed to be consistent and stable. 
With its soft-touch digital display, you can choose between setting it in Celsius or Fahrenheit. This is also where you adjust the temperature of the zone and turn on its integrated interior LED light for illumination.
This also features a built-in fan and ventilation grill. These two components help in the internal forced air circulation and make sure that sufficient cooling and consistent temperatures are present in the cooler. 
The reinforced glass door assures your collection is free from all the harmful external elements there is. Its handle is integrated giving you a smooth front surface and the entire door has an airtight seal. 
It has six contoured and polished chrome steel wine racks that hold two bottles each. These are easy to slide out and can hold heavier than normal bottles without damaging your wine labels. Its last or bottom shelf is taller and has more space than the others so you can position your wine bottles standing.
Pros
Ultra-Quiet operation

Vibration Free

Contoured and polished racks

Protects your wine labels

Tall shelf for standing display

Reinforced glass door

Airtight seal

Built-in fan 

Ventilation grill

Soft-touch digital display

Free from external harm
Cons
Champagne bottles don't fit the racks well

Cannot chill white wines to the coolest temps
Takeaway
Overall, this would be a perfect chiller for those who drink red wines in standard-sized bottles. Its cons only become a disadvantage if you drink white or specialty wines.
---
4.
Koolatron WC12-35D 12 Bottle Thermoelectric Wine Cooler
 - Most Compact
The Koolatron WC12-35D is a Thermoelectric freestanding wine cooler with the dimensions of 10.25 x 19.5 x 25.25 inches (26.03 x 49.53 x 64.14 centimeters) and a weight of 27.1 pounds (9.54 kilograms).
It has a quiet functioning and is also vibration-free. This model is energy efficient only consuming an annual of 235-kilowatt hours. It functions at 110 volts or 50 Watts. 
Its right hinged door is made of double tempered glass ready to protect your wines from any damage due to direct sunlight, harmful UV rays, and external heat. This also helps in temperature stability and humidity control. 
You can set it to temperatures ranging from 46°F (8°C) to 66°F (18°C) in its digital display, the cooler can also read out the temperatures for you. It keeps a consistent temperature to properly age and preserve each of your wine's taste and quality. 
It has five flat and removable wooden shelves that easily slide when you want to access a bottle. Your collection is softly illuminated by its interior lighting. 
Make sure to provide 5-inch clearance around the back and its sides to avoid overheating. 
Pros
Quiet functioning

Vibration-free

Energy efficient

Double tempered glass door

Anti UV

Safe from external heat and sunlight

Temperature readout function

Soft interior lighting

Lightweight
Cons
Cannot switch temperature units from Celcius to Fahrenheit
Takeaway
If you're comfortable with setting temperatures on a Fahrenheit unit anyway, then this model would serve your precious beverages well, not to mention it saves so much space and barely weighs to be considered heavy.
---
What Wine Coolers Are
Wine coolers are small fridge-looking appliances, their external build is somewhat similar to beverage coolers. 
These don't technically make your wines cold, it enhances their long-term aging process as you set it to different temperatures according to what wine you're storing. 
They're made of various materials like thermal insulation and air-filled walls to ensure your wine's protection and enhanced aging.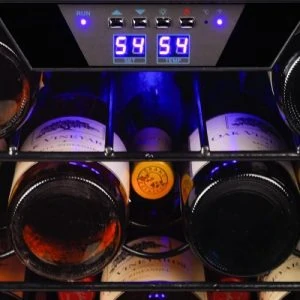 What Makes Them Necessary
While storing your wines in cellars and other places might work, putting them in a wine cooler will show you how much you're missing. 
Elements like UV rays, direct sunlight, temperature, and humidity can weaken your wine's quality. Wine coolers are a better way to age your wines as it makes everything about them better.
Who They're For
This appliance will greatly benefit passionate wine drinkers and periodic wine drinkers at the same time. It is for anyone who purchases wines and stores them at home to age.
But for casual and occasional drinkers, the cooler may not make much of a difference to the beverage as it was not given enough aging time. 
Wine Coolers vs Beverage Coolers
Wine coolers have specific temperatures for each wine type. They are often in a higher temperature range to properly age wines. Beverage coolers on the other hand are set to temperatures depending on your liking, you can chill, cool, or freeze these drinks anytime. 
Also, wine coolers treat your drinks more delicately and intensively. It protects them from harmful external elements with its multiple coatings and material type. 
Knowing The Best 12-Bottle Wine Fridge For You
Wine coolers are made differently, with different parts, different purposes, and different functions. Even though one of these may be better than the other, what's better for you will always depend on your preferences. 
Storing Temperatures
Red Wines
Red wines taste so much better when served at room temperatures. If you are a wine enthusiast, you would know well not to serve red wines with ice.
This is why it's best to store your wines in a cooler set to 60 to 65 degrees.
White Wines
Unlike red wines, these strangely taste amazing when chilled. However, should still not be served freezing or with ice so you would still notice its delicate flavors.
Store these in temperatures between 50 to 60 degrees for the best results.
Specialty Wines
These are wines that are neither white nor red, they are more known to be a carbonated drink, examples of these are champagne and sparkling wines. 
Carbonated drinks like soda are usually stored and served as cold as they could be, so store these at 40 degrees or lower if you wish. 
If you wish to know more about why and what happens when wines are stored in improper temperature ranges, you can check this youtube video below:
---
Cooling Zones
Single Zone
Let's get this straight...
Cooler zones have their temperature controls, and this type of cooler only has one zone, which means like beverage coolers, the entire thing shares the same temperature.
If you purchase a single zone wine cooler, you can only store ONE type of wine in it. Either you only cool white wines or red wines. The capacity here can vary to hold many bottles or just a single bottle.
So it's pretty much made for enthusiasts that fancy either only whites or only reds. 
Nothing is stopping you from putting two wine types in a single zoned cooler, but keep in mind that each wine type has its temperature preferences for proper aging. And wrongly aging them can destroy their taste and quality. 
Dual Zone
The name pretty much speaks for itself, doesn't it? 😉
This type of cooler has two zones, two temperature controls, two storage areas. And is the type of cooler you should get if you like to take a sip of both red and white wines. 
If you think about it, it's pretty much two coolers in one unit.
Cooler Builds
Freestanding Builds
Like beverage coolers and refrigerators, these are placed in areas with enough space for ventilation.
That is because freestanding coolers dispel heat from the back of the unit. Placing them in cramped or tight spaces may cause the model to overheat. 
And that's not good at all. Cooling appliances should never overheat, if they do, they'll fail to maintain their temperatures from time to time. 
Built-in Builds
These models are often put under kitchen counters for low storage consumption. This is why they are more known as under-counter wine coolers.
The difference between built-in coolers and freestanding ones is that built-in coolers dissipate heat through the vents under the door. Meaning you can place them anywhere, whether it is a cramped area or a free one. 
It is ideal to get this type of model as you can reposition your coolers anytime and anywhere. 
Units
Compressor Units
Compressor units are similar to the units of kitchen refrigerators, they are composed of the same parts such as the evaporator and compressor. 
These parts are quite a lot for one unit, which causes it to slightly vibrate and give off minimal noise, however, these are softer compared to those of kitchen refrigerators.
This is the type of unit that allows you to set very low temperatures. It goes for as low as 30 degrees, which is the best for specialty wines.
These units are much more powerful when it comes to their cooling capacity, allowing you to cool more bottles at once whether you only want a wine cooler for 6 bottles or 12 or more. 
They are also good in temperature adaptation and are sure to keep a stable internal temperature no matter how hot or cold it is outside. 
Most of them also have tiny built-in fans that aid the internal airflow of the cooler, making its temperature circulation stable.
Thermoelectric Units
Thermoelectric units, on the other hand, are best in heat emission. 
That is because it sends an electric current through sheets of metal, with each sheet made of a specific material. This process creates a heat flux that transfers heat from inside of the unit to outside of it. 
However, it is not ideal to position these in unstable environments. These varying temperatures can hinder its cooling capacity.
This type of compressor has lesser parts, meaning less vibration and little to no noise at all. That also means it requires less power to operate compared to compressor units. 
It is, however, not as powerful as a compressor's cooling, that's the reason why it only allows temperatures not lower than 50 degrees and only has a small storage capacity. 
Conclusion
Our best 12 bottle wine fridge is the Ivation 12 Bottle Compressor Wine Cooler and our best low cost reviewed model is the Koolatron WC12DZ Dual-Zone Thermoelectric Cooler.
Not only is the Ivation wine cooler power saving and eco friendly, but it is also vibration and sound free. The only negative deal about it is that it can only store 12 standard-sized bottles, you still can cool designed bottles but less than them. 
It maintains an accurate temperature with its built-in air circulation fan and compressor-based unit. This cooler also assures the safety of your bottles from any harmful external elements. Really though, what else could we ask for?