Last Updated: October 11, 2022
Today, most wines no longer need to go through an aging process. Although, there are still some that will require long-term storage to reach maximum quality.
But proper storage is always essential for optimal flavor preservation and protecting your wine bottles. Wines have specific diverse compositions, so you can expect that there are varying reactions for each bottle.
Storing your wine in a warm environment can cause rapid aging. While too much cold may not cause as much damage to your wine, a significant decline in temperature will cause pressure on both the cork and the bottle.
With that in mind, I'm sure all wine lovers will agree that temperature stability is the holy grail in wine storage. Too often, this is also the hardest to achieve, which makes it a brilliant idea to invest in a wine cooler.
However...
If having less floor space at home stops you from getting one, then a countertop wine cooler is the perfect solution for that problem. It occupies less space and could enhance your kitchen's overall aesthetic. This stylish home appliance gives the right temperature and humidity for your wine collection.
There is a vast array of countertop wine refrigerators in the marketplace today. We spent hours researching to conceptualize these countertop wine cooler reviews based on different criteria that hopefully become incredibly beneficial for you. And my best choice goes to… Nutrichef! 😉
5 Of The Best Countertop Wine Chillers Reviewed
1. Nutrichef 12-Bottle Countertop Wine Fridge – Best Overall
One of the reasons why we consider Nutrichef the overall best wine cooler for counter placement is because of its compact size and accurate thermoelectric cooling technology. It allows convenience in adjusting temperature preference with the digital touch display and even has the option to switch between Celcius or Fahrenheit quickly.
Nutrichef has a flawless blend of functionality and style, including a reinforced glass door, a LED lighting system, and an interior that helps you maximize your storage space.
Furthermore, its freestanding design can give you the mobility to reposition it according to your preference, be it on a countertop or under-counter placement. It has everything you need for optimal wine storage, like a steady temperature, disturbance-free operation, and no harmful vibrations that can compromise your wine's quality.
Pros
Built to last

Noise-free operation with no vibration

Multiple location placement

Full one-year warranty

Reasonable cost

Compact size

Fits tight spaces

Easy to slide chrome wine shelves

Convertible voltage

Tempered, frosted glass door with an airtight seal

Easy setup

User-friendly digital controls

Vertical and horizontal shelving
Cons
Limited storage capacity for only twelve bottles

Single-zone cooling system
Takeaway
Nutrichef delivers high consistency at par with the more reputable brands in the market today for a very competitive cost. It offers unparalleled flexibility, allowing you to store vertically and horizontally, which is excellent for keeping both unopened and opened wine bottles. This wine fridge performs remarkably in keeping your wine cool and protected in a cost-effective manner.
---
2. Antarctic Star Freestanding Wine Refrigerator – Best Value
The Antarctic Star is every casual drinker or wine lover's best buddy. It works well in keeping a stable temperature, although this model is a single-zone unit and can only hold up to seventeen bottles. 
Antarctic Star SINAS46 is perfect for countertop placement and works well to chill other beverages like beer, energy drinks, and soda.
This wine cooler also boasts its design with the addition of soft, calming LED lighting that can easily complement your space's interior. 
Furthermore, its reinforced glass door has an airtight seal that is exceptional in maintaining an optimally humid environment for your wines. It is free from noise and vibrations during operation and also comes with removable shelves.
Pros
Precise and adjustable temperature

Wide temperature range of 40 - 61 degrees Fahrenheit

Digital touch panel

Double-paneled glass door

Soft and non-damaging LED light

Cutting-edge cooling system

Noise-free operation and zero vibrations

Removable wine shelves

Easy to use

Stylish appearance

Excellent for home or office use

One-year warranty
Cons
Freestanding installation only

No locking mechanism

No door handle

Heats up when exposed to external heat factors
Takeaway
Aside from having optimal temperature, the Antarctic Star also has removable shelves. These shelves have stainless steel material, which means they are also easy to clean. Its door works so well for UV light protection and is fully reversible with configurations left and right. The top two racks can store six bottles, while there are a few rows for canned beverages at the bottom.
---
3. Ivation 12-Bottle Wine Cooler – Best Budget Buy
At under $300, the Ivation 12-Bottle Wine Cooler unbelievably has more outstanding features than what similar products in this price range can ever offer. It works well in keeping your wine at a consistent temperature level, whether it's for short or long-term storage. 
This kind of stability and environment ensures to preserve your wine's rich flavor so you can enjoy it to the fullest.
Aside from its affordable cost, Ivation also has an impressive energy-saving feature because of its thermoelectric cooling system, which also means smooth, quiet operation with minimal vibration. The wine shelves are a little loose, but they are sturdy and able to securely hold your wine bottles.
Additionally, the LED display screen and touch controls are easy to use so that you can adjust the temperature according to your preference conveniently. The tempered glass door offers maximum insulation and protection from direct sunlight, while its elegant design matches well with any home decor. The 18-bottle version is also available if you like to keep more bottles.
Pros
Uniform air circulation and stable temperature

Quiet operation and low vibrations

Easy slide-out and removable metal shelves

Conveniently adjustable temperature and humidity control

Heavily insulated door

Odor-free interior

Energy-saving feature

Excellent features at a very affordable cost

Wide temperature range

Soft interior lighting

Built-in lock with two keys provided
Cons
Limited storage capacity

More suitable for narrow bottles

Operates loudly but only during initial setup

Temperature range not ideal for white wines (10-18 degrees Celsius)

Single-zone cooling system

Thermoelectric system dependent on the environment temperature
Takeaway
Even for its compact size, which you can place wherever you like it to be, Ivation has extremely reliable features you would mostly need in a wine refrigerator. It's perfect for small spaces and can stand on its own. More than that, its Thermopane door entirely blocks out direct sunlight, and it has glare-free interior lighting, which adds more to its value and style.
---
4. NewAir 16-Bottle Wine Cooler – Best Temperature Control
If protecting your wine collection from external heat sources is your top priority, then this NewAir Wine Fridge is your new best buddy. 
It utilizes a quiet yet vigorous compressor cooling technology and offers more efficiency in keeping the temperatures low than the thermoelectric models. This single-zone unit also has a professional look that will blend effortlessly with any interior decor.
It does stunning work maintaining the consistency in temperature and even features a well-insulated glass door for ultraviolet protection. The removable shelves can securely hold sixteen standard wine bottles, but they are also adjustable if you need to store larger bottles. 
Moreover, its soft interior illumination gracefully showcases your wine collection without the damaging effects of fluorescent bulbs. This wine chiller also has a digital display that allows you to view the current temperature at a glance.
Pros
Stylish and compact design

Ideal for countertop display

Efficient cooling system

Guaranteed temperature stability with no fluctuations

Wide temperature range

No installation needed

LED display screen

Insulated glass door

Faint interior lights

Freestanding unit

Removable and adjustable shelves
Cons
Low humming sound

Energy consuming

Has vibrations

Low storage capacity

Single-zone unit only
Takeaway
Like most NewAir wine coolers, this model creates the perfect cooling environment for your favorite vino, ensuring consistent temperature with no fluctuations at all. However, there are several instances when fitting tall wine bottles can be quite a challenge.
---
5. Koolatron Urban Series 8-Bottle Wine Cooler – Best Space Saver
Koolatron's 8-Bottle Wine Cooler is such a fantastic deal for those who worry about floor space restrictions. It's a valuable find for individuals with small kitchens or living spaces, featuring an advanced thermoelectric system and a sleek design. 
This wine cooler can conveniently provide a safe environment for eight wine bottles, providing just the right temperature to preserve its flavor and aroma quality. 
Aside from efficiently chilling the wine with no noise and vibration,  its shelves are also completely removable, allowing you to fit larger wine bottles.
On top of all that, I'm sure you will appreciate how the soft inner lighting system and classy mirrored door add to its virtual appeal. Not to mention that it also has a touchscreen digital control panel, which makes temperature monitoring and adjustment a breeze.
Pros
Well insulated mirrored glass door

Protective coating against UV rays

Fully adjustable temperature

Easy-to-use digital temperature control

Perfect for kitchen countertops and bars

Silently operates without vibrations

An efficient thermoelectric cooling system

Removable shelves to accommodate various bottle sizes

Compact and space-saving design
Cons
Single-zone unit only

Limited storage capacity

Interior light not bright enough to see labels
Takeaway
This Koolatron model gives you the perfect opportunity to chill your favorite wine to perfection, less the hefty price tag. The feature to customize the storage space with its removable shelves that can accommodate non-standard wine bottles adds to its already remarkable value. It can also protect your wine from fluctuating temperatures.
---
What Is A Countertop Wine Chiller?
A countertop wine cooler is a space-saving home appliance that gives an optimum cooling ambiance for wines. It ensures that the wines are kept at the right temperature and with the proper humidity to maintain their flavor and aroma quality.
Such wine coolers can only store a few bottles because they are designed explicitly for countertop placement. If you are looking for higher-capacity options then consider getting an under-counter wine cooler instead.
Who Needs A Countertop Wine Fridge?
Countertop wine fridges are perfect for oenophiles who prefer to drink their bottles right after purchasing them.
They may not be suitable for individuals who like aging their wine or those who choose to store them on a long-term basis. These wine coolers also work best for those with limited floor space.
Helpful Tips In Organizing Your Wine Collection
If your wine bottle utilizes a cork, remember to store it on its side. It keeps the cork damp, which is ideal for storing wines on a long-term basis. Dried-out corks can cause premature aging in wines. Contrarily, it is unnecessary to keep screw-top bottles on their sides.
Wines with high acid and tannin content, balanced alcohol levels, and have a sweet flavor are those that ages exceptionally well.
Grouping your wine collection by style is suitable for beginners and those with only a few bottles for each type. On the other hand, grouping wines by price is ideal for newbies in aging and if you'd like to hone your taste based on various regions and styles.
Before starting wine storage at home, it is crucial to determine the wine type, how much wine you will have, and the duration you will store it. Once done, secure that your wine storage of choice has the right temperature, light, and humidity.
Carefully study your space and check the distance between your unit and the wall or other appliances. Give some allowance in spacing as you would still need to plug your cooler into a power outlet.
Keep your wines in storage until you're ready to drink them.
Is It Time To Start Using A Wine Cooler?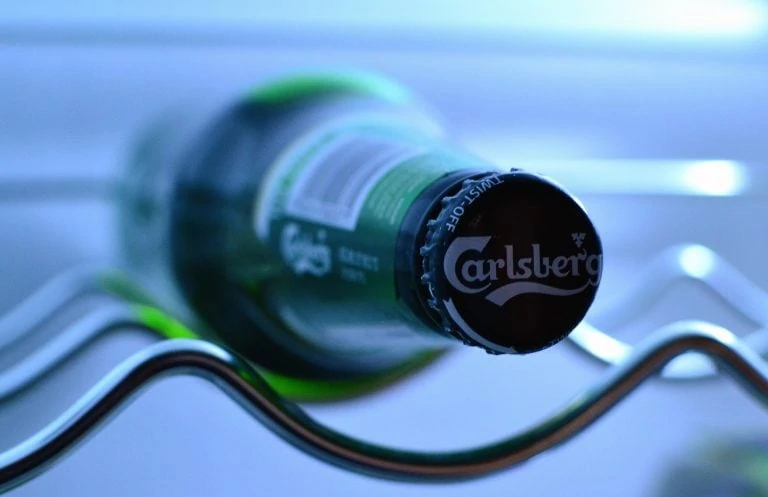 I enjoy drinking wine for the longest time, but I haven't gotten as close to becoming a wine expert. All I know is the zesty reds, the crispy whites, the rosé, and the sparkling ones. I find some interest, though, in figuring out which of the wines I like will perfectly match my favorite dishes. 
But spending on a wine fridge is something that I never thought about because why would I if I have no idea when to use one. So, if you're reading this, you most likely had the same questions I once asked myself, when do I know if it's high time to purchase a wine fridge?
Storing the expensive wines: If you're someone who often receives rare and costly wines as gifts, you shouldn't think twice about purchasing a wine fridge. The more expensive your wine is, the more that it needs care, so you can't just store it anywhere in the house.
Easy access during house parties: Every once in a while, we host dinner parties or huge events at our home. If that is the case, then it's another reason why we would want to invest in a wine chiller. It helps to know that our favorite vino is just within an arm's reach whenever we need it.
Safekeeping your growing wine collection: What makes a wine cooler investment a practical wine storage solution is the assurance of having the right temperature at all times. It is especially true if you are into wine collection since ensuring proper storage will prevent a wine's rapid aging and preserve its taste quality.
Essential Factors To Consider Before Purchasing A Countertop Wine Cooler
The type of cooling system: Most of these countertop wine coolers utilize a compressor system because they are the ones that have a compact size. These compressors have moving components, which is why they sometimes produce some noise.
Door type: Settle for the kind of door that works best for you. Some would want to conceal their collection in closed doors, while others prefer to flaunt their prized collection by having transparent doors.
Available space and location: Each of these wine refrigerators come in different dimensions. Check the amount of space you have and where you intend to place your wine fridge, as it will determine the most appropriate size you'll need.
Storage capacity: Countertop wine chillers have compact sizes and can store at least twenty to thirty bottles max. It is ideal for home use but not for storing food items. By contrast, using it in a commercial setting will probably require more storage capacity.
Temperature range: One feature that the best countertop wine chiller can't miss is a temperature range appropriate for a vast selection of wines. It is vital to have that feature, especially if you're mostly drinking different kinds of wine since the temperature requirement varies for each wine type.
Weighing The Pros And Cons Of Using A Countertop Wine Chiller
There are several reasons why people opt to make a sound investment in the best countertop wine fridge. Its compact size and, sometimes, being lightweight is among the many perks of having a countertop wine chiller. It consumes less space, easy to move around, transport from one place to another, and requires no installation.
Nonetheless, their small sizes can also be their disadvantage, since it also means having limited storage capacity. So, suppose you're likely the type to hoard a handful of wine bottles, collect different varietals, explore the diversity of wines from several regions, or are fond of vintages. In that case, you should opt for a fridge with a bigger capacity.
These are relevant factors that you should also take into careful consideration before investing. Keep all of these in mind during your decision-making, and you'll be thankful that you did.
Understanding The Noise That Some Wine Fridges Make
You might've been thinking about getting that wine cooler, but the thought that it could create a distraction bothers you sometimes. Before we get ourselves stressed out, let's try going the extra mile to understand the reason behind "that noise" wine fridges make.
We need to understand that wine coolers have a specific design to maintain temperature accuracy without any fluctuations, unlike the standard refrigerators, hence, the noise.
Here are the other noise-causing factors:
Fans

: Stabilizes, circulates cool air, and maintains the temperature inside the fridge.

Starter

: A component that signals when the temperature starts going out of range.

Compressor

: Drives the exchange of the heat/cold cycle.
Here's a short video for a general overview of noise factors in wine cooler:
Now, the next question you might have is how to manage the noise or, better yet, avoid it if possible. Check out some of these helpful points to ponder:
Location Preference
Your preferred wine cooler location can affect the noise level, so it is best to have the unit in spaces capable of absorbing sounds. Ensure adequate space behind your cooler to avoid compromising proper air circulation. You may also consider placing it near a wall or cabinet that can improve noise absorption.
Utilize Acoustic-Friendly Sources
Sound-dampening items around the home can help absorb the sound coming from your wine chiller. The items include but are not limited to the following:
Upholstered furniture

Heavy curtains

Thick blankets

Carpets

Paintings
Perfectly Leveled Surface
It is also essential to check that you place your wine cooler in an aligned, leveled surface precisely. When the placement is out of balance, it will generate more noise and also consume more energy.
Cooling System Technology
If a noise-free operation is highly crucial for you, consider the type of cooling system that a wine fridge has before deciding to purchase. Aside from outstanding performance, the cooling system also affects the noise level that a wine chiller produces. Here are the different types of wine refrigerator cooling system:
Electric or Compressor System: It uses a powerful motor to cool down the unit's interior but usually takes more cooling time. The motor is continuously running to ensure that the appliance maintains its required temperature, and this, concurrently, is what produces the noise. Compressor-based units have a broader temperature range but also make the loudest noise.
Thermoelectric System: It utilizes an electric current in cooling down the unit's interior. Since this system does not use a motor and has fewer moving components, it has minimized vibration and a silent operation. Do not forget to check the temperature range when your preferred wine fridge has this kind of system since they have a limited temperature range.
Absorption Cooling System: This system is the newest technology of the three. It utilizes waste heat to cool the entire unit, so it does not have a compressor, nor does it have moving components that produce noise. The downside is you will rarely see wine coolers with this kind of system in the market today.
Choosing The Best Place For Your Wine Cooler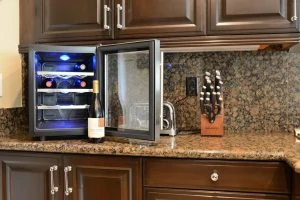 Those who are new to the idea of incorporating a wine chiller into their homes would often wonder where to place it. As previously mentioned in this article, it is a sleek appliance that blends effortlessly with home decors and can accentuate the interior design.
Some of the best locations for your wine fridge are the following:
Home bar

Kitchen

Dining room

Living room

In the cellar

Entertainment area

Under the stairs

Utility room

Basement
You can place it wherever you like except in places where there is exposure from direct sunlight, fluctuating temperatures, and inadequate ventilation. Similarly, consider the ease of access, too, so you can conveniently grab a bottle whenever you like.
Conclusion
While there are distinct considerations in picking the best wine cooler, you can always go for the one that will most likely meet your needs and budget. I especially like all of the reviewed wine coolers in this article, but if I had to pick the top two that stood out for me, they would be Nutrichef 12-Bottle Countertop Wine Fridge and Antarctic Star Freestanding Wine Refrigerator.
Nutrichef does more than just filling that awkward space in your countertops. It provides outstanding performance and a precise, stable temperature ideal for wine storage, which is why it is the best overall among all the items reviewed. Additionally, this wine fridge from Nutrichef is the perfect example that excellent features do not always equate to hefty price tags.
By contrast, Antarctic Star undoubtedly offers such great value because it allows you to store wine bottles and different types of beverages. It runs quietly and has an exterior control panel, so you can easily make necessary adjustments less the disruption to the internal temperature. Further, the fridge also has removable wine racks and a convertible door hinge.
Whichever of these wine refrigerators you pick, giving your valued wine collection the perfect home setting will positively enhance your overall wine-drinking experience. Believe me, when you make this significant decision of upscaling from your standard fridge to a wine cooler, you will never look at your bottle of sparkling wine the same way again.