Last Updated: October 11, 2022
Are you here to learn about how unbelievably better your wines' quality can get with a wine cooler?
Or... 
Trying to find a replacement that will fit your preferences?
Whatever your reason is, you can trust that this NewAir wine cooler review will lay everything out for you.
Our top choice is the NewAir AWR-290DB wine cooler, check it out and find out why it might be the one for you!
The 5 Best Newair Wine Coolers Reviewed
1.
NewAir AWR-290DB Wine Cooler, 29 Bottle, Stainless Steel
- Best Overall
The NewAir AWR-290DB is a slim 22.5 x 14.88 x 33.75 inches compressor-based wine cooler that fits easily on any counter.
It has an interior blue lighting for aesthetic and brightening while functioning as low as 120 volts/140 watts.
This model consists of dual temperature zones. Its easy-to-adjust thermostat allows it to cool to 40-50 degrees Fahrenheit swiftly and maintains it well. 
Its door is made of double-pane anti-UV tinted glass and is both insulated and reversible. It also has an exterior lock that shuts the door firmly for safety against thieves. 
With its five adjustable beech wood shelves, you can store 29 Bordeaux-style wine bottles. However, if you purchase wine bottles with wide/sloping shoulders or made of heavy special glass, you might only be able to store fewer bottles. 
Overall, the product is nearly quiet with its minimal vibrations which also ensures the protection of nearby sediments. 
The door has a brand label sticker that is quite tough, it may take you some time and effort to scrape the goo off of the glass thoroughly. 
Pros
Excellent minimal vibrations for a nearly quiet functioning

Adjustable Shelves

Double pane reversible glass door

Anti-UV tinted

Insulated

Dual temperature zones

Easy-to-adjust thermostat

Blue light interior
Cons
Can store many Bordeaux-style bottles but less-designed wine bottles

The door sticker is hard to peel off without leaving goo residue
Takeaway
This NewAir cooler would be best for those who enjoy both red and white wines in Bordeaux-style bottles as it allows them to store both types and more of them in one cooler.
---
2.
NewAir AWC-270E Wine Cooler, 27 Bottle, Stainless Steel
- Best Budget
The NewAir AWC-270E wine cooler weighs 55 pounds and has dimensions of 17 x 18.5 x 33.3 inches having a capacity of 3 cubic feet.
It is a stainless steel freestanding compressor-based model that functions at 120 volts/85 watts to save energy. It only consumes an average of 260 Kilowatt Hours Per Year.
With its 6 sliding chrome wire shelves, you can store 27 standard-sized bottles. It also has a bottom storage bin for special types of wine bottles. 
This cools down to 39 degrees Fahrenheit and comes with a built-in mini fan to help in keeping the interior temperature consistent. 
Its glass doors are insulated and safe from temperature fluctuations and UV light. The door hinges are on the right with the easy-grip handle and lock on the left.
The blue LED interior light illuminates your wines well to help you search for a specific wine without any hassle. And on the outside, it has an external digital display so you can monitor the interior temperature easily. 
Its compressor, however, is not dead quiet, it makes minimal noise that is not deafening or disturbing at all. 
The power cord may be too short, so it is a good idea to position it near a power socket since it's freestanding anyway. 
The sidewalls slightly warm up as the cooler's condenser coils are positioned there, if this bothers you, you can always place it where there is space on both sides for ventilation.
Pros
Insulated glass doors

Safe from UV light and temperature fluctuations 

External digital display

Has a built-in mini fan for temperature stability

Storage bin for special-type bottles

Energy saving
Cons
Short power cord

Compressor makes noise

Condenser coils heat up the surface of its sides
Takeaway
This product is for people who don't really need to save space but would like to save energy. Also, who worries about temperature stability as it has equipment and coatings to support it? 
---
3.
NewAir AWR-1160DB Wine Cooler, 116 Bottle
- Best Storage
This NewAir AWR-1160DB can cool numerous bottles with its fully adjustable 11 three-rail sliding beech wood shelves that can easily load 116 bottles.
It weighs 183 pounds and has dimensions of 23.5 x 26.8 x 56 inches which allows it to have a storage capacity of 12.4 cubic feet. 
You can store both your whites and reds in this huge space since it is a dual-zone compressor cooler. This also allows you to individually set the temperatures from 40-66 degrees Fahrenheit in each zone with the push buttons on the door's exterior. 
Its door is a smoke-tinted triple-layer glass door whose hinge is on the right and is also reversible. The layers and tinting serve a great purpose of UV insulation to ensure your wine's peaceful aging. 
With a voltage of 120 and a wattage of 130, you'll only be consuming an average of 260 Kilowatt Hours Per Year which is ideal considering the number of wines it can store. 
Its illuminating light is a gold LED which you can dim to your satisfaction. You can position this unit both as a built-in model or a freestanding one as it has a front venting. 
This also comes with a tiny plastic cup you place on a wooden slot of any shelf. You fill this with water and as the cooler operates, it will add moisture to the air to prevent the corks from drying and cracking.  
Pros
Gold LED interior lighting 

Prevents corks from drying because of the temperature

Front Venting

Energy saving

Can keep both red and white wines

11 three-rail sliding shelves

Smoke-tinted glass

Triple-layer door

UV insulation
Cons
Takeaway
This model serves a great purpose in places like restaurants or bars because of its enormous storage and dual-zone temperature controls for all wine types, however, it can also be used at home for passionate wine enthusiasts. 
---
4.
NewAir NWC007SS00 Wine Cooler, Stainless Steel
- Best Space Saving
The NewAir NWC007SS00 is a compact space-saving model with dimensions of 20 x 11.14 x 41.38 inches and only weighing 40 pounds and has a capacity of 0.68 Cubic Feet.
Only having seven beech wood shelves that can hold a bottle each, this model can fit almost anywhere because of its slim figure.
It consists of a front-venting compressor system to prevent any temperature fluctuations and ensure a quiet functioning of only 42 dB. This venting also allows you to place it under kitchen counters or allow it to stand alone as a house interior.
Made of a Single-zone cooling system, you can adjust temperatures between 41 to 65 degrees Fahrenheit with its easy-touch digital thermostat.
It functions at a voltage of 110 and a wattage of 85, meaning you'll only be consuming an average of 200 Kilowatt Hours Per Year.
Its door is made of stainless steel with hinges on the right. The glass on this door is double-paned and UV-protected for great protection and preservation.
This model comes with a mini built-in fan that helps the thermostat keep a stable temperature for the wines. It also has an ultra-soft LED light to illuminate its interior so you can effortlessly scan your collection, this light emits no heat that can affect your wines. 
Pros
Space-saving

Front ventilation

Prevents temperature fluctuations

Quiet functioning

Slim figure

Can be positioned anywhere

Has a built-in fan for stable temperature

Soft LED anti-heat emitting light
Cons
Can cool ONLY white wines or ONLY red wines

Can only store 7 bottles
Takeaway
For occasional wine drinkers or those who only purchase wine selections or packs, this product would be a great purchase as it is very compact and storage-saving while at the same time functioning extravagantly.  
---
What Are Wine Coolers?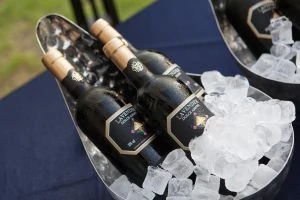 Wine coolers look identical to beverage coolers, only, a little smaller than that. 
This appliance is made of air-filled double walls, tough thermal insulation, and a lot more protection against outside elements.
Instead of keeping your drinks cold, they are set at specific temperatures that enhance the long-term storage of wine and make sure it ages well. 
Why Wine Coolers Are Necessary
If you like storing wine at home and letting them age, then you should know that there's a much better way to do that, and it'll surely taste so much better!
When you store wine, various external elements like the room's temperature and humidity can impact its quality. 
With a wine cooler, you can perfect your wine aging process and carefully cultivate its taste, it's just like maximizing every single drop of your wine. 
Casual wine drinkers may not notice enough difference as the cooler is not given enough time to take effect. So if you consume your bottles immediately, keeping them in a fridge for a while would be enough.
The Difference Of Wine Coolers And Normal Beverage Coolers
Wine coolers don't exist for no reason, especially when you could've put them in a kitchen fridge or a beverage cooler anyway in the first place. 
Their biggest differences are that wine coolers are set in higher temperature ranges compared to a fridge or a beverage cooler. This is because its purpose is to age the wine properly, not make it cold, besides, wine shouldn't be served cold.
Well, there are a lot of small differences between them like the Anti-UV ray coatings and the cooling zones, but the reason above is the greatest difference between the two. 
What Newair Is About
Newair is a well-known manufacturing company of cooling appliances just like wine coolers. 
They are based in Cypress, California, and have been in the industry for 19 years now (since 2002).
Why Newair Wine Coolers Are A Better Option
Newair showcases various models of wine coolers to fit each of their customer's preferences. 
They have both compressor-based and thermoelectric modes and are completely environmentally friendly to prevent any damage to our ozone layer. 
Not only that, but their thermoelectric models are also vibration-free, which means that they're unbelievably quiet. All of their products are energy efficient too. 
When it comes to storage, you can choose from a capacity of 12 bottles to 160 bottles with both single and dual cooling zones. 
Their cooler doors are mostly reversible and coated multiple times with the support of other protections against harmful external elements. 
Lately, all of the models they've been releasing come with LCD temperature control allowing you to adjust the cooler's temperature without opening it. 
Things To Consider When Purchasing A Wine Cooler
Cooling Zones
Single Zone
Single-zone coolers offer one temperature control, alike a beverage cooler, meaning the entire cooler shares the same temperature. 
This is made for wine enthusiasts that drink only red or only white wines. This is because red and white wines have different temperature preferences for proper aging. So if you only drink one of them, you can get a single zone cooler and save more.
Dual Zone
Now if you like to have a sip of red and white wines every now and then, a dual-zone cooler is what you need.
Their storage is divided into two sections that have their own temperature controls. So it's basically two coolers in one model. Most of these have larger storage for more wines. 
White wines are preferably stored in temperatures around 46°F to 56°F. While red wines are to be stored in a temperature range of 58°F to 68°F. 
Cooler Builds
Freestanding Builds
These builds speak for themselves, they stand alone.
Most of them are placed in free spaces like above kitchen counters or in dining/living rooms for the interior. You can place them normally like a beverage cooler. 
Freestanding coolers dissipate the heat from the back, so if you place them under the counter like a built-in cooler, the heat it exerts will not be able to spread and will cause overheating.
It isn't an "okay" thing if your cooler overheats, it needs an immediate solution. Once it goes through overheating, it will decrease its ability in maintaining a stable internal temperature for your wines. 
Built-in Builds
These models are often called under-counter wine coolers too as they're almost always placed there. 
They're designed to be built into cabinets or counters for space-saving. You can check out the video below to see how it's possible or learn how to do it for your future wine cooler:
---
Also, unlike freestanding builds, their vents are upfront under the door. Although it may sound complicated, it is actually an efficient way of channeling heat forward away from the cooler.
Since they are built like these, you can also position them as if they're a freestanding model.
Units
Compressor Units
Compressor units function a lot like kitchen fridges.
They have primary components such as an evaporator, compressor, expansive valve, and condenser that overall serves their functioning. 
This allows your wine bottles' internal temperature to reach a very low level as the unit's temperature can be adjusted as low as 30 degrees. Temperatures like these are often used to cultivate specialty wines like sparkling wine.
These units use vapor compression to essentially remove heat internally by utilizing a coolant gas to transfer this heat out. This allows the efficient regulation of the environment to better keep your wines. 
Some compressor models also have tiny built-in fans that help pacify the internal airflow and improve its circulation. 
Thermoelectric Units
These units send an electric current through tiny sheets of combined metal that are made from completely different materials. Doing so will create a heat flux transferring heat from the inside to the outside of the unit. 
This is the most efficient heat emitting process, however, this process does lead to one of its sides getting dramatically hotter than all its other sides. 
Another drawback would be that it cannot go down to temperatures as compressor units do, these units can go as low as 50 degrees and that's it. 
Conclusion
In this NewAir wine cooler review, two products greatly stand out. The first one is the NewAir AWR-290DB which functions impressively in all factors. And the NewAir AWC-270E for a solid choice without having to sacrifice the budget.
The NewAir AWR-290DB functions at extremely minimal vibrations causing a nearly quiet operation. The noise other models give off are low and not so disturbing, however, it's better to have something that you barely notice is operating.
This model works with dual temperature zones so you can store all wine types and individually set their temperatures. It is also double-paned and UV insulated so your wines will be protected from exterior harmful elements.