Last Updated: October 11, 2022
Wine and celebrities, the two things we all love, both come together in this premium-level yet surprisingly affordable subscription.
The Nocking Point wine club offers you the option of either receiving two bottles per month or three per quarter plus some perks.
And yeah...
These wines are endorsed by celebrities, at least that's what the club claims, making them one of a kind in the PR arena.
I haven't come across any other celebrity-curated wine club in the market so taking their word for being the only one seems logical for the time being.
How It Works
This club was founded in 2012 by Stephen Amell and Andrew Harding, if the first name rings a bell, it's for a good reason: Stephen was cast in the famous Arrow series, and that's how the club got its association with the stars.
But that's not it, the service itself is worth praising and most importantly, the wine selection is pretty impressive.
The best part, however, is that the deal is not overly priced simply because of the club's celebrity affiliations. While this option is not the cheapest, it does offer great value for the money and the overall cost-value ratio is very much in your favor.
A $99 quarterly shipment is loaded with fun: three celeb-curated wine bottles and additional perks.
Things go much beyond the conventional definition of clubs with Nocking Point Wines. The best part is that you, as a member, will have early access to wines loved by celebrities before it becomes common news.
The Nocking Point Wine Club – Is It For You?
If you like to stay in the loop of what the Hollywood peeps are up to and love to wine and dine now and then, this subscription may help you out big time. I'm not obsessed with stardom and everything but sipping a glassful of the finest brew in the country, knowing that a Hollywood icon like Jason Momoa said yes to it, feels good.
In case you didn't know, Jason Momoa played Aquaman in the movie, and he also starred in Game of Thrones – I loved him in both!
And it's not just this celebrity-curated part, the wine itself is also of the finest quality.
You've got a huge variety of solid wines at your disposal, the option to get monthly or quarterly shipments, and best of all: other perks to sweeten the deal. Any wine lover with good taste in cinema will be thrilled by all that this club has to offer.
Overall, Nocking Point Wine reviews have been largely positive because of all that the club brings to the table.
Membership Options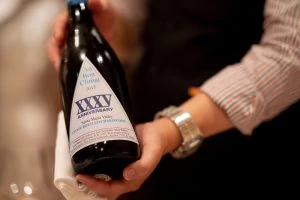 As a member, you will have privileged access to celebrity-curated wines before they become available to the general public. You can opt for either monthly shipments or quarterly ones based on your needs.
The quarterly club will ship a package at the start of every season, so that's March, June, September, and December. You'll get three bottles curated by some of the most talented winemakers and icons of entertainment, roasted coffee grains from Walla Walla Roastery, and a t-shirt which they label as "butter-soft" for obvious reasons.
That's all for $99!
Not the cheapest deal out there, but did you hear the names of people on board of this thing? Aisha Tyler, Zac Levi, Jason Momoa, Emily Bett, Colton Haynes, and many more of our favorite stars curate these blends, they have to be awesome.
For a monthly membership, you'll find two bottles on your doorstep, every month.
Member Privileges
As we traverse deeper into this Nocking Point Wine review, let's analyze what being a member affords you:
You'll enjoy privileged access to all of their latest productions.

All wines are celebrity-curated.

You'll get a 10% waiver for any purchases you make from their store.

Quarterly members will get a free bag of the finest roasted coffee beans from Walla Walla Roastery.

No shipping charges for members.
Cost & Value Assessment
Since there are only two membership options, the pricing isn't all that complicated. The monthly membership will cost you $49, while for a sum of $99, you can enjoy quarterly shipments at the beginning of each season.
Thus the cost, in either case, isn't overwhelming and you do get some pretty solid tastes, so it is worth it in the end.
Assessment Of Wine Quality
All of Nocking Point wines are made in the USA, if you're a patriot, you'd appreciate this fact. Winemakers from all over this beautiful nation of ours dedicate their efforts and emotions to creating some of the most stunning and premium-level wine.
Best of all, these wines are available exclusively at Nocking Point, you can't get them anywhere else. As with anything produced within the USA, these wines also have some quality standards that they must adhere to, meaning that they are the best they can be.
All the wines that I tasted from this club were exquisite. The red wines are especially worth trying if you love hearty meat-based platters like steaks, fish fillets, and even pizzas. I highly recommend their Cabernet by Sean Boyd and Sarah Cabot's Pinot Noir.
Overall, everything about the quality, taste, and fineness was beyond my expectations.
Shipping & Packaging
Another great aspect about the Nocking Point wines deal is that their shipping is free for members! Yes, you heard that right, you don't need to pay a cent for shipping charges and still get to enjoy fine wine delivered to your doorstep.
This shipping fee waiver also applies to any other item you may have come across in the store and fell for, so no worries about extra charges.
Moreover, you can expect your parcel to be at your doorstep on time and in pristine order. But beware that you must be an adult to order and receive these shipments.
Membership Cancellation Policy
Usually, wine club memberships can be canceled at any time with just a phone call or email, but that's not the case here. Nocking Point wine club requires a 14-day prior notice, at least, from your side for cancellation.
This makes the leaving part a bit more complicated than it should be, but there are no fines or hidden fees, so not that bad either.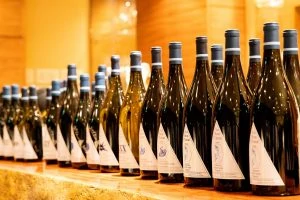 Hitting The Marks & Falling Short
Pros
I loved a lot about the Nocking Point wine club, most notably:
The unique and highly stimulating collection that they have.

All the wines are celeb-curated.

Bonus items shipped for quarterly members.

You can buy wines individually too.

No shipping fees for members.
Cons
However, it fell a bit short in some other areas:
There's no gift option in this club.

The cancellation policy is a bit complicated.

Only two membership tiers are present.
Alternatives
The Nocking Point Wines club may not appeal to everyone, and if it doesn't feel right to you, no worries, you can always try out one of these:
Macy's Wine Cellar
The Macy's wine subscription will ship a dozen bottles quarterly and an extra case for the summers and the holiday seasons. You can cancel or delay shipments at will, but unlike Nocking Point Wines, you will have to pay shipping charges for each delivery.
Tasting Room
If you want more control over your subscription then the Tasting Room is the one for you.
Not only does this club offer completely customizable membership options, but it is also perfect for newbies, saving them the hassle of selecting appropriate wines as it bases your preferences on a tasting profile.
It is also pretty economic.
Belle & Bottle
This club allows you to pick from a wide range of tiers, such as the 30 Club which costs $60 for two bottles or buy individually. The prices are not the cheapest but are still worth your investment considering their level of excellence.
Frequently Asked Questions
If you still have any confusion about this club, then perhaps this section will help clear things up:
Is the Nocking point wine club any good?
If it weren't, I wouldn't have bothered going into all the fine details about this subscription. Granted the membership options are a bit limited (only two tiers) but if it suits you, you can't go wrong with this club.
Who owns Nocking wine?
Stephen Amell, who starred in the TV series, "Arrow" and Andrew Harding.
How do I cancel my Nocking point wine club subscription?
Just give them a 14-day prior notice and they'll cancel the subscription.
What about the Nocking Point Wines location?
The club is located in the Walla Walla International Airport, the exact address is "225 E Aeronca Ave, Walla Walla, WA 99362, USA."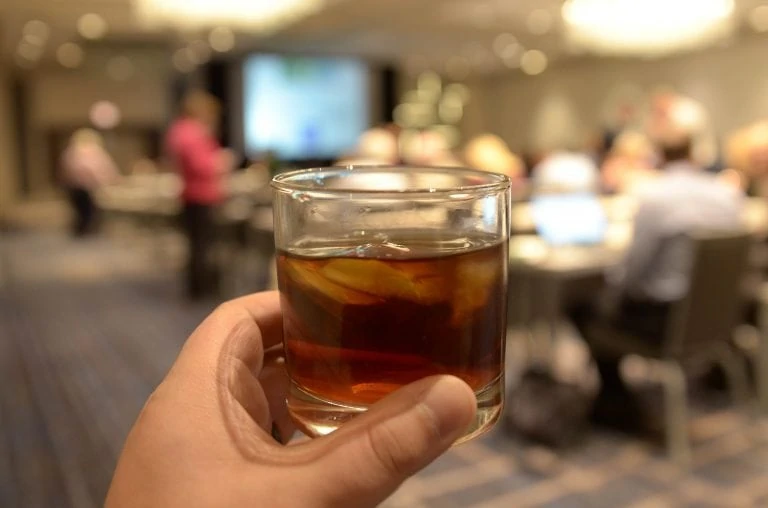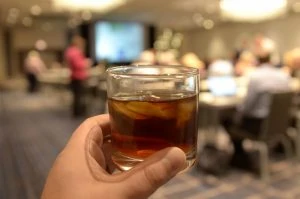 Bottom Line
I have no trouble endorsing the Nocking Point Wines club not only because of its celeb-curated selection but also because of all that they have to offer.
A fine collection of US-made brews, bonus items for quarterly shipments, a complete waiver of shipping fees for members, and most of all: premium-quality wines for affordable rates.
All of this is simply too much for one to turn their eye away from.