Last Updated: October 11, 2022
Whether you're a sommelier, wine connoisseur, or someone who just likes to enjoy wine with their meals…
You know keeping your wine in a refrigerator makes it too cold to enjoy the flavors.
So you need a wine cooler.
But which one is best for your needs?
Well, we've compiled this list of the best thermoelectric wine coolers to help you answer that. Of everything, our personal favorite has to be the Koolatron KWT10BN Wine Cooler!
The Top 4 Thermoelectric Wine Coolers Reviewed
1. Koolatron KWT10BN Wine Cooler – Best Overall
If you're looking for something that combines strength, functionality, and style, then the Koolatron KWT10BN is the best thermoelectric wine cooler for you.
It's got a thick and durable frame, which makes it less likely to dent and more likely to last longer.
But despite its thick frame, it still has a sleek design that will make it a beautiful showpiece for any kitchen, office, or bar. 
It's easy to move around and isn't as heavy as you'd think so whenever you feel like changing its location, it won't be stressful.
It runs very quietly. You have to be standing right beside it to be able to hear it. So, you can keep it right beside your bed and sleep nicely, or right beside your sofa while you watch tv without it being a distraction. 
It's able to carry up to 10 wine bottles (750ml). Now, if you have larger bottles like a Burgundy, you can put them at the bottom rack, which has a good amount of room.
As for the cooling factor, the temperature goes as low as 50°F (10°C), and does so quite fast, so you'll be able to store your wine bottles in no time at all.
Pros
Cools fast

Strong, durable frame

Quite Spacious

Sleek, beautiful design
Cons
It requires manual defrost
Takeaway
The Koolatron KWT10BN is a strong, compact wine cooler with a sleek design. It cools quickly and is a very nice addition to the home. 
---
2. Koolatron WC20 Thermoelectric Wine Cooler – Largest Capacity
Built more for function and less for style, this wine cooler can house a whopping 20 bottles. So, it's perfect for big parties and get-togethers.
This doesn't mean the Koolatron WC20 doesn't look nice though. It still has a smooth, dark surface that would fit in well in any part of the home, especially the kitchen and dining room.
It boasts a larger capacity dual thermoelectric unit that gives it a temperature range as low as 46°F (8°C) and as high as 66°F (18°C). With easy-to-use temperature controls and an easy-to-read display, you can easily switch temperatures to suit your red and white wines.
It's got a dark interior with low light, and together with its tempered mirror glass doors, you can be sure your wines are protected from harmful UV rays.
The removable shelves help to accommodate large or irregular sized bottles. So you don't need to worry if you have bottles that aren't like the usual slim, long ones.
It's also frost free, so you don't have to bother about water being all over the place if you turn off the cooler.
Pros
Large capacity 

Functional design

Frost free
Cons
Shelves only fit narrow, smaller bottles unless a shelf is removed.

There's a slight continuous hum that can be annoying.
Takeaway
If you're looking for something more spacious for parties, get-togethers, or just to hold a large assortment of wine bottles, then this is the best thermoelectric wine cooler for you.
---
3. Koolatron WC12DZ Dual Zone Thermoelectric Cooler - Best For Tight Spots
If you're looking for something with dual-zone cooling technology, then you might like this one. Its inside is divided into two compartments where you can choose to store your red and white wines.
The Koolatron WC12DZ model is made to be compact and slim, so it can fit in tight spots like under kitchen counters. It can also be placed nicely in corners of your living room or dining room, or even right beside your sofa without it seeming bulky or out of place and still nicely display your wine collection.
Its slimness also adds a touch of elegance to it, and that, combined with your collection, would make it a nice showpiece for wherever you choose to place it in your home.
And, despite its slimness, it has a 12-bottle capacity (750ml bottles to be exact) with both compartments holding 6 bottles each.
Its easy-to-use touch screen controls allow you to adjust the temperatures of the upper and lower compartments without stress.
It has a nice-looking mirrored glass door that serves to protect your wine collection from damage by UV rays and a soft light inside that teases your collection to admiring guests.
It also cools nicely and is able to go as low as 52°F in a short period of time. 
Pros
slim and stylish

Cools great
Cons
its dual-zone range is between 52°F and 57°F

The unit isn't quite as silent as advertised
Takeaway
What stands out the most about this model is its dual-zone technology. If you're looking for something that can house both your white and red wines at the right temperatures for each, you might like this one.
---
4. Koolatron WC06 Thermoelectric Cooler – Best Budget Option
If you're looking for something small, or are under a budget, then this cooler is perfect for you.
Despite the WC06 being the best budget option, it's small, compact shape and sleek smoked glass give it an elegant flair. A perfect showpiece for condos, kitchens with little space, home bars, and game rooms.
A nice effect with the smoked glass is, when it's in a bright room, it looks like mirrored glass. But it's in a dim room, it looks like smoked glass again. So, whatever time of the day it is, it'll give the room a nice and stylish touch.
It's also very lightweight and easy to move around. So, if you ever find you need to change it to a place you feel looks better, or is more convenient, it'll be super easy for you to do.
UV light can cause your wine to age too quickly and deteriorate. So It's a good thing this cooler comes equipped with a double-paned insulated glass door that ensures that your wine collection is properly protected.
It's temperature ranges from as low as 46°F to as high as 65°F, and with its digital control, you can set the temperature to the perfect spot for your white or red wines.
Pros
The glass front, light, and touch controls, and compact shape give this unit a very nice look. 
Cons
needs manual defrosting

Louder than expected

Temperature control is a little difficult to set
Takeaway
This model's small, compact design is practically built for small areas. If that's what you fancy, then this is perfect for you.
---
What Is A Thermoelectric Wine Cooler?
A thermoelectric wine cooler operates on a principle known as the Peltier effect. Basically, when two metal plates are placed together and electricity is passed through them, something interesting happens -- one plate gets cooled while the other gets hotter!
Because of this, this type of cooler makes almost no noise and doesn't vibrate at all and most thermoelectric coolers can't get lower than 50°F. With only a few being able to get as low as 45°F.
Here's a short and simple explanation of how the Peltier effect creates thermoelectric cooling:
---
What Are The Advantages Of Thermoelectric Wine Coolers?
The biggest advantage would have to be that they don't vibrate. This means they generally operate silently, compared to compressor wine coolers which are much louder. 
Another important thing to note is because they don't vibrate, the sediment in wine bottles can settle, so your wine won't develop a bad taste.
Here are some more advantages of a thermoelectric wine cooler:
They are safe for the environment since they don't need re​frig​er​ants that introduce some

hazardous chemicals like CFCs and HCFC-s

into the environment. 

They have a consistent interior temperature, which will help to maintain, and improve the quality of your wine.

They are energy-efficient so you don't have to worry about them increasing your electricity bills.
What Are The Disadvantages Of Thermoelectric Wine Coolers?
The biggest disadvantage of a thermoelectric wine cooler would be that it doesn't get as cold as a compressor wine cooler. Most thermoelectric wine coolers will usually not go anywhere below 50°F.
They also only maintain internal temperature when they're closed. So if they're opened too frequently, the internal temperature would rise and drop frequently which could be bad for your wines.
Because they operate by removing heat rather than producing cold air, they won't work when it's too hot (when the outside template is about 80°F). The cooler would have trouble removing enough heat to maintain the ideal 50°F - 55°F temperature for wine storage.
They also won't work when it's too cold. Since they don't have any way of adding heat, if the outside temperature drops below 50°F, the temperature inside the cooler will also drop. This can affect the conditions of your wine.
Things To Note When Using A Thermoelectric Wine Cooler
Here are some things you should note when using this kind of wine cooler:
Make sure to keep it in a space where the ambient temperature is between 50°F and 80°F

For freestanding units, you'll need to leave at least 5 inches of allowance around the cooler to allow for proper ventilation. The heat pump of the cooler can overheat and burn out if there isn't enough ventilation for heat dispersal. This is why you should not freestanding units into your cabinetry.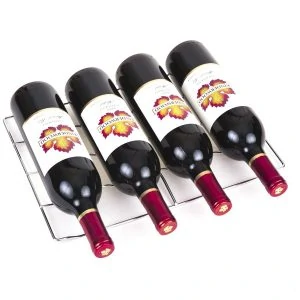 Considerations To Make When Buying A Thermoelectric Wine Cooler
The answer to this depends mostly on your needs.
If you have a large collection that you wish to store for a while, you'll want to go for something with a large capacity.
If you have a small space, you'll want to get something that is compact.
If you plan to install it somewhere tight, like between cabinets (if it's not a freestanding unit), then you'll want to go for something slim.
Another thing to consider is the variety of your wine collection. If you have a mix of red and white wine, there are three different ways you could go about storing them:
You can keep the white and red wine together 

You can store them separately 

You can consider a dual-zone option
If you decide to keep the white and red wine together, and you have no problem waiting for the reds to warm up a little before you drink (it won't take long since thermoelectric coolers don't get very low in temperature) then you can go for any wine cooler that catches your fancy.
What you'd need to consider then, would be the capacity you need, and the amount of space you have to place the cooler in (remember you can't keep them in tight spaces or they overheat and get ruined).
If you want to store them separately, then it might be a good idea to get two small, compact wine coolers. That way you can keep your red and white wines at the right temperature that you like, and your coolers won't take up too much space. 
You can also try a third option, which is a dual-zone cooler. This will allow you to keep your white and red wines in the same place. It'll be cheaper than buying two units, and it'll also take less space.
Basically, how much wine you have to store, how varied they are in type, and in which location in your home or office you'll place them are the 3 most important things to consider when buying a thermoelectric wine cooler. 
Conclusion
The clear winner for us is the Koolatron KWT10BN. But for those who are on a budget, we recommend the Koolatron WC06.
The Koolatron KWT10BN is great because compared to the rest, it's actually quiet. Its unique design makes for an excellent showpiece. It's roomy enough to take up to 10 bottles, with the bottom rack being able to carry bottles like a Burgundy. 
Unlike the rest, where you'd have to start taking out the racks to fit bottles like that. It cools quickly too. So all in all, it's got everything you need in a wine cooler.