Last Updated: October 11, 2022
There's no denying you want to serve your wines at the right serving temperature. It brings out the essence and flavors of the wine to appease your palate with every sip.
A wine fridge is your best option to chill wine at a stable and precise temperature. But a single bottle wine chiller lets you enjoy wine out of the fridge (anyone) for up to three hours.
Now…
Most models chill wine like an ice bucket would – except without the ice - but more sophisticated ones have preset temperatures for select wines. Or function without ice. 
One-bottle wine chillers are relatively cheap and portable. So you can use them on your porch, dining, or take them outdoors on a picnic. You'll find whatever makes your clock tick and works for what you intend is available.
This comprehensive review of some of the best single bottle wine chillers on the market would help you find what suits you. The Waring Pro PC100 wine chiller particularly stood out as the best in its class.  
Best Single Bottle Wine Chiller Reviews 
1.
Waring Pro Digital Wine Cooler
– Best Single Bottle Wine Chiller
The Waring Pro Digital is built precisely with wine perfection in mind. So far, so good, you can hardly find a one-bottle wine chiller with its level of sophistication and functionality.
It makes every moment intimate with thirty-three preprogrammed temperatures for specific wines. It knows no discrimination between reds, whites, or champagnes. And it doesn't judge if you forgot how cold to serve your wine, because that's its job. 😉
Once you've found the perfect match for your wine, it gradually lowers to the set temperature and stays there for hours using a thermoelectric CPU control. You'll see a display of the progression and control on its digital screen.
But it's just as noisy as most electric beverage chillers, filling the air with annoying white noise.  
The Waring Pro fits bottles no bigger than three-and-a-half inches at the base. That's a perfect fit for most wines, except Pinot Noirs and typical Burgundy bottles. 
Pros  
Digital reading of the chilling process 

Chills wine stable to your temperature of choice 

Fits most wine bottles 

Extensive database of serving conditions for most wines 
Cons 
Expensive  

Noisy operation 
Takeaway 
The Waring Pro chiller is for the serious-minded wine enthusiast who knows its worth. It's stable and tells you how cold or warm your wine is while you drink. Its database of over two dozen wines can be helpful for even a witty wine person.
---
2.
Oster 4208 Inspire Wine Opener And Chille
r – Budget Option
It's a cheap make of a chiller and a fancy electric corkscrew. And you can't deny the idea sells with thousands of units ahead of its competitors.
The chiller itself has a regular stainless steel finish, like an ice bucket. It's plain and only has Oster mildly emblazoned on its front.
As a double-walled container, it would retain the cold mist of your already refrigerated wine bottle. I'd say it lasts for about an hour or two. Well, for people who aren't sipping wine under the fiery Florida sun.
Despite this, it's a great bargain being the cheapest product in this review. The main selling point here is its accompanied electric corkscrew. It opens up to 30 bottles on a single charge, more than enough time to act a wine geek.
The electric corkscrew and chiller is quite a bargain. It's an irresistible deal if you want a small cooler to cradle your wine for a drink after work or something.  
Pros  
Cheapest value deal you can get  

Automatic corkscrew opens bottles faster and easier 

Stainless steel container would last practically forever 

Chills wine for about an hour or a couple more if you are drinking in a cool spot 
Cons 
Only keeps the wine cool for a while.  

No digital temperature reading  
Takeaway 
It's an affordable entry point chiller with only the basic functions of a modern or one-bottle wine chillers.
---
3.
Cooper Cooler Rapid Beverage Chiller
– Instant Wine Chiller
The Cooper Cooler chills wine in a fancy fashion that hypes its value.
The patent cooling process turns your wine bottle into a bridge torpedoed in icy water till it's ready to serve. It serves a canned drink cold under a minute but takes a little longer for a bottle of wine – precisely eight more minutes. Not exactly an instant wine chiller, but it's the closest you can get.
It has a small user interface with preset buttons that make the whole operation easy, as it should. For instance, the bottle spin feature is glam, but I find it ostentatious, so I hit the "no-spin" button, and the problem's solved. Plus, it's handy when you have to cram in a large bottle of Champagne.
The "add ice" indicator is another useful feature. It's a blinking red light blinks triggered by a shortage of ice in the cooler. It saves you the regret of waiting only to serve a lukewarm wine moments later.
It really is a simple to use bottle cooler for all its glamour.
Unfortunately, it's an electric unit, which may be restricted to use in the kitchen only. You have to pour ice and water inside for it to function.
Also, the Copper chiller won't work or spin large bottles. Even when you get some to fit, you may have to deal with spills. So you have to switch to a "no-spin" operation.
Regardless, this electric single bottle chiller does its job. And it may not be ice cold, but it gets wine right where you want it at around 40-50 degrees Fahrenheit.  
Pros  
Fast cooling  

Elegant cooling display grabs attention

Perfect for casual drinking alone or with a buddy 
Cons 
May leak if stuffed with a large bottle 

Expensive for a single bottle fridge  
Takeaway 
If you want to chill warm wine quickly and in style, the Copper Rapid Beverage Cooler is right for the job. Its full power cools just as you need your reds or even whites.
---
4.
Prodyne Iceless Double-Walled Cooler
– Transparent Iceless Chiller
This is another simple and affordable unit that gets the job done for a few hours. 
Prodyne is a double-walled acrylic container that retains cold air. Of course, you must chill your wine in a fridge beforehand, then transfer it into a chiller when it's ready. Whether you want to take only a few glasses or empty the bottle, you won't have a harsh lukewarm wine until you're done.
The transparent acrylic material of the chiller is fancy but functional. You can read wine labels without sacrificing a degree of chill by taking it out of the chiller for a minute. Neither will labels get tattered from sitting iced water. 
All in all, it's a simple chiller with a straightforward design. And it doesn't cost a fortune, or even as much as one of your favorite bottles. 
Pros 
Clear container

Retains chill for up to three hours

One of the cheapest effective units 
Cons 
Only functions with already cold bottles 
Takeaway 
It's a simple and cheap fix to endlessly getting up to refrigerate your wine in the middle of dinner or on movie night. 
---
 

5.

Vacu Vin Rapid Ice Elegant Wine Cooler

– Best Gel Sleeve
The Vacu Vin wine cooler is highly sought after among wine enthusiasts as an alternative to ice buckets. It's also dubbed an award-winning cooler for its innovative gel sleeve technology.
The sleeve contains six pockets of gel that expand when they freeze. They are then inserted inside the walls of the outer case (container) to chill a bottle. It would get a wine up to serving condition in a couple of minutes and keep it there for a few hours.
But you have to freeze it for six hours or half a day before you can use it again. So it's not practical to serve several guests unless you buy gel inserts. Fortunately, or maybe by design, they're also cheap. 
The chilling element is easy to transport if you decide to take it out on a picnic or barbecue party. I mostly use it on my porch on hot days, and it lasts for about an hour.
Aside from taking so long to get the sleeve cold, it's an impressive unit. And to top it off, it's super-affordable.  
Pros 
Affordable 

Retains wine temperature better than most iceless models

It won't leak even a drop of water or mess up labels

Durable stainless steel container  
Cons 
Not a good fit for Champagne or Burgundy bottles

Long reuse time 
Takeaway 
It's a noteworthy alternative to using ice buckets or an electric cooler. It won't make a mess and has a noiseless operation.
---
6.
Oggi Double Wall Stainless Wine Cooler
– Budget Buy Alternative
If you love the transparent design of the Prodyne cooler, Oggi is more like a concealed version of it.
It is similarly a double-walled container that works devoid of ice. You won't need to worry about a coaster when you serve your drink, as it won't "sweat" from condensation.
There aren't many features to expect for a chiller less than ten bucks, but it isn't in any way subpar. Put a cool bottle of wine in it, and you're all set.
For what it's worth, its stainless steel finish will make a classy fit anywhere in your home or restaurant for serving or just displayed in a bar or tabletop.
Pros 
It would last practically forever 

Super-cheap 

Condensation free 
Cons 
Only retains chill of cold wines  
Takeaway 
The Oggi iceless cooler really is a simple and affordable way to chill your wine.
---
7.
Vinglace Portable Wine Bottle Insulator
– Exquisite One-Bottle Wine Chiller
Vinglace makes gifting a chiller enticing with this carefully designed insulator.
The double-walled insulator comes in a branded white gift box and is available in almost a dozen colorways. It has a removable cover that insulates the bottleneck that's usually exposed, setting it apart from most iceless chillers.
The top is also adjustable, which is useful when you have to fit a large bottle of wine in the cooler. And you can take it off entirely.
With the Vinglace chiller, you can carry a bottle of chilled wine to a party, picnic, or outdoors. It's lightweight and may even protect your wine from breaking in transit.  
Pros  
Rated a top gift idea for wine enthusiasts

Many appealing colors that can match the setting of any home

Chills most wines up to the neck  

Portable and easily transportable for outdoor use 
Cons  
Takeaway  
If you want to impress guests or a wine lover with a gift, this Vinglace insulator fits the bill. It's no wonder it has a matching price tag.
---
What's A Single Bottle Wine Chiller? 
It's just as the name implies — it chills only a single bottle of wine at a time.
Basically, the unit would cradle a bottle up to the neck to trap cold air and keep it at a drinkable temperature. Some models have a cooling system that will lower the temperature like a fridge and keep it stable, much like 12-bottle coolers built for a higher capacity.
Most single bottle chillers last for hours at a stretch. That's long enough to cool wines till the end of a dinner party, picnic, or even a friend's night out. However, factors such as sunlight, heat, or portability can reduce its effectiveness drastically.  
Types of Single Bottle Wine Chillers You Can Find 
Iceless (Gel) wine chiller 
The iceless wine chiller uses a gel sleeve in place of ice to chill wines.
You have to freeze the gel pack for a couple of hours, then insert it inside the container before use. The gel usually takes about five or six to become frozen, so it's almost like using ice 
But unlike ice, you won't have to deal with defrosting or creating a mess when water leaks or defaces wine labels.
This type of chiller would both chill and maintain a stable temperature for your wines. It can chill a bottle for as long as three hours, but its cooling down prowess isn't predictable or reliable.  
Double-Walled Single Bottle Wine Chiller 
This type of wine chiller is a flask to keep chilled wine while you drink. It traps cold air within its walls and doesn't need ice or electricity to function.
Also, it's an easily affordable option to start with. The only thing is, it won't make your wine any colder and would struggle in hot weather.  
Electronic Wine Chiller  
The electronic single bottle chiller, of course, has limited to places where you can plug into an AC outlet. So, more likely than not, outdoor use is out of the question.
Some electric models work with ice and water, while some use a thermoelectric control board. Compared to a thermoelectric unit, though, it's generally a quick wine chiller, but leaks more and can only be used to chill a drink. Not hold it's cool for hours.
Thermo-electric or digital units, on the other hand, are more reliable and have no leakage issues. You can set the machine to work at a preset temperature for the type of wine you're drinking. If you strive for perfection in wine tasting and a bit of class, you'd be impressed.
However, they cost anywhere from $75 to $400 for a unit. If you find their features worthy, you'll have no regrets.
For what it's worth, customers still get their money's worth before any issues arise.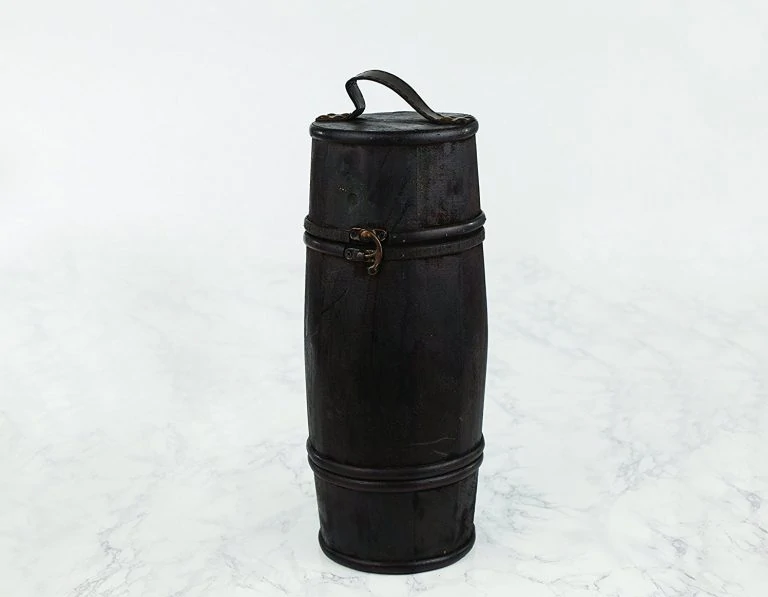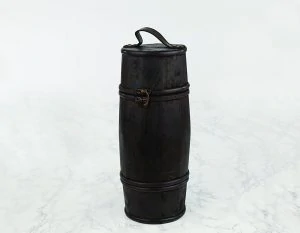 Why You Need To Chill Wine
In medieval times, you could serve wine at room temperature, and it'd be perfectly fine. In those days, the environment was a lot cooler than the 68 to 70 degrees warmth of most homes today.  
If you have an unheated basement, you are in luck. You can convert it into an underground cellar for your precious wine collection.
But that's not always the case.
More importantly, serving wine at proper temperatures reveals their true tasting notes and aroma.  
In general, red wines are best served at 62 to 68 degrees, keeping full-bodied ones, like Cabernet Sauvignon, on the warmer side. You'll enjoy a refreshing sip of whites when you serve in the range of 50 to 60 degrees.
Like Champagne, sparkling wines are served at about 40 to 50 degrees chilled. Any colder and you may mute its flavor and throw it off balance. Fortunately, most single bottle wine chillers hardly cool wine this low.  
Where A Single Bottle Wine Chiller Comes In 
A single bottle wine chiller becomes useful when you have to enjoy your wine chilled out of the fridge for an extended period.
Although some models only insulate already cold wine, others can chill and regulate it simultaneously.
Considering it could take hours to down a bottle of wine, depending on your threshold or group setting, the wine would be warm halfway through that. And it would save you the stress of going back and forth to cool it again in the fridge. 
Agreed, an ice bucket could easily do the job, but a single bottle wine chiller comes with its perks.
Prolonged Chill Retention - it would retain your desired temperature. 
Potential Talk of the Table - It could be a classy stainless chiller or modern electric wine cooler to impress friends or acquaintances at a gathering.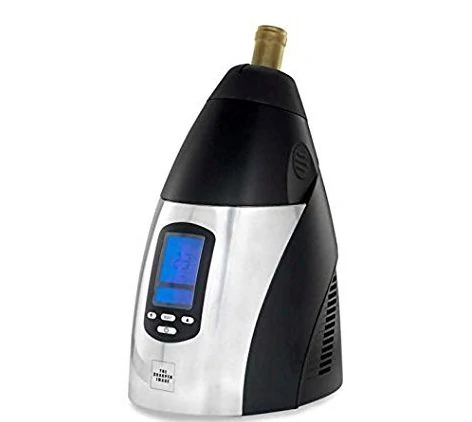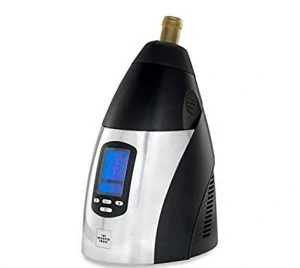 How To Pick The Best Single Bottle Chiller That Fits the Bill  
Figure Out What Type You Need  
If you have up to a dozen wines in your collection, try checking out a portable wine fridge to store them.
If you want to sit outdoors with your wine, then you should consider a double-walled or iceless chiller for one bottle.
A wine geek would appreciate the digital one-bottle chiller even more. Its concise settings and select wine temperatures set the perfect cooling condition for fine wine.
On the flip side, you would save more money buying a non-digital electric unit, like the Cooper Cooler. It cools wine fast, but you should consider that it functions with ice.    
My Final Thoughts 
Sure, storing and serving wine at the right temperature is essential. But keeping it cool out of the fridge is the real deal.
Luckily, you know how you can do this with a wine chiller and the various types you can select from to suit your needs.
Worth mentioning again is the deluxe Waring Pro PC100 Wine Chiller. It's the Apple of wine chillers with features far ahead of its competitors, such as its database of 33 preprogrammed wine temperatures for easy and accurate operation. It functions with a reliable but noisy thermoelectric unit and doesn't leak.