Last Updated: October 11, 2022
The struggle of having your wine bottles fit in with your groceries in the refrigerator is real. Not to mention that serving wine at the right temperature is crucial, and so is providing your pricey vintage wine collections safe, long-term storage.
Why?
Storing your wine at an optimal temperature will help you appreciate all its flavor and aroma, so we get to enjoy the overall drinking experience. 
So, regardless of all the varying opinions on the most appropriate wine storage method, wine connoisseurs will agree on how important it is to have a wine cooler handy. Perhaps it is for the same reason why you are on this page now.
You could be a keen wine lover trying to explore options on whether or not to invest in the best 6 bottle wine fridge. If yes, keep reading and find out why Koolatron WC06 6-Bottle Wine Cellar is our top choice. Furthermore, let's look more closely at the features and what to look out for when purchasing wine coolers.
The Best 6-Bottle Wine Cooler Reviews 2023
With the number of different wine chillers you'll come across when you start looking for one, it can sometimes get confusing and overwhelming. You begin to see them in a glance, and you'd have the impression that they all look the same.
In our aim to help make choosing a wine fridge easier for you and ensure that you invest in the right one, here are our top picks this 2023:
1. Koolatron WC06 6-Bottle Wine Cellar – Best Overall
It's a compact fridge that can provide optimal storage for your wine bottles at a fraction of a price. This cooler can hold up to six of your favorite wine bottles and won't take up so much of your kitchen counter space.
The Koolatron WC06 is a thermoelectric refrigerator that uses static instead of a compressor and doesn't have a built-in fan, so it won't vibrate, collect dust, or overheat. It will keep your wine at the most consistent and ideal temperature with the appropriate humidity to prevent corks from deteriorating and premature aging of wines.
Pros
Modern and stylish look

Powerful cooling feature

Compact size

Vibration and noise-free

LED display

Easily adjustable temperature

Removable and interchangeable wire wine racks for extra space

User-friendly control panel

Tinted door that can shield the interior against damaging UV radiation and maintain optimal temperature

Free-standing design
Cons
Limited storage of up to six bottles

Temperature preference sometimes resets
Takeaway
Its sleek and elegant appearance will match nicely in any environment like modern kitchen countertops. It's good value for the price. This cooler can be a smart investment for those who'd like to collect wines.
---
2. Vinotemp IL-OW006-2Z Romanzo 6-Bottle Wine Cooler – Best Space Saving
You won't have any trouble making Vinotemp's dual-zone, freestanding wine chiller fit in narrow spaces. It can hold six bottles of wine stacked on top of each other, keeping them cold until you serve them. The chiller works well in preventing your wine from premature aging.
It might be small, but this chiller comes with great features and price. Its touchscreen temperature control also offers ease of use.
Pros
Noise-free operation

Allows storage of six wine bottles

Ready to serve wine bottles at an ideal temperature

Freestanding design that requires no installation

Affordable than most wine coolers

Minimal vibration due to its thermoelectric cooling system

Ideal for wine storage

Touchscreen temperature control with a lock option

Easy switch from Celsius to Fahrenheit

Sturdy wine racks

UV-resistant glass doors

Allows two different styles of wine storage

Ease of placement in flat tabletop or onto a sturdy vertical surface
Cons
Low storage capacity

Inefficient cooling capacity in warmer environments

Longer time in cooling wines
Takeaway
Vinotemp's a high-grade wine cooler with exceptional features for the cost. It is the best space-saving option that essentially takes no space in kitchen counters. The stylish glass door and interior lighting also give it a more elegant aesthetic.
---
3. Manoch 6 Bottle Wine Cooler – Best Energy Saving
This classic wine cooler from Manoch also has an efficient thermoelectric cooling system. It's compact, portable, and maintains an ideal temperature to keep wines in perfect condition. 
This cooler's freestanding design enables ease of placement and repositioning anywhere you like. Its removable steel shelves work well as a solid holder and help you put in or take out wine bottles conveniently; they are also easy to clean. The glass door allows you to check your wine from outside.
Pros
Noise-free operation

Electronic touchpad for easy temperature control

Energy efficient

Allows storage of six standard wine bottles

Wide temperature range between 8-degree to 18-degree Celcius

Maintains stable temperature for great tasting wines

Low noise and low vibration

Easy-to-clean and fully adjustable stainless steel handles

See-through glass door with interior LED lights
Cons
Low storage capacity

Limited features for the price
Takeaway
Manoch Wine Cooler achieves the market's standards in chilling and storing wine bottles. However, it is not suitable for those who need higher storage capacity, like if you're the type who usually host a large party with your wine-loving friends.
---
4.
Black + Decker BD60026 6 Bottle Wine Cellar – Best Value
A compact refrigerator with a remarkable combination of durability and performance, Black + Decker works well in storing your favorite wines in style and at optimal temperature.
The fridge only measures less than 10-inch wide and can hold up to six bottles. Its small size makes it perfect for wherever you'd like to place it. You may put it on countertops or in the tiny corners of your space.
Pros
Great features at an affordable price

Perfect for small spaces

Noise-free operation

Allows storage of six wine bottles

Wide temperature range between 8-degree to 18-degree Celcius

Sliding wine racks for ease of putting in and grabbing out of wine bottles

Ideal wine storage temperature

Compact design but spacious interior
Cons
The cooling system not as powerful as others

No dual-zone feature
Takeaway
Deciding on a thermoelectric system versus a compressor-based system is the right call if you mostly prefer minimal vibration and disturbances. It also consumes less energy, which works best if you're also looking to save on electric bills. However, it also has a limited cooling capacity.
---
Bonus Product Review
This article features the reviews for 6 bottle wine coolers. However, we'll go over two more with a 7-bottle capacity as my bonus review, each having a noteworthy quality that would be too hard not to notice.
NewAir NWC007SS00 7 Bottle Wine Cooler
This NewAir NWC007SS00 model works excellently in ensuring that you'll have a disturbance-free operation. It can be pricey but worth the investment if you wish to save on your electricity bills since it is energy-efficient. 
The wine cooler's stylish appeal will make it easy to blend into any home design and will give your kitchen cabinets an elegant look. It also has a pretty good performance, accurate temperature control, and a built-in installation's versatility.
Pros
Space-saving

Perfect for storing seven wine bottles

Adjustable digital thermostat

Stylish look

Removable and easy-to-clean wine shelves

Double glass panel insulation for maximum UV protection

Mini built-in fan for stable temperature
Cons
Quite tedious maintenance for built-in fridge

Single-zone feature only

Limited storage

Pricey
Takeaway
The absence of a dual-zone feature means the fridge, although with excellent features, may not be ideal for those who wish to store different wine types together. Every wine connoisseur will know that various wine bottles, whether red or white, require different temperatures.
---
EdgeStar 7 Bottle Wine Cooler
This EdgeStar 7 Bottle wine cooler is a perfect yet pricey option if you have limited space constraints, like those who live in small apartments. It doesn't just fit effortlessly into narrow spaces but does so excellently without compromising its sleek appearance.
The door is easily reversible, adding to the convenience of making it fit in different places. Its built-in installation will allow you to set it with ease in any kitchen cabinets or even in small corners. You can also stock up to seven of your favorite wine bottles and keep them at an optimal temperature.
Pros
Compact and space-saving

Easy to maneuver in tight spaces

Elegant design

Powerful cooling system

Air distribution throughout the unit

Easily adjustable digital temperature display

Tinted glass door for undesired heat and UV protection

Reversible door

Versatile to use as a freestanding or built-in unit

Excellent value for money
Cons
Limited storage

No dual-zone feature

Expensive for only a seven-bottle capacity
Takeaway
This wine fridge makes it possible for you to turn a limited space into something innovative and eye-catching. However, it could also be too costly for its storage capacity of only seven bottles. Although, the unit's ability to accurately maintain the temperature is what potentially makes it a sound investment despite its steep price.
---
Why You Should Invest In A Wine Refrigerator
You would know that it's time to get yourself a wine fridge, same as one of the best 6 bottle wine fridge when you start seeing your wine bottles all over the place. You will see a handful of them on your kitchen countertops, some at the regular fridge, behind your groceries, and in cupboards.
Whether you love casual drinking, hosting dinner parties for your wine-loving friends, or you're into collecting vintages, it will serve your purpose to have a wine cooler handy. It provides the right temperature for properly storing your wine, preserves its flavor, organizes your collection, and helps you enjoy it all the more.
What Makes A Wine Cooler Different From A Standard Refrigerator
Most of you might be wondering, why do I still need to purchase a wine cooler if I can place my wine bottles in a standard fridge instead? It is interesting to note that the wine chiller and a standard fridge have subtle differences. Here are some of them:
Having a

stable temperature

is crucial in storing wines to prevent contamination. A standard fridge does not have a stable temperature because chances are, its door gets opened frequently. Wine coolers enable you to regulate the temperature whenever necessary.

Most often, the best

storage method

is to keep wines at their sides to maintain the cork's moisture. Dried-out corks will either spoil the wine or compromise its quality because of air getting into the bottle.

A standard fridge can hold various perishable goods, and some might be prone to common odors. These odors can also affect the

wine's quality

, which makes a dedicated wine storage facility necessary.

Wine coolers nowadays either have a thermoelectric system or compressors with an absorption system. These are essential in

preventing vibrations

since it causes the wine's premature aging and affects its flavor.
Getting To Know Your Wine Cooler
Knowing what makes each wine cooler unique is the heart of understanding its features and how it works. Here are some relevant details that you should remember:
Wine Cooler Temperature Zones
Single Zone

: Coolers utilizing one constant temperature, it's space-saving and a great choice if you're into drinking one type of wine.

Dual Zone

: This is the wine cooler type that allows different temperatures for various kinds of wine. It usually takes more space than a single-zone unit.

Multi-Zone

: This is the wine cooler type featuring more than two temperature zones. It provides flexibility in wine storage options and suitable for sophisticated wine collectors. Additionally, it is capable of storing more than a hundred bottles with different temperature settings.
Types Of Wine Cooler Technology
Compressor System

: It uses a powerful motor to cool down the unit's interior but usually takes more cooling time.

Thermoelectric System

: Utilizes an electric current in cooling down the unit's interior. Since this system does not use a motor, it minimizes vibration and has a silent operation.
Wine Cooler Models
Countertop: Aside from being compact, a countertop wine cooler is especially suitable for those with limited spaces. However, such types can only store fewer wine bottles than other models.
Free-Standing

: This type of model can stand independently and require no installation. It has a compressor coil that you can place at the back of the unit for a clean look and increase storage space.

Built-In

: This model features a design that you can effortlessly fit in between tight spaces. It can also work as a free-standing unit, unlike the exclusively free-standing models, which cannot function as a built-in unit. It is a bigger unit than other models and also more expensive. This model also requires an installation process.

Under-The-Counter

: It's a wine cooler model with two sections, one for wine and one for beer. This model is in-demand for kitchens, cafes, and restaurants where space-saving units are essential.
Considerations Before Buying The Best Wine Cooler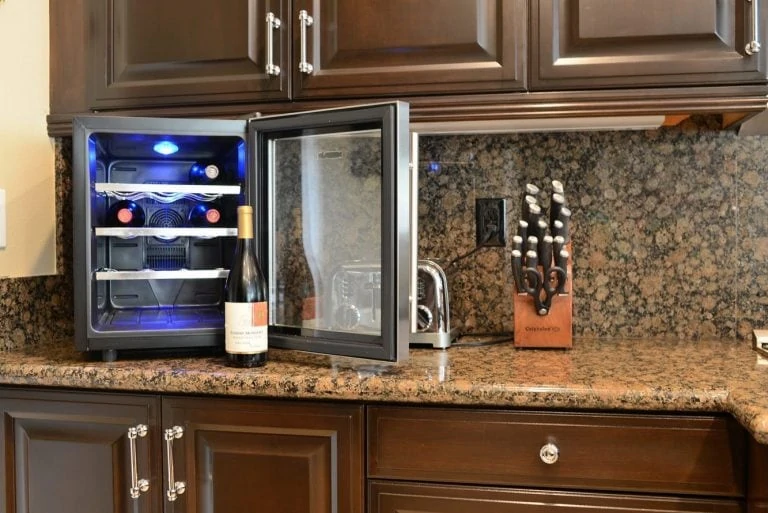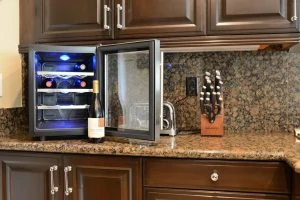 When you start scouting for wine coolers, you'll encounter so many different ones out there. Taking into consideration how each type differs from one another can help expand your buying options. But it is also vital to consider these factors before you make that purchase:
Identify Your Need And Budget Allocation
There are specific features to look out for depending on your need, so you should know and understand them before making that decision. Would you need it for aging wine? Are you fond of red wines, white wines, or both?
It is crucial to know how you intend to use your wine cooler to know the features you need. The cost, by contrast, varies considerably for every unit. It is understandable how nothing beats finding a good bargain, but not at the expense of quality.
Size And Space
Do research beforehand and check the dimensions carefully. Consider where you plan to place it, the angles you wish to keep your bottles, the rack size, and the bottle capacity. 
Will you be storing a few bottles only or need capacity for more like 12 bottles? Do you have plans to grow your wine collection? Where will you put the fridge? Remember that you need to give some allowance above or behind the unit for better air circulation. You also need to know if you prefer to store your bottles in an upright position.
Temperature Options
It's not that red and white wines require different temperatures when storing them. The difference is more in the serving temperature requirement. You serve a white wine chilled, while you serve red wine a bit warmer. It is how you decide if you would need two separate temperature zones or a single one will do.
Installation Type
Another factor to consider is your preferred installation type. If you opt for a built-in model, you would need to ensure that there will be a vent. If there's none, then you have to create one to prevent your unit from overheating.
If your kitchen cabinets do not have space for built-in models, you might have to consider the freestanding unit since you can easily tuck it in a corner or against the wall. Check on this short video below for helpful tips like venting, maximizing cooling, spacing, and more:
---
Other Features
It's also practical to consider the availability or, in certain circumstances, the absence of the following features:
LED lights

Temperature display

Noise level

Energy efficiency

Humidity control

UV protection

Wine racks
Conclusion
Now you can quit hopping from one wine cooler design to the other since you already know the best ones in the market today. You also fully understand the functionalities that make each of the wine coolers unique and the different crucial factors you need to regard before making that purchase.
With the number of choices we have, the one that stood out for us as the best overall is the Koolatron WC06. It's a champ in terms of affordability, user experience, and performance. Furthermore, the Black + Decker BD60026 is undeniably the best value for having exceptional features and a stylish look at a reasonable price.
Hopefully, this guide will fulfill its purpose, especially for beginners who are still a little over the fence in making this investment. Please note that whichever of these brands you pick, the ultimate goal is creating an appropriate environment for wine storage and having a more enjoyable drinking experience.