Last Updated: October 11, 2022
Wine tasting is fun but also innocently compulsive. 
Why else would a collector store hundreds of bottles in an underground cellar or love his 30-year-old Cabernet Sauvignon more than his dog? 
Just kidding! 
However, if you're here, you know the importance of serving and storing wine at optimal temperatures. For one, the taste buds appreciate the delicacy and flavors of reds at warmer temperatures and the piercing acidity and grapey aromas of whites when chilled. And it gets better with how you serve each wine.
All of these justify why a dual-zone (DZ) wine fridge is a must-have for wine geeks, enthusiasts, or even beginners. It's an easy detail to pick out. 
But then again, picking out a reliable DZ wine cooler, like my personal favorite - the Karcassin 28-Bottle Under Counter Dual Zone Wine Fridge, isn't as easy. You need a unit that suits your needs and installation space.   
I put together six DZ cooling units with varying dimensions and affordable prices for any budget in light of this plight. 
6 Best Dual Zone Coolers Reviewed
1.
Karcassin 28-Bottle Under Counter Dual Zone Wine Fridge
– Best Overall
Key Specs
15" x 22.6" x 33"

Temperature zone: 41°F - 64°F 

Compressor cooling 

Front vent
Karcassin gives the top wine fridge brands like Koolatron and Wine Enthusiast a run for their money with this 15-inch 28-bottle dual zone wine cellar. 
Of course, the first notable feature is its sleek 15-inch wide design that supposedly holds up to 28 bottles. It's a bit of a stretch, but it is noteworthy. 
You can store larger wine bottles than standard Bordeaux ones and still cramp up about twenty bottles in the fridge. That's remarkable - Yes, sadly, it is in the wine industry - for a wine fridge with a small footprint as this 28-bottle Karcassin cellar. 
The temperature control is reliably stable and consistent with the top-level wine coolers on the market. If you've experienced the terror of unreliable compressors, it's easy to think it's underpriced even for its size. The almost polar opposite effect of the chilling zones can be frustrating.
Besides, it's a sleek unit with neat and shiny stainless and beechwood shelves adorning the kitchen corner in any home. Its air vents open forward to finish it off so it can be freestanding or installed flush in a cabinet without worrying about overheating. 
Overall, the Karcassin 28-bottle dual zone wine cooler really is a steal for its price. 
Pros
Compact built-in wine fridge that installs practically anywhere as long you make space for the front vent

Classy look with stainless exterior and interior wooden shelves

Stable and accurate temperature control

Moderate noise level

Carbon filtering system

Security lock with keys
Cons
Expensive

Issues with screwing on the handle during assembly
Takeaway
It's the best dual zone wine refrigerator if you have under thirty bottles of wine. It's reliable, sleek, and takes little space in the room.
---
2.
Wine Enthusiast 18-Bottle Dual Zone Compressor Cooler
– Strongest Portable DZ Wine Cooler
Key Specs
13.75" x 19" x 33" 

Temperature range: 41°F – 64°F

Compressor cooling
Wine Enthusiasts brings this portable and reliable dual zone wine cooler to beginners who want the best quality out there from their very first unit. 
It's super small – particularly by the width – only about 14 inches wide and can fit into literally anywhere at all. If you are something of a minimalist for space, you'd definitely love this wine cooler. The only thing is, like most, it won't fit 18 bottles as stipulated unless you drink only Bordeaux wines. Unfortunately, it's a rarity for beginners, who are mostly nomadic drinkers at first.
The fridge doubles as a single and dual-zone based on what you need it to be. You can chill sparkling or white wines on the top shelves (cold zone), While the lower shelves (warm zone) can be used to age any wine - the base is designed to flaunt valued bottles in your collection on full display.
Pros 
Trusted brand 

Minimal footprint 

Display-style base shelf
Cons
Takeaway
Again, go for this small dual zone wine fridge if space (footprint) and quality are your biggest priority you need. You can upgrade to a large unit over the many years it would surely last.
---
3.
Koolatron Portable 12-Bottle Wine Refrigerator
– Best Budget Buy
Key Specifications
10" x 20" x 26"

Temperature zone: 41°F – 64°F

Thermoelectric cooling
Koolatron is a giant in the wine fridge industry, dishing out innovative units to stay relevant. And they deliver as usual with this dwarfing dual zone wine fridge. 
The pint-sized wine fridge can fit 6 bottles in each temperature zone and can be used as both a top and under the counter unit. As a measure, it's only about the height of my knee. 
Unlike most dual zone wine coolers, the top shelves stay warm while the lower section chill wine bottles instead of the other way around. But it barely matters as long it gets the job done. 
The only problem is, the cooling system may be somewhat unreliable. Although based only on word from a few customer complaints, the temperature setting is usually off by as much as 5°F. The faulty units were replaced in most cases. 
Being a thermoelectric cooling system, it considerably runs quietly and hardly vibrates. 
Pros
Portable unit for icing a few bottles or for storage purposes

Quiet thermoelectric cooling system

Plug-and-play installation
Cons
Reportedly unreliable temperature settings
Takeaway
If you want a portable dual-zone cooler by your bedside, kitchen counter, or a small space for short, you can't go wrong with the Koolatron 12-bottle wine cooler. You'll get the most out of it if you drink mostly reds or don't need your wine cold. 
---
4.
Wine Enthusiast 32-bottle Wine Refrigerator
– Most Compact Under Counter
Key Specs
19.5" x 17" x 33.5" 

Temperature zone: 41°F – 64°F 

Compressor cooling 

Cradle shelves
This 20-inch wine cooler, shockingly, can practically hold 32 bottles as advertised. The display-style base has a bit more headroom and allows you to stack a couple of Champagne or Burgundy bottles without hassle.
If you store or drink from mostly Bordeaux-bottled wines, you won't have the common issue of not filling up the wine cellar to its capacity. But then, that's not always the case, so it's only practical for a select few. 
Like any other dual-zone (DZ) cooler, you can adjust the temperature to a single zone if you want to at any time. But unlike regular DZ wine coolers, this high-quality Wine Enthusiast unit can hold stable and near accurate temperature zones.
Even better, its compressor cooling system runs "quietly." Of course, it makes the familiar hum sound of refrigerators, but it's only audible at night, even in a small home. If anything, it's quieter than a majority of wine coolers I've seen - and I've experienced quite a lot in operation. 
The only thing is, you can only use it as a freestanding wine refrigerator. This is because the vents are located at the top and sides, so installing it under a countertop or built into a cabinet would be impractical.  It's likely to overheat regularly and maybe damage the compressor. 
It doesn't have a lock and key feature, which is a bummer if you were wondering. Nevertheless, it's only a relative factor, so you may not find it crucial except that you've got "alcohol intruders" around like me.
All in all, this 32-bottle Wine Enthusiast dual-zone cooler is an excellent fit into any home and particularly remarkable if you're staying in a small apartment. 
Pros
Energy-saving unit 

Reliable temperature control 

Display case for your top three or four wines 

Long-lasting and damage-insured
Cons
It can't fit up to thirty-two bottles if you have varieties in your collection. 
Takeaway
This 32-bottle Wine Enthusiast dual-zone cooler will fit into any home, remarkable if you're staying in a small apartment.
---
5.
NutriChef 18-Bottle Countertop Wine Cooler
– Best Countertop Dual Zone Wine Cooler
Key Features
14" x 20" x 25.4"

Thermoelectric cooling

Side vent 

Temperature zone 46-64°F
The Nutrichef 18-bottle wine fridge is another innovative addition to the best dual zone wine cooler reviews.  
Not only is it a highly functional wine cooler but also a stylish one. I particularly like the reflective effect of the reinforced glass door.  
It's a thermoelectric wine cellar, so it has minimal noise and vibration and the least energy cost. So if you get paranoid at the thought of a compressor humming in your home, this is the wine fridge for you. 
It's also perfect for a beginner wine enthusiast. The 18-bottle shelf should fit in at least a case of wine. Unsurprisingly, it's cramped to fit the larger Champagne bottles, or does so snugly. 
The more pressing issue is how long it would last. 
It's obviously well made, but no reviews mention its durability, except one complaining of a breakdown after fourteen months. This is the only long-term issue with thermoelectric wine fridges. 
Pros
Thermoelectric compressor 

Standing storage for leftovers and display

Energy-saving thermoelectric coolant 
Cons
Cramped storage for large-sized bottles
Takeaway
My takeaway is that the Nutrichef unit is the most stylish and sophisticated portable dual zone wine cooler I've seen. Maybe I'm a little biased – love the reflective glass door – but it's perfect if you collect no more than a case of wine.
---
6.
Wine Enthusiast VinoView 155-Bottle Wine Cellar
– Largest Capacity
Key Specs 
Dimensions: 28.5" x 23.5" x 72"

Temperature range: 40°F 

Compressor cooling system

Front vent 
Wine Enthusiast VInoView is a tremendous dual zone wine cooler that shows off and stores a vast wine collection. 
What makes it such a paparazzi wine cooler is its 155-bottle pullout shelf design. Wines are stacked sideways so that their labels come in plain view under the blue interior LED light. This also helps for easy identification when you need a drink, and it sets a cool ambiance in any room.
What's more, unlike most freestanding wine coolers, non-standard bottles can easily fit into the shelves. You won't have to take out shelves or cram bottles into racks. 
However, if you have an extensive collection of large bottles like Syrah or Champagne, your storage capacity can go down by up to 40% percent of the advertised number. If not, you can store a few of them on the base shelf with no issues.
As expected from a significant investment, the VinoView reaches the ideal storing and serving temperatures. It can be set as low as 40°F and can go as high as 72°F. Of course, you don't have to store even your red wine this warm, except on rare occasions.
The only major issue I've found with the VinoView is that it's missing a humidity control for such a large unit. In hot summer months, molds can deface parts of the rack, and it shouldn't come as a surprise.
The VinoView uses a compressor cooling system for maximum stability and longevity. And for easy installation anywhere, it's air vent exhales through the front.
FYI, if you are going to install your wine cellar in a basement or top floor of an apartment building, you may have to pay FedEx guys more to heave it up the stairs after delivery. 
Pros 
Pullout shelves 

Minimal noise operation, sound no more than a chatter 

Hassle-free accommodation for some of the large bottles in your collection 

Quick-peaking temperature ranges with stable temperature control
Cons
No humidity control 

Not the sleekest large dual zone wine cellar unit on the market 

Expensive for a unit without humidity control, in my opinion. Other than that, it's great.
Takeaway
If you want to display your collection to showcase an extensive collection or just to identify bottles quickly, the Wine Enthusiast Kalamera VinoView is right on the money.
---
7.
Aobosi Dual Zone 30-Bottle Wine Refrigerator
– Best Space-Saving
 
Key Specs
Dimension: 15" x 22.8" x 33"

Temperature range: 41°F – 64°F

Compressor cooling

Front vent 
The Aobosi 30-bottle dual-zone fridge is a perfect mix of mainstream, contemporary, classic, and portable design in a wine fridge. 
This compact wine cellar is only 15 inches wide, which is great to start with. You can fit 30 Bordeaux bottles in that small space, which again, isn't a bad number for most collectors. I think it would be a treasure in the apartment of most New Yorkers 🙂 
Inside its plush interior, a blue LED light illuminates the bottles and wooden shelves. It's a sight to behold – even if it's standard – that my geek friends have dubbed it a databank. But I prefer to call it a UFO. 
The beechwood shelves, except the one in the base, roll out and can be dismantled to take a few bottles in your collection. Like most dual-zone cellars, the upper compartment chills wine, and the shelves below warm wines you want to store or reds generally. 
Generally, it's not a noisy wine fridge. It could almost go unnoticeable if it's installed in a kitchen. As for extra features, its key lock and carbon filtering system come in handy. 
Pros
Can fit into almost any home 

Shelves slide out for easy access or increased space

Good bang for your buck

It can be used freestanding or under a countertop

Classic wooden interior with led lighting
Cons
You give up a large part of your storage space if you drink champagnes or reds like Pinot Noirs. Sucks right? I love Bruts in my collection all the time. 
Takeaway
It's simple, get the Aobosi 15-inch dual-zone wine fridge if you want a space-saving and stylish unit. Keep in mind it hardly fits up to 30 bottles, and you'd have no regrets. 
---

Is A Dual Zone Cooler Worth It?
As a beginner wine enthusiast considering his first major investment in the hobby, I also had my doubts. Would it be beneficial to splurge five hundred bucks on a wine cooler? Well, I thought, "Okay, it isn't just any wine cooler, it's a dual zone wine fridge." 
I found my unit worth the cost. Else I wouldn't happily write this post of over three thousand words if I didn't. But how, you wonder? 
The first thing to consider is you veer towards drinking mostly one type of wine. In this case, a single zone fridge would serve you well and cheaper. I'm an adventurer who likes to drink and cellar any red, sparkling, or white wine I find. So, a dual-zone was what I truly need for that first-buy.
Another crucial factor is to estimate the quantity of wine you intend to store in the fridge, and you'd be okay.
Here's an honest opinion: 
Unless you're a party monster, you'll get a better bang for your buck with a dual-zone fridge. Or if you store your wines for weeks or months before drinking. Plus, it sucks if you have to buy a dual-zone unit after months or even a few years after buying a single zone fridge. 
4 Types of Dual Zone Wine Fridge
Typically, a DZ wine is categorized by size into three categories. But out of the category is the built-in wine fridge, which could fall into any of the sizes.
Freestanding Dual Zone Wine Fridge 
A freestanding dual-zone fridge is exactly what it is – it stands on its own. It's similar to the kitchen refrigerator and usually holds more bottles than its counterparts. 
Countertop Dual Zone Wine Fridge
It's a small wine fridge that you can place on the kitchen counter, bedside, or on small platforms. It's the perfect fit for a tight room, or maybe you just own a small collection. 
Undercounter Dual Zone Wine Fridge
It's another portable option that fits under the counter or as a standalone unit. It's a particularly attractive option to reduce the footprint of appliances in your kitchen. Of course, it requires adequate space under the counter to make it functional. 
Built-In Wine Fridge 
The "built-in" aka custom wine fridge can fall into the category of the types I've mentioned earlier. What sets them apart is the front vent of a custom fridge.
This simple feature affords you the personalization to fit the unit into a kitchen cabinet. It runs no risk of overheating as air is expelled through the front rather than the top or sides like other DZ wine fridges.  
What To Expect With The Storage Space
Almost every wine fridge has an overhyped bottle space. It's disappointing, but it is the order of the day. 
A wine fridge advertised as "30-bottle" may not practically fit twenty bottles of a wine collector. Most, if not every unit is designed to fit a Bordeaux bottle, the smallest wine bottle you can own. 
On the other hand, Burgundy, Champagne will be larger than your typical wine cooler. Having as few as six bottles in your collection alone could take up almost half the capacity of the cooler. To avoid frustration from a purchase, work out how much space you'd be giving up for your larger bottles before picking a size.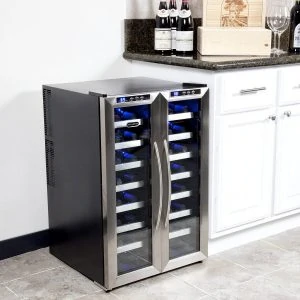 How To Choose The Best Dual Zone Wine Cooler
Budget 
Top of the list when searching for a dual-zone fridge is your budget. Unlike a single zone wine cooler, you should make plans to fork out no less than $250 or over $1000 to get the dual-zone wine fridge that meets your needs.
If you think that's too much for a wine fridge, test your luck in the used market. There are occasional good deals you can grab on Craigslist and eBay. 
But you aren't here for that, right? You'll get warranty coverage against common wine fridge malfunctions when you get a new unit. Plus, you won't have to stress finding decent units with your required bottle capacity. 
Now that you have an idea of how much you'd spend on your wine chiller, capacity and space are next on the list. 
Storage And Capacity 
Are you a budding wine collector with only a handful of reds and whites? Or you're a Mayor in Wineville with hundreds of wine begging for housing space? 
If you identify as one of these guys or aspire to be one anytime soon, you've solved one piece of the puzzle. 
As a budding wine enthusiast, you can opt for a 12-bottle or 19-bottle dual-zone bridge and be okay. But that's only a suggestion. You alone can determine the wine fridge capacity you require. 
For instance, an unapologetic collector can gauge his storage needs by the rate at which he collects new wines. If he already has fifty bottles and acquires about four every other month, an 80-bottle dual zone wine fridge would make a great fit. 
Installation Footprint
Like shopping for most home appliances, you need to measure the location where you want to install your wine fridge. 
Aside from making enough space for the unit, you should leave space by the sides for ventilation. Also, check where its door opens up to – it should open fully (90 degrees) if you need to roll-out shelves for more space or pick wines in the back row.
Type 
Having talked about how you need to make space for a compressor wine cooler, I'll tailor it down to how it can help make the right selection. Else, you could be cooking a recipe for disaster. 
A thermoelectric cooler is ideally the go-to wine cooler of choice. It vibrates less, not as noisy, and is even eco-friendly. While this sounds like all you need, it demands adequate ventilation at all times. 
If your installation location – say under the kitchen counter – can't provide this demand, you're better off with a compressor wine fridge. It's a more powerful and reliable option, by the way.
Extra Features 
Although not strictly a crucial factor to consider – for everyone – while shopping for the best wine fridge, you should consider some extra features. 
Yes, they may improve your experience with the wine chiller with perks such as reduced vibration, but also increases the price tag.
 Here are some features that set them apart:
Wooden shelves

In-built LED light 

Humidity control

Temperature display 

UV protection

Noise control
A dual-zone wine chiller with all these features is easily considered premium, but it doesn't make other models any inferior. The goal is to get your money's worth. 
What's The Ideal Temperature For A Dual Zone Wine Fridge?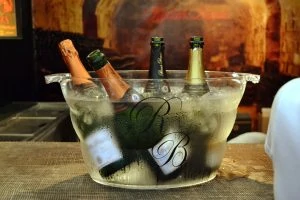 Dual temp wine fridge or not, the essence of a wine fridge is its stable temperature zone it affords wines. Not only does the right temperature bring out the true flavors of your wine – red or white – when you're ready to drink, but it also prevents accelerated decay if you're cellaring.
What then is the ideal temperature for red and white wines?
The optimal storage or cellar temperature for red wines hovers around 55 - 58 Fahrenheit. You can even go up to 62 degrees Fahrenheit if it's stable or if you'd be cellaring for more than a year. 
The optimal storage temperature for white wines is between 52 - 56 degrees Fahrenheit. 
Note: These are estimates and what's important while cellaring is a stable temperature. You can always transfer your whites into a fridge or ice bucket whenever you're ready to sip.
Final Thoughts
There's a feeling of satisfaction and pride that comes from drinking an optimally chilled glass of wine. You know you're tasting your wine at its best. 
And that's why you shouldn't hesitate to pick the best dual zone wine fridge you find worthy of your collection. 
Fortunately, you have all you need to make the right decision. 
Still in doubt?
Go for our top pick, the Karcassin 28-bottle Dual Zone Wine Fridge. It's compact, stable, and totally worth the money.