Last Updated: October 11, 2022
Not all wine enthusiasts have a temperature-controlled environment. Most would have their wines sitting on shelves or just part of their pantries. However, this kind of wine storage practice can cause fluctuating temperatures that potentially damage a wine's quality and affect its flavor.
So…
If you're an avid wine drinker, you would need dedicated storage for your wine collection, and this is where a wine fridge can come in handy. 
But then... 
What if you have severe space restrictions around the house? If it is one reason why you landed on this page, then keep reading as we explore various options in looking for the best undercounter wine coolers.
While there are several wine cooling units in the market today, choosing the best wine fridge for under counter placement could also take a lot of work. It can sometimes be challenging to find one that has the perfect dimension whilst meeting your specific needs.
If storage space plays a significant part in your decision-making, let's go over an in-depth under counter wine cooler review of some of the crowd-pleasing favorites. By the end of this article, you will understand what makes Colzer Upgrade 32-Bottle Wine Fridge our personal choice.
Best Under Counter Wine Refrigerators Reviewed
In the next few sections, we will take a closer look at these standout options, their noteworthy features, and what's not to like with them. Hopefully, it will serve as your guide in conveniently picking the right one for you and take your wine-drinking experience to the next level.
1. Colzer Upgrade 32-Bottle Wine Fridge - Best Crowd Favorite
Colzer's compact size makes it a prevalent choice nowadays. Small as it is, this fridge has appropriate spacing between its shelves, so you won't need to cram the bottles together to make them all fit. But of course, it's best to always check your average wine bottle dimension before purchasing a small fridge.
It also provides you with the flexibility of using it either as a built-in wine refrigerator or a freestanding one. You can likewise use it in different surroundings like at home or for office use. However, it's only a single-zone cooling unit, but its wide temperature range will allow you to choose the best setting for a particular wine.
Pros
Suitable to use as a built-in or freestanding wine chiller

Color-coded light as a cooling indicator

Energy saving

UV-protected door

Noise-free operation

Minimal vibration

Automatic lock

Wide temperature range

Great aesthetic

Easily adjustable shelves and cabinet feet

Temperature memory
Cons
Single-zone cooling restriction

Expensive
Takeaway
One of Colzer's outstanding features is having enough space between the bottles, so it would be unnecessary to move the upper shelf or damage the bottles. The brand also claims ten years of service life and get all the assistance you might need from their representative during this period.
---
2. Antarctic Star 26-Bottle Wine Cooler - Best Temperature Control
The Antarctic Star is every casual drinker or wine lover's best buddy. It works well in keeping a stable temperature, although this model can only store twenty-six bottles and only allows a freestanding installation. Antarctic Star has a thirty-six bottle capacity model to check out if you're into a massive wine collection.
The wine cooler also boasts its design that can easily complement your space's interior. Furthermore, its dual-pane glass door has an airtight seal that is exceptional in maintaining your wine's humidity level at its most optimal condition. The interior also has soft blue LED lights that won't damage your wines but rather give you enough illumination to see them inside the fridge.
Pros
Precise and adjustable temperature

Wide temperature range of 40 - 61 degrees Fahrenheit

Digital touch panel

Double-paneled glass door

Soft and non-damaging LED light

Cutting-edge cooling system

Noise-free operation

Low vibration

Bi-level adjustable legs

Simple operation

Stylish appearance
Cons
Freestanding installation only

No locking mechanism

No door handle
Takeaway
Aside from having optimal temperature, the Antarctic Star also has removable shelves. These shelves have stainless steel material, which means they are also easy to clean. Its door works so well for UV light protection and reversible with configurations left and right. 
---
3. Kuppet 27-Bottle Wine Cooler - Best Budget Buy
With a typical price range of $228 - $250, Kuppet 27-Bottle Wine Cooler is the most budget-friendly option of all the other products in this review. 
It's also famous for being multifunctional since you can also use it not just for wine storage but also for food and drinks. It can store twenty-seven wine bottles, with removable shelves, and room for larger bottles at the unit's bottom part.
The thermoelectric system ensures energy efficiency, which can help cut the cost of your electric bills. At a glance, you probably won't see anything fancy or extraordinary because it has a very simplistic look. However, in terms of functionality and performance, it does its job pretty well. Moreover, it operates quietly and has a double-layered glass door to keep the wine fresh.
Pros
Requires no assembly

Energy-saving

Noise-free operation

Adjustable shelves

Multifunctional fridge

Sleek design

Easy-to-use temperature controls

Space-saving

Reasonable cost

Double-layered glass door for ultraviolet protection

Maintains consistent temperature
Cons
Single-zone cooling restriction

No locking mechanism for added security

Temperature not uniform

Limited storage capacity
Takeaway
The adjustable temperature control can help you choose your desired setting without any trouble. Its compressor system has highly efficient performance; however, it may not be as noise-free as the other reviewed products in this article.
The wine cooler also has a freestanding installation, which means you may place it anywhere you want. I'm sure you'd also appreciate its soft interior lighting that could help you view what's inside without the need to open the door.
---
4. Aobosi 46-Bottle Wine Refrigerator - Best Storage
Aobosi features a dual-zone cooling system and offers an ideal space for your wine bottles. Its contemporary design, with stainless steel and glass door, perfectly matches any environment, be it at home or the office. 
This wine cooler has a unique construction with a front venting feature that will make it easier to fit the fridge in a cabinet or under the counter.
Its glass door works remarkably in flaunting your wine collection while keeping them away from damaging ultraviolet light. As most previous buyers would even say, the overall construction is both functional and appealing. Additionally, it has temperature memory functionality and a safety lock to prevent curious kids from going through your stash.
Pro
Excellent storage capacity

Advance cooling system and dual-zone unit

Suitable to use as a built-in or freestanding wine chiller

Moisture-resistant and removable shelves

Smooth, quiet operation with minimal vibration

Elegant design

Adjustable feet

Charcoal air filter

Door security lock

Dual-pane glass door

Thoughtfully designed angles for easy installation

Digital control for simple operation

Temperature memory function
Cons
Too bright LCD light and always on

Tightly squeezed storage for forty-six wine bottles

Open door requirement for temperature adjustment

Expensive

Door not reversible
Takeaway
For those with limited space, this compact wine fridge is the best solution. The blue shade in its interior lighting perfectly matches the stainless steel construction, which adds to its overall appeal. Its temperature memory functionality, although temporary, is also beneficial for remembering last-set temperatures. 
---
5. Karcassin 28-Bottle Under Counter Wine Fridge - Best Built-In Wine Cooler
Karcassin's an excellent choice for an under-counter unit that can protect your wine bottles while remaining in your clear view. Nevertheless, this built-in wine cooler review is highly significant because it highlights the wine cooler's advanced compressor system. It is the reason why the whole unit has a stable, uniform temperature.
On the other hand, its dual-zone cooling system allows you to hoard all your red and white wine favorites. The enhanced temperature control gives it the memory feature, which goes back to your initial temperature preferences if the fridge encounters a power outage. The minimal vibration also means that it can maintain the wine's natural flavor.
Pros
Reversible door

Silent operation with low vibration

Sleek appearance

Dual-zone unit

Memory feature

Bi-layered glass door

LCD touch control

Efficient, uniform cooling

User-friendly features

Carbon filter

Security lock

Sliding shelves made of beech wood

Separate doors for each zone for steady temperature
Cons
Takeaway
This wine cooler is worthy of investment because of its remarkable performance and its full of noteworthy features. The sliding beech wood shelves are pretty interiors too. Most importantly,  the fridge gives your wine collection two different temperature zones, separated by two doors to ensure temperature consistency.
---
What Is An Under Counter Wine Cooler?
The under-counter wine coolers provide the optimal wine storage for those who are working with limited space. It is a temperature-controlled unit that gives you or your guests easy access to wine while preserving it seamlessly. The design of such wine coolers is specifically for an undercounter installation.
To Buy Or Not To Buy A Wine Cooler?
If you are a wine enthusiast, then you probably know that temperature matters to your wine. A wine can lose its aroma and affect its taste when you store it at the wrong temperature. Having a wine cooler allows you to control your wine's temperature, preserve its quality flavor, and keep it safe.
Who Would Need A Wine Refrigerator?
Casual drinkers, vintage collectors, or any wine-loving individual, for that matter, should consider purchasing a wine cooler. It is a sound investment that helps you experience your drink at its best structure, aroma, and flavor by storing your wine collection at the right temperature.
The Ideal Temperature For Your Wine
There is no exact temperature by which you can say that wine can already go bad since many factors contribute to wine spoilage or preserving wine quality. However, for most wines, a temperature beyond 70˚F can put them at higher risk of damage, while anything below 25˚F can make your wine freeze. Too much cold can make the cork dry and cause it to seep.
Exposure to exceedingly high temperatures can cause a rapid aging process instead of allowing it to age naturally. It is best to check manufacturer recommendations, usually in wine labels, for the most appropriate temperature since it varies for every wine type. Here's a short video to learn more about optimal wine temperature:
---
The Dos And Don'ts Of An Effective Wine Fridge Maintenance
Sometimes, you will need to acquire professional services for maintaining your wine chiller after the purchase. Nevertheless, there are also things that you can do to ensure longevity and that it operates smoothly. Here are some helpful tips to consider:
Choose the right location

: Appropriate ventilation is one reason why choosing the proper placement for your wine cooler is crucial. Avoid placing it in tight spaces to prevent a lack of air circulation that may cause your unit to overheat. Keep it away from places that can expose it to direct sunlight, especially if it has a glass door.

Observe proper installation

: Allow your fridge to stand upright for a minimum of 24 hours after unboxing. It will give ample time for internal components to settle before use. Check leveling needs, proper grounding, and power source availability before proceeding with the installation.

Do not overload

: Stick to the bottle capacity requirements at all costs. It will keep your fridge from being overworked and, simultaneously, ensure that each bottle is adequately cooled.

Have a consistent cleaning schedule

: Regularly cleaning your unit will keep it at its optimal performance since you can avoid moisture buildups. It will also help you detect potential problems earlier.

Keep the coils clean

: Compressor type units use coils to maintain the refrigerator's cold temperature. Ensure that it is always clean to prevent damage and to keep it functional. Having clean coils will guarantee efficient performance and minimize the chance of increased energy consumption.

Filter replacements

: Some units come with the carbon filter feature that helps trap unwanted odors in your refrigerator. It also keeps such odor from seeping into your wine and potentially ruin its aroma. So, if you purchased a unit with this feature, make sure to replace the filters every three to six months.
Cleaning Your Wine Refrigerator
I realized how some would probably dread it, but cleaning your wine chiller could be a lot easier than you think. Check out these easy steps in getting your fridge spic and span:
Unplug your fridge from the power source.

Remove the wine and shelves.

Keep all wine bottles in a cool, moist-free place and beyond the reach of direct sunlight until you're ready to put them back.

Create a solution by mixing part-water and part-vinegar, then place it inside a spray bottle.

Spray the mixture in target spots in the fridge's interior and use a clean, soft cloth to wipe the surfaces.

Keep the door ajar for a while to naturally air dry the unit's interior.

Clean the shelves and make sure that everything is properly drained before putting them back.

Reconnect the unit to the power source and allow it some time to cool.

Once done, start putting the wine back into the fridge.

Repeat the process every after six months.
Please note that vinegar is a natural antibacterial agent. It can cut through grease and stains inside your fridge.
A Wine Chiller's Must-Have Features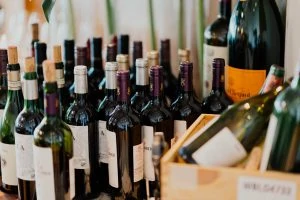 A wine cooler can make an excellent addition to any home. It effortlessly ensures that your wine bottles have safe storage and at the right temperature. Here are some cool features you should look for when purchasing a new wine fridge:
Adjustable Shelves
Modern wine chillers have various shelving options. It provides necessary support to keep the bottles in place or allow you to stack them on top of one another for storing in bulk amounts. The wine shelves or racks should accommodate different bottle dimensions for maximum flexibility, and they should allow easy access.
These shelves must be fully capable of letting you store bottles sideways since it helps maintain the cork's moisture and aging fine wines. Some of these shelves either have stainless steel or wood material. Make sure to choose an easily removable rack or one that you can glide smoothly. Avoid plastic shelving at all costs.
LED Lighting
The interior lighting must have a soft color that won't affect or damage your wine. The LED light is a feature that you shouldn't miss because it provides necessary illumination that showcases your wine collection and also lets you see what's inside with ease.
LED light is also a safer choice than fluorescent bulbs since it emits some ultraviolet radiation that can prematurely age your wine. LED does not generate heat too, and besides, I don't think there's anyone who would want to store their precious wine bottles in a dark area. Dimmable LED lights or ones with an auto-off feature are great to have as well.
Security Lock
Your wine collection is a valuable investment, so it is crucial to ensure secure storage for them. One way to do that is by having an integrated door lock. It helps you store your wine while making it less accessible to kids, burglars, or even prying house guests away from your prized possession.
Having a lock setting can also prevent unnecessary and frequent opening and closing of doors, which may cause fluctuating temperatures, hence, minimize the risk of wine spoilage. There are ones that also come with an alarm to warn you if the door is half-open.
Heavy-Duty Glass Door
Whether you go for a clear one, dual-tempered, UV-protected, or tinted, choose a wine cooler with a door that can help block out the sunlight. Sunlight exposure can cause the wine to oxidize and affect its flavor. 
Tinted glass works well in providing an additional layer of ultraviolet protection. Concurrently, a double-layered door offers the necessary insulation and keeps the unit's interior cool, while tempered glass is more durable.
Contrarily, having clear glass gives you the visibility of the unit's interior and minimizes the need to frequently open the door. It can help in preventing needless disruption to the temperature stability.
Multiple Temperature Zones
If you or common houseguests enjoy different types of wine, then having a wine fridge with multi-cooling zones is suitable for you, which makes it a feature worth considering. It helps you store a variety of wine types at optimal serving temperatures.
Some of the wine refrigerators have a single-cooling zone, while others have two or more separate cooling areas. These days, several dual-zone models also allow you a storage temperature setting for one spot and a serving temperature for the other.
Vibration-Free Technology
One of the biggest foes of ideal wine storage is vibration.  For this reason, it is only smart to choose wine coolers with zero or at least low vibration. Vibrations can cause chemical reactions that result in long term damage to your wine. It can disrupt sediments in wine bottles, affecting its aging process, the tannins, and the flavor.
Look for wine chillers that have a thermoelectric system. These are units offering minimal or zero vibrations, use less electricity, and allow noise-free operation. By contrast, if you prefer to have a powerful motor that can generate a cold temperature quickly, you should go for units with a compressor system.
Reversible Door
A fully convertible door hinge can give you the freedom to choose where to position your wine fridge. It's convenient for manageable installation and under-counter placement since you can adjust the way the door swings depending on your preferred position.
Wine Cooler Models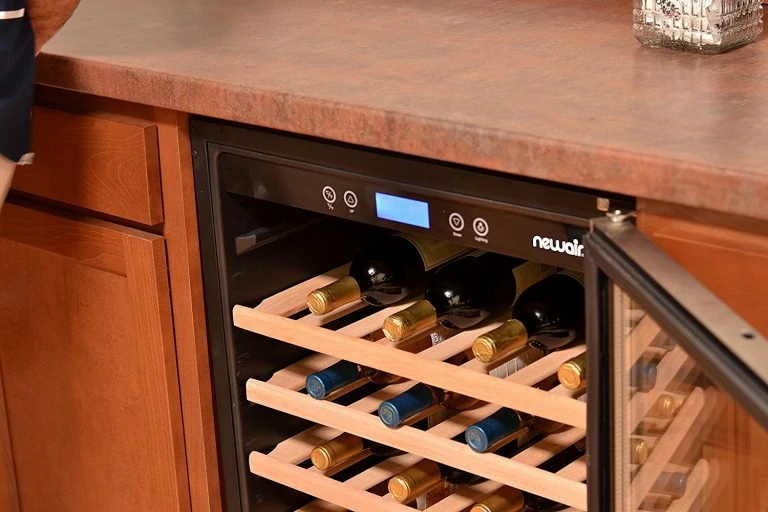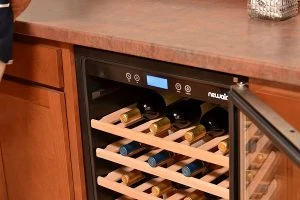 Undercounter wine refrigerators come in freestanding and built-in styles. Where you decide to place the unit will play a vital part in choosing the suitable wine cooler model for you. If you're not sure which one of these two you need, let's get into more details with a quick comparison guide between each of them:
Freestanding Model
A freestanding model has a design that allows it to stand independently, away from other appliances. You might encounter different freestanding units, but the truth is, they only vary in sizes and designs.
Some of the models offer more shelves than others; therefore, such models have the advantage of providing more storage.
The undercounter design, which we specifically featured in this article, is the best shot when you have limited floor space.
Having an appropriate back and side spacing is essential for freestanding countertop wine coolers, which is why you can't install them in the same way as built-in units. Ensuring the correct placement will prevent the wine coolers from overheating.
Pros
Least expensive

Sturdy

Relatively compact

Wide range of choices in the market

Simple installation

Easier to move around

Low maintenance
Cons
Bulkier than the built-in wine coolers

Need to blend into your home decor
Built-In Model
A built-in model has a sleek appearance with a design that, as its name implies, allows you to discreetly build it into an existing counter, cabinet, or space. You can install it under countertops or in-between drawers and may even position it independently, like how you would with a freestanding model.
At first glance, it would seem baffling to identify a freestanding wine cooler from a built-in one. One of the considerable distinctions between the two models is the kind of ventilation. Built-in models have front-facing vents, while a freestanding wine cooler has side or rear ventilation. This model is more suitable for under counter wine fridge.
Pros
Undisrupted design

Blends easily into existing cabinets or room style

Excellent for undercounter placement

Space-saving

Fit tight spaces without overheating
Cons
Lack of mobility

High maintenance

More expensive than freestanding wine coolers

Limited bottle capacity

Require custom cabinetry

Conclusion
A wine chiller is an astounding addition to any kitchen. So if you're looking for one, I'm sure you would want to make a worthy investment in something stylish, convenient, and functional at the same time. As any wine lover would probably feel by the end of this article, nothing can be as remarkable as always having a great-tasting wine nearby. 
Now that you know why you might need a wine cooler and learn some of its cool features, you can decide which of those you need.
All these are valuable learnings that could help your purchasing decision. We've covered only the top five under counter wine fridges today, but I'm sure there are a lot more out there. Colzer Upgrade 32-Bottle Wine Fridge stood out for us because we love how its compact size did not restrict its impressive performance and outstanding features. It is a good value for the price.
Likewise, Karcassin 28-Bottle Under Counter Wine Fridge is just as remarkable since it has a lot of stunning features like the memory function and advanced compressor system. We focused on highlighting any limitations and came up with a broad range of models so you won't run out of options.
Remember that there will be benefits and drawbacks worth noting, whatever your choice will be. We also went over a comprehensive buying guide that you can use for picking a wine cooler that is not on our list. Hopefully, it will serve its purpose and save you from the trouble of making hasty decisions as you invest in maybe your first-ever wine refrigerator.