Last Updated: October 11, 2022
Having a wine cooler at home is crucial for wine lovers, as proper storage would preserve its quality. It's a hefty investment, so you need to ensure you're making the right choice.
Which is why...
You probably encountered this article while looking for a Vinotemp wine cooler review. If so, you're in luck because Vinotemp is a reputable brand in wine coolers. We gathered some of their best products and features you might find handy in deciding on a suitable beverage cooler.
Keep reading and find out what made the Vinotemp 7-Bottle Mirrored Refrigerator our best overall.
Vinotemp Wine Fridge Reviews
1. Vinotemp 7-Bottle Mirrored Refrigerator – Best Overall
When checking various Vinotemp wine cooler reviews, you will find that many wine lovers find this model a well-made bottle wine cooler. The Vinotemp 7-Bottle Mirrored Refrigerator is a minimalist's best option for ensuring proper wine storage.
It has a sleek, elegant look with a dual-pane glass window and a mirror-trim design, similar to Marathon refrigerators. You can store your wine by placing one bottle on top of another.
Moreover, this wine chiller has a touch screen control panel that allows you to regulate temperature at your desired setting. With its broad range of temperature settings, you may choose from 40 to 72 ℉, perfect for storing different kinds of wine.
The mini-fridge also features sturdy wire shelves to hold your beverages securely in place.
Its compact design is perfect for those individuals lacking ample space for a wine repository, now giving them the chance to do so in style. To boot, you can use it for storing seven standard wine bottles, either as a built-in wine chiller or for freestanding installation.
Pros
Slim, compact design

Ideal for narrow spaces and smaller apartments

Suitable as a built-in wine cooler or as a freestanding unit

Elegant look that easily matches any home aesthetic

LED temperature display and control panel
Cons
Limited storage capacity

Single-zone wine cooler only
Takeaway
This Vinotemp wine cooler is a single-zone unit that can hold seven of your bottles. It has a reflective mirror finish and soft interior lighting to allow you to see what's inside while giving it a touch of elegance. All these features and exceptional cooling capacity make it our best overall.
---
2. Vinotemp 34-Bottle Touch Screen Wine Cooler – Best Value
It's not surprising to notice this wine cooler in almost every Vinotemp wine cooler review. The Vinotemp 34-Bottle Touch Screen Wine Cooler offers you the perfect storage for your precious wine collection, keeping it at its optimal temperature.
This wine chiller has an overall black body and a dual-pane tinted glass door with a hollow handle. Any wine expert would also appreciate its touch screen panel and interior lighting for ease of navigation while choosing the suitable temperature setting for your wine.
Besides its efficient cooling system, this wine cooler also takes pride in its compact yet adequately spacious design.
Not to mention that this model features a silent and vibration-free operation to prevent disturbing sediments in your wine. As such, you can be sure of preserving wine quality by avoiding premature aging and oxidation.
Pros
The perfect storage for your bulky wines

34 bottle storage capacity

Operates with no noise and vibration

Bottle wine fridge with three adjustable shelves

Airtight storage zone prevents cool air leakage

Digital temperature controls with safety lock
Cons
Single-zone refrigerator only
Takeaway
This wine cooler refrigerator is more than just a beautiful display. It's your best choice if you intend to store larger bottles of wine. However, unlike our top product, this model is not for built-in installation.
---
3. Vinotemp Romanzo 4-Bottle Open Wine Cooler – Best Budget Friendly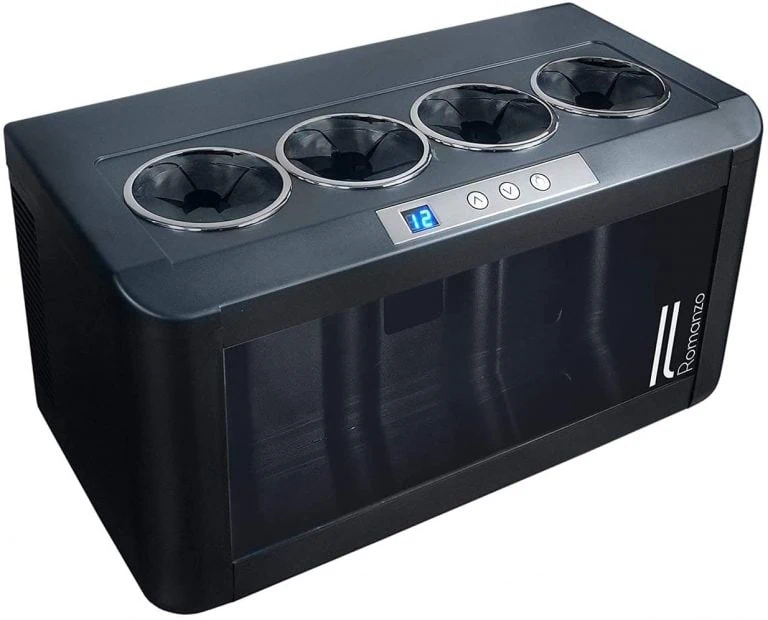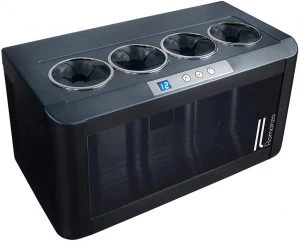 Any wine lover would agree that the Romanzo model is the best Vinotemp wine cooler for budget-conscious individuals. It is among the mini fridges you can find today with a clever design at an affordable price.
Whether it's red wine, white wine, or sparkling wine, you can store your favorite bottles in an upright position with Vinotemp Romanzo 4-Bottle Open Wine Cooler.
As such, you can serve your beverages chilled to the perfect temperature without the risk of spilling them over. This thermoelectric wine cooler ensures that you can use your wine chiller without noise and vibration.
Such technology also gives you the peace of mind that your wines are perfectly safe at a stable temperature, ranging from 41 to 66 ℉. This open wine cooler is your easy access to instant ice-cold beverages any time you wish to have one.
Pros
Noise-free thermoelectric technology with minimal vibration only

Touch screen digital interface

Convenient temperature control

Modern look complements any house aesthetic

Upright wine storage ensures no spillage
Cons
Suitable only for freestanding installation
Takeaway
Whether you're having some wine cravings in the middle of the day or hosting house parties, this Vinotemp Romanzo wine cooler makes a perfect choice. It has a sleek appearance with its all-black design and can store four bottles of wine, beer, or soda.
---
4. Vinotemp 2-Bottle Open Wine Cooler – Best Space-Saver
Vinotemp 2-Bottle Open Wine Cooler is undoubtedly the best wine cooler for any wine lover short on space. It secures your wine bottle in an upright position, so they stay perfectly chilled until you're ready to serve them.
Like the 4-bottle version, this cooler also features thermoelectric technology to ensure that it runs quietly.
It may not be ideal if you wish to store your wines long-term, but it takes less counter space while keeping your drinks at optimal temperatures. Since it's an open chiller, it means you need not worry about the mess caused by ice and water, which also keeps wine labels intact.
The unit has an excellent lower temperature range, from 41 to 66 ℉, making it suitable for storing dry white, sparkling, and sweet wines. Relatively, its highest temperature level is perfect for storing your red wines.
Pros
Compact yet stylish, space-saving, and functional design

Perfect for wine lovers with minimum space requirements

A tabletop unit that chills wines perfectly

User-friendly touch screen control panels

Allows instant access to your wine
Cons
Limited bottle storage capacity

Suitable for short-term storage only
Takeaway
If you only drink wine occasionally and don't entertain guests that often, this Vinotemp 2-Bottle wine cooler is your best choice. It has a versatile look that blends well with contemporary or classic interior design in any space. The digital control interface allows easy temperature adjustments.
---
5. Vinotemp 15-Bottle Single-Zone Wine Cooler – Best For Bulk Storage
If you find an all-black stainless steel unit appealing, you should consider this model from Vinotemp. It meets the needs of even newbies in the wine collection. This Vinotemp 15-Bottle model has a touchscreen control panel that makes regulating temperatures a breeze.
This wine cooler with 15 wine bottle storage capacity features a dual-pane tinted glass door with a fridge magnet to ensure airtight storage.
Magnetic seals also mean less energy consumption and less noise with no racketing sounds. This functional cooler keeps your wine at the right temperature and even offers you leveling convenience with its adjustable feet.
Moreover, this wine chiller also has soft blue interior lighting that gives your bottles of wine a dramatic display when you look from the outside. It includes a metal wine rack for securing your bottles and bulk storage.
Pros
Easy-to-use touchscreen panel for temperature control

Blue LED light for displaying your wines beautifully

Convenient leveling with its adjustable feet

15 bottle capacity

Compressor cooling system for stable temperature
Cons
Not as noise-free as thermoelectric units

Slightly heavy
Takeaway
In addition to its elegant black body, the Vinotemp 15-Bottle Single-Zone Wine Cooler's touchscreen control panel makes temperature customization effortless. Its digital control system guarantees ease of operation and even has UV protection to preserve wine quality.
---
6. Vinotemp 48-Bottle Wine Cooler – Best For Under-Counter Installation
You should consider this touchscreen wine cooler if you wish to create a temperature-controlled environment for your favorite wine. It has a spacious compartment, so you no longer need to struggle to fit groceries between stacked vintage bottles in your kitchen refrigerator.
If you need a space for a ton of your favorite reds and whites, this unit offers you easy storage for 48 bottles.
The Vinotemp 48-Bottle Wine Cooler has a heavy-duty door, a metal exterior, and a LED readout for effortless monitoring of temperature consistency. It likewise has six removable wire racks, a bulk storage compartment, and a touchscreen control panel with a safety lock.
You may also store similar kinds of wine together since it has a single-zone storage capability. Further, there's no hassle when switching between Celsius and Fahrenheit, and it offers a broad temperature range of 40 to 72 °F.
Pros
Exquisite metal exterior in an all-black shade

Single-zone unit with a touchscreen display

Compressor-based cooling system

Frost free refrigerator with insulated door

Groovy metal wine racks
Cons
Freestanding installation only

Storage capacity decreases when storing large-sized bottles
Takeaway
This 48-Bottle single-zone unit features a central digital blue LED readout, a touchscreen control panel for temperature management, and lock settings. It has an optimal height for under-the-counter placement and adjustable feet for quick leveling.
---
Factors Worth Considering When Buying A Wine Cooler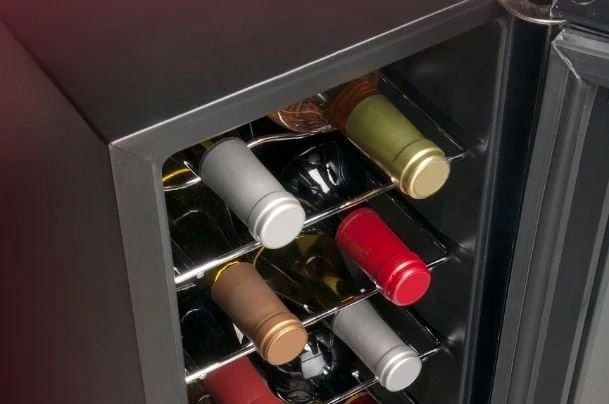 It would be best to consider several factors when learning how to choose the best wine refrigerator for your collection. Here are some of them:
Built-In or Freestanding Unit
Many people have this uncertainty when choosing between built-in vs. freestanding units. Freestanding units can stand independently with finished sides, and cabinetry is unnecessary.
It is more suitable if you prefer to skip the installation process. Freestanding units are also ideal when you frequently move from one place to another.
You integrate built-in units into your walls or kitchen cabinets for seamless kitchen designs. Such units are typically taller than a freestanding fridge but are limited to the dimensions of your kitchen cabinetry.
Storage Capacity
When buying a wine cooler, it is crucial to choose the suitable capacity, which you can determine by the number of bottles it can hold. Depending on how many bottles you need to store, you will require a certain amount of space.
You can go for a smaller capacity if you don't drink that much. However, a larger capacity is more appropriate if you have a bulky collection to meet the storage demands of your favorite wines.
Single-Zone or Dual-Zone Cooling System
It would help to consider the temperature zone that meets your demands before investing in a wine fridge. Collectors of only one type of wine can opt for a single-zone unit. Such units have no partition, come with one steady temperature for storing a kind of wine, and are cheaper.
You only opt for a dual-zone wine fridge if you need two different temperature settings to store various wine types. It is more sizable and consumes more energy.
Therefore, ensure that you don't get one if you're only storing beverages you can otherwise stack in a standard refrigerator.
Cooling Mechanism
Vinotemp offers two ways to cool their refrigerators. Most smaller models use thermoelectric cooling, making them perfect for those with limited space. These models run silently and with more efficiency.
Compressor-based models operate like your conventional refrigerator. It uses a vapor compression cycle to reduce the temperature significantly. Such models are suitable for long-term storage facilities and if you need to store wines at colder temperatures, but could also make noise and are heavier.
You may opt for Vinotemp's EL-142SDST model if you prefer a more energy-efficient unit since it uses an inverter compressor. It is comparable to a Newair wine cooler using the same technology.
The Vinotemp model could be more pricey, but it has 155 bottle storage capability, and Newair can only store 98 bottles.
User-Friendly Features
Go for units that offer more convenience, especially when maintaining them. There are refrigerator models that require you to use specific cleaning products. It is necessary to give your bottle wine cooler a good wash, wiping nooks and crannies with a cleaning solution.
Watch this brief video and discover how to create your homemade cleaning mixture so you can avoid exposing your fridge to harsh chemicals:
Additionally, a locking door storage would also be a nice feature to have as much as the digital interface for ease of navigation. Door insulation is excellent for keeping temperatures stable as well.
Frequently Asked Questions
What are the similarities between Vinotemp and Wine Enthusiast?
Wine lovers know that these are leading manufacturers of wine chillers. Both are US-based companies and continue to stand out in the market with high-quality refrigerators you can use in your wine cellar.
These two manufacturers have residential and commercial units comparable in features and functionalities. Vinotemp has the 188-Bottle Vinotemp Private Reserve Series, and Wine Enthusiast has the Eurocave Revelation with 182 bottle capacity and is the pricier of the two.
What is the best Vinotemp wine cooler?
Vinotemp offers such a broad range of storage solutions for your favorite wines. The brand has it all from a single-zone unit, a dual zone wine cooler, and freestanding and built-in models.
We find the Vinotemp 7-Bottle Mirrored Refrigerator the best overall product. It has a moderate storage capacity to hold seven bottles, not too sizable if you are concerned about limited space. Besides its exceptional cooling capacity and maintaining a consistent temperature, this model also allows you a built-in wine cooler or use it as a freestanding unit.
Furthermore, Vinotemp products are EnergyStar certified like any Marathon appliance. It gives consumers the confidence that products have the highest standards and ensure the utmost safety.
Where is Vinotemp manufactured?
They assemble their wine coolers using professional-grade materials and remarkable precision at their headquarters in Henderson, Nevada. Vinotemp International has been manufacturing premium wine coolers, cabinets, and racks for more than 30 years. 
Final Thoughts
In summary, Vinotemp is a reputable brand trusted by many for its comprehensive storage solutions. Their units might look the same, but each comes with various features to meet a wide range of needs.
We find the Vinotemp 7-Bottle Mirrored Refrigerator (VT 7BMSL FE) as our best overall product. It has a space-friendly design, a stylish look, and easily adjustable temperature levels. The 34-Bottle Touch Screen Wine Cooler is relatively a product offering the best value with its outstanding features for a reasonable cost.
Hopefully, getting you familiar with all the features of Vinotemp's top-rated products helps you choose the best wine fridge to meet all your storage needs.