Last Updated: October 12, 2022
Beef Stroganoff is a dish named after the Stroganov family and has its origins in mid-19th-century Russia. It is one of the best dinners you can make in short order as it uses few ingredients.
Beef Stroganoff has many variations worldwide like mushrooms, chicken, shrimp, and sausage for beef.
Additionally, various Stroganoff sour cream sauce recipes include butter, vegetables, and varied seasonings. Bottled marinades, such as Worcestershire Sauce, or white wine sauce complete the dish.
Here are some of the Beef Stroganoff wine pairing recommendations you can consider depending on the recipe you use to make this dish:
Zinfandel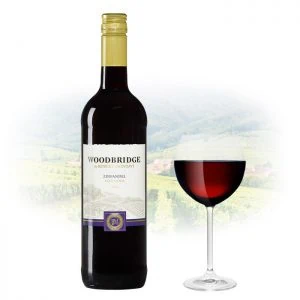 The original recipe of the classic Beef Stroganoff features sautéed beef cubes or strips, served in a Stroganoff sauce of roux, beef broth, mustard, and sour cream, served over buttered noodles, rice, or potatoes.
This rich dish is creamy with flavor from the sour cream, meat, and carbs, making it the perfect wine to pair with bold and food-friendly red wines like Zinfandel and Cabernet Franc.
Zinfandel is a fruit-forward and medium-dry red wine with moderate tannins and astringency. It is the fourth most produced wine style in California and comes in two varieties, Zinfandel and White Zinfandel.
The California Zinfandel wines from Lodi and the Russian River Valley have some of the oldest Zinfandel vines in California.
Cold vintages have red and dark berry fruit flavors such as strawberry, blackberry, cranberry, and blueberry, while warm vintage Zins are typically more jammy with cherry and plum flavors.
These wines also provide hints of tobacco and apple skin flavors and tend to have a high alcohol content at 15% ABV.
The combination of black fruit flavors, tannins, medium acidity, and boldness makes Zinfandel a good wine for light dishes like Beef Stroganoff. Lodi Zinfandels are more approachable than the high alcoholic Amador styles.
Chardonnay
Chardonnay is a white wine variety that also pairs well with sour cream sauces like Beef Stroganoff dishes. The wine has a subtle taste profile like Pinot Gris wine, making it the ideal wine pairing choice for this Stroganoff sauce dish.
Chardonnay grapes originate from the Burgundy region of France and are currently the most widely grown white grape variety worldwide.
Chardonnay wine has diverse flavors, depending on the climate, terroir of the region, and vinification style. Ripe Chardonnay wines from warm climates tend to have citrus fruit notes, like peach and melon, and tropical fruit flavors, such as mango, pineapple, and banana.
Classic style Chardonnay is oak-aged, giving it a rich, buttery mouthfeel with vanilla, coconut, and dill flavors. Oaked Chardonnay from warm climates tends to have lower acidity than unoaked varieties from the cool regions of France, Sonoma, and Napa Counties of California.
These creamy Chardonnay wines are typically light to medium bodied with medium acidity and notes of apple, pear, and green plums. Chardonnay is also a key component of sparkling wines, such as French Champagne and Franciacorta.
Other bubbly wines that make an excellent wine pairing alternative to Chardonnay include Spanish Cava, Italian Prosecco, and German Sekt.
Syrah or Shiraz
Syrah, also known as Shiraz in some parts of the world, is a dark-skinned grape that produces a bold red wine. It has its origins in the northern Rhône region of southeastern France.
Syrah is an offspring of two obscure grape varieties; the Dureza, a dark-skinned red wine grape, and the Mondeuse Blanche, a white grape variety.
Syrah is the most common grape variety in the Côtes du Rhône wine region of the French Rhône Valley. Côtes du Rhône red wines are full-bodied with bold flavors, medium tannins, and astringency. They make the perfect wine pairing choice for Sausage Stroganoff and Mushroom Stroganoff recipes.
Nordic countries often substitute Beef Stroganoff with sausage, resulting in Korv Stroganoff. In Sweden, the traditional sausage Falukorv features smoked pork with beef or veal, and potato starch flour, mixed with onions, mild spices, and salt.
It creates a Stroganoff dish with rich flavors that pair well with bold, cool climate Syrah wines from France, Germany, Italy, and Sonoma.
The taste profile includes light fruit flavors of black cherry, raspberry, green olives, and blueberries with hints of white pepper, mint, minerals, and spices.
Mushroom Stroganoff has a savory taste that pairs better with warm climate Shiraz and other red wines like Cabernet Franc. These wines are more jammy with black pepper, black olive, and Licorice flavors to balance off the peppery Mushroom and rich sauce combination.
Generally, mushroom dishes pair well with full-bodied red wines, like Shiraz, Pinot Noir, and young Barolo, and white wines, such as a bold California Chardonnay. Avoid oaked Syrah wines with mushrooms as they enhance the acidity and tannins on your taste buds.
Pinot Noir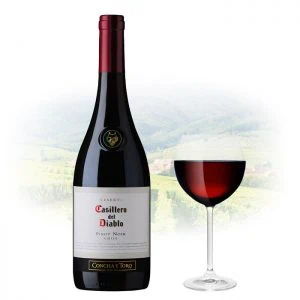 Pinot Noir is the most well-known red wine in the world and the most expensive as it is a difficult grape to cultivate. It is a light-skinned grape variety that produces light to medium-bodied wines with low tannins and medium to high acidity, depending on region and vinification style.
Pinot Noir red wine has a dry mouthfeel and is a versatile wine for various dishes due to its characteristics.
The wine originates from France and grows well in the same intermediate climate conditions as Chardonnay. It belongs to the same grape family as Pinot Blanc and Pinot Gris.
It is one of the few red grape varieties that make blended red wine (like Bordeaux with Merlot and Cabernet Sauvignon), champagne, sparkling white wines, and Dry Rose wine.
French Pinot Noir from Burgundy is the most popular style and features hibiscus, rose petal, cherry, mushroom, and potting soil flavors. These floral and earthy notes make excellent wine pairings for Mushroom Stroganoff dishes.
On the other hand, the rich and fruity styles of California Pinot Noir wine make a good match for Chicken Stroganoff.
Barbaresco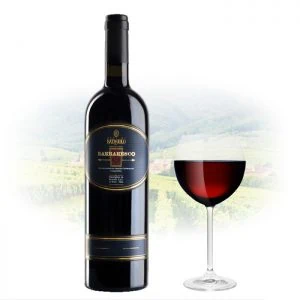 Barbaresco and Barolo are highly regarded wines from the Piedmont region of Italy and are the best examples of red wines made from the Nebbiolo grape.
Barbaresco is a full-bodied astringent wine with high tannins that pairs well with flavorful dishes like Beef Stroganoff with mustard sauce.
The typical Barbaresco features flavors of sour and wild cherries, cranberries, herbs, licorice, spices, and floral bouquets, such as Violet and red rose. It also features oak-aged flavors like tar, leather, tobacco, mushroom, coffee, chocolate, and spices.
The standard Barbaresco wine ages at least two years before consumption, while the well-made varieties age for at least five to ten years. It is a fruit-forward wine with spicy and earthy flavors and a floral bouquet, making it a better wine pairing choice for Beef Stroganoff than Barolo.
Taste Test: What is your favorite choice: beef or veal? Regardless of your answer, both pair excellently with the finest wines available. Read our article about veal and its perfect wine pairings here -- Osso Bucco Wine Pairing.
---
Watch This!
---
Conclusion
To conclude, Beef Stroganoff is a versatile dish with many variations and substitutes, and sometimes it can be challenging to pair it with a particular wine due to its diverse taste profile.
The classic Beef Stroganoff is rich and pairs well with bold red wines with high acidity like Zinfandel and Barbaresco. Savory Sausage Stroganoff varieties pair well with fruity and peppery wines like Syrah.
Earthy Mushroom Stroganoff makes a great match with Pinot Noir and subtle varieties like Chardonnay and Sparkling wines.