Last Updated: October 11, 2022
Most wine drinkers take pleasure in having a fine glass of vino every so often. But much as we want to sound knowledgeable with all the different wine types out there, being confused about all unfamiliar terminologies can be relatively easy.
We can avoid those awkward trips to the liquor store by knowing what makes each wine extraordinary. Furthermore, a profound understanding of their varying characteristics and how it will suit every individual's taste preferences will make the wine selection easier. It will also mean that we get to invest in a noteworthy bottle of wine, so we get to enjoy each glass all the more.
So, now...
Let's take the case of the never-ending battle between Burgundy Vs. Bordeaux wines, for instance. Aside from their names coming from different French regions, what else do we know about them? Keep reading as we go through an extensive analysis of these two wines, so on your next wine shopping, you'd know better which one to pick.
Main Differences Between Bordeaux And Burgundy
The main differences between Bordeaux vs. Burgundy are:
Bordeaux originated from Southwestern France, whereas Burgundy's origin is from Eastern France.

Bordeaux is famous for wine blends, whereas Burgundy is well known for single-varietal wines.

Bordeaux region has high humidity levels and varying weather conditions, whereas the Burgundy region has cold winters and relatively short summers.

Bordeaux has high to medium tannins, whereas Burgundy has tannin levels ranging from low to medium.
A Wine Lover's Guide To Understanding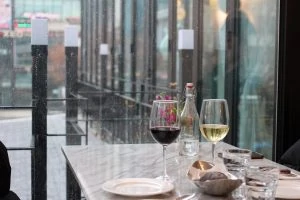 The Difference Between Bordeaux And Burgundy
It would be as impossible to think of France without thinking about wine. France not only has excellent vineyards, but it also defines and classifies them in more detail than any other country. It is prominent for its remarkable wine production and culture.
France has several wine regions and native grape varieties, and in this article, we'll go over two of its controversial regions in more detail.
All That You Need To Know About Bordeaux
Origin
Bordeaux is Southwestern France's reputable wine region. It is well known for setting the standard for red wines worldwide and has the finest wineries. Furthermore, it has a two-part division; the Left Bank, which is home to the famous Cabernet Sauvignon, and the Right Bank, which produces Merlot. Between these two is Entre Deux-Mers and produces excellent wines.
The Left Bank
The left bank has different winemaking regions and sub-regions including, but not limited to Barsac, Graves, Pessac-léognan, Médoc, Margaux, St. Julien, and. Pauillac. The wines are bold, contain high alcohol levels, age well, have higher tannins, and are very acidic. 
The Petit Verdot, Cabernet Franc, Cabernet Sauvignon, Malbec, and Merlot are among left bank's prestigious blends. Its young wines have bolder tannins with spice, currant, and tobacco flavors, while the vintage is softer with hints of cigar box, cedar, leather, smoke, herbs, and truffle. The wines coming from Left Bank is ideal for aging and make an excellent match for red meat.
The Right Bank
The right bank also has its sub-regions, including but not limited to Blaye, Côtes-de-Bourg, Fronsac, Pomerol, and Saint Emilion. Right bank young wines are juicy, have low-alcohol content, and usually more affordable.
The prestigious right bank blends are Merlot, Cabernet Franc, and Cabernet Sauvignon. Its young wines have black cherry, licorice, black and red plum flavor, with lusciously soft tannins. In contrast, the vintage has distinct earthy characteristics with notes of tobacco, truffle, and dark chocolate.
Bordeaux White Wines
While Bordeaux is legendary for its reds, it is also a noteworthy producer of Sauvignon Blanc, Semillon, and Sauvignon Gris. The young white wine has the complex aroma of citrus, flowers, vanilla, while the vintage ones have notes of butterscotch, minerals, spice, and freshly cut lawn grass.
Grape Production
The majority of Bordeaux's red, white, and dessert wines are all products of successful blends. The Cabernet Sauvignon, Cabernet Franc, Merlot, Malbec, Petit Verdot, and Carmenere are among Bordeaux's red grape varieties. Contrarily, the Sémillon and Sauvignon Blanc, Muscadelle, and others are the main grape varieties of white and dessert wines.
Characteristics Of Bordeaux Key Grape Varieties
Merlot

produces softer wines when younger, and as it ages,  it starts to have notes of plum, raspberry, spice, oak, leather, and chocolate.

Cabernet Sauvignon

has an unmatched reputation in blending well with other grape varieties like Merlot, Cabernet Franc, and Petit Verdot. It has the aroma of cedar, blackcurrant, leather, oak, and tobacco.

Cabernet Franc

produces wines ranging from light- to medium-bodied. It has the flavors of currant and berry.

Sauvignon Blanc

wines have a refreshing citrus flavor with hints of honeysuckle, herbs, peach, gooseberry, and lemongrass.

Sémillon

is a blending partner for dry white and sweet dessert wines. As a single variety, it has nut, wax, and honey flavors.
Perfect Food Matches
A red Bordeaux wine perfectly matches steak and duck fat fries as it will bring out the wine's sweet and fruity taste. Moreover, the white wine pairs well with white fish and buttery dishes. Here are other excellent food pairings:
Grilled meats

Roquefort or blue cheese

Venison

Beef stroganoff

Filet mignon steak

Sauteed mushrooms

Baked, mashed, and roasted potatoes
All That You Need To Know About Burgundy
Origin
Burgundy is a province smaller than Bordeaux and yields only half as much wine, and with different wine regions. Their wineries grow proprietary-owned grapes,  have a winemaking facility and aging caves within the property, and even market the wines under their name. These vineyards, although small, have individual appellations and several owners.
Burgundy's Main Regions
Chablis

: It is a relatively small region having less than 7,000 acres under vines and restricted to dry white wine production. The region is a famous producer of the lean, unoaked Chardonnay.

Côte d'Or (Côte de Nuits and Côte de Beaune:)

It is home to Grand Cru vineyards with Côte de Nuits well-known for red wine production and home to Pinot Noir. Additionally, Côte de Beaune yields both red and white wines and it's also home to the finest Chardonnays.

Côte Chalonnaise

: A region in between Chagny and Saint-Vallerin and has no Grand Cru vineyards. It is famous for producing Pinot Noir and Crémant wines.

Mâconnais

: Primarily yields white wines from Chardonnay grape variety. Their wines have the flavor and aroma of apple, pineapple, and white peach. 

Beaujolais

: They use a different grape variety, which they call Gamay Noir. It produces light fruity wines.
Grape Production
For Burgundy winemakers, the terroir matters more than the region since it expresses more of the grapes' character.  The red grape varieties are Pinot Noir and Gamay, while the white grape varieties are Chardonnay and Aligoté. Unlike in other regions in France, they don't blend grapes during the wine-making process in Burgundy.
Red Wine Characteristics
In Burgundy, they mostly use Pinot Noir for the red wine production. Its red wine has a rich and complex flavor, contains less alcohol, and has varying shades of ruby red, purplish-red, cherry, and mahogany. It has a subtle aroma of raspberries, blackberries, spices, leather, redcurrants, meat, and truffles.
Fresh fruity notes characterize the young wines, while the vintage ones have more prominent floral notes. The scent of a cooked fig or jam indicates the use of very mature grapes during wine production. Wines aged in barrels will have hints of cinnamon, ginger, coffee, grilled almonds, and licorice.
White Wine Characteristics
Burgundy mostly uses the chardonnay grape variety in white wine production. The young wines have notes of apple, peach, lemon, or grapefruit, but as it ages, it becomes more complex and starts to have almond, apricot, walnut, or orange peel flavors. Contrarily, barrel-aged wines have hazelnut tones, and hints of pepper, vanilla, and cinnamon will become more prominent as it ages more.
Perfect Food Matches
Both the red and white Burgundy wines have flavor intensity that lies somewhere in the middle, so it's best to pair them with light-flavored meals. Here are some of Burgundy wines' best food pairing:
Chablis with oyster dishes

White Burgundy with a veal's delicate flavor

Muscadet with mussels

Sancerre with a delicate fish in butter

Condrieu with asparagus with hollandaise

Red Burgundy with roasted duck breast, mild cheeses, and seared tuna

Southern Rhone reds with beef stews

Beaujolais  with stew, and mostly chicken than beef or pork

Northern Rhône Syrah with lamb

Sauternes with roquefort

Chenin Blanc with apple tart

Bordeaux rosé with Chinese food
Taste Test: Why don't we try Germany's finest wines this time? We researched two of their popular liquors and wrote a comparative review about them.  You can find our article here -- Gewurztraminer vs Riesling.
Frequently Asked Questions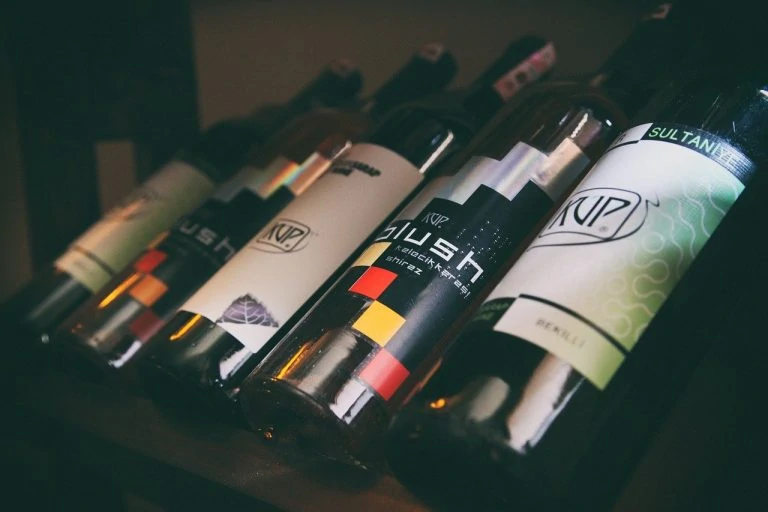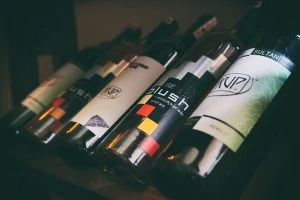 Burgundy Vs. Bordeaux Comparison
Which Is Better -- Bordeaux Or Burgundy?
Both of these French regions are famous for producing excellent wines. Burgundy is more well-rounded, while Bordeaux sets exceptionally high standards for its favorite blends. The better one of the two all depends on your personal preference. If you're a fan of reds, then I'm sure you'd love a Bordeaux red blend. If you prefer single-varietal wines, then you should go for a Burgundy.
How Far Is Bordeaux From Burgundy?
The distance from Burgundy to Bordeaux is approximately 457 kilometers. The nearest airport's flight distance is 300.03 miles, which corresponds to an approximate flight time of one hour and four minutes.
Which Is Cheaper -- Bordeaux Or Burgundy?
Bordeaux wines cost less than Burgundy wines because of the former's insatiable demand due to low production, explaining the wines' limited supply or availability compared to the latter's cost of production which is higher.
Key Takeaways
Knowing your wine gives you an advantage. It makes the selection process of the best ones a lot easier, and you'll have the confidence to make well-informed decisions. 
We now understand how geography can also influence wines' unique tastes and aromas from different regions. It minimizes confusion and increases the pleasure of analyzing a wine's varying characteristics. Remember that the more we know about wine, the more we can appreciate it.
Considering the vital differences between Burgundy and Bordeaux, the best thing is experimenting with a few bottles. There are a couple of options for both wines, and with their stellar reputations, I don't think any of them will disappoint you.
Exploring different wine choices will give you a clearer picture of how a wine's value is more than just the taste, but the overall experience it can provide. You may use this knowledge as a guide, and hopefully, it will be a huge help as you get started on all things wine.