Last Updated: October 12, 2022
Every food comes with distinct characteristics that influence our perception of varying flavors in wine. Some wines have fruity notes, while others have smoky, earthy, herbal, and spicy aromas. 
The matching flavors in wine and food are one of the key identifiers to making a good wine pairing. Aside from the taste, the aroma also defines the unique characteristics of food and wine.
Such explains why pasta and wine make a timeless pairing. But do you ever wonder about the best carbonara wine pairing? If so, please keep reading to discover more about it.
Pairing Carbonara With White Wine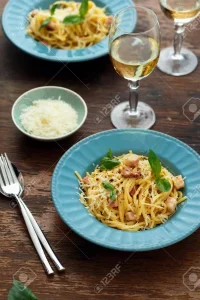 Cheesy spaghetti carbonara is a simple dish yet requires skillful mix and match when it comes to wine pairings.
Light-bodied sauvignon blanc, pinot grigio, and Pinot Bianco, also well-known as pinot blanc, can enhance the flavor of such a dish. When you pair wine such as pinot grigio or pinot gris with carbonara, its herbaceous aroma and the crisp and citrusy notes prevent the dull taste.
Sauvignon blanc can be a rockstar in meals where carbonara is in light olive oil. Even Soave DOC and pasta alla carbonara, a Roman cuisine,  are among the classic Italian hallmarks.
Spaghetti alla Carbonara is a popular Italian dish cooked in olive oil, black pepper, and egg yolk, topped with Parmesan cheese. While a fruity red wine like Montepulciano or Barbera is a typical pairing, a Riesling may also complement the buttery, cheesy flavors of such dishes.
Asparagus and egg sauce are challenging in pasta courses yet remain delicious when paired with Riesling.
On the other hand, if your pasta comes with seafood, a crisp white wine low in alcohol content makes an excellent pair. Other white wines that are light-bodied and suitable for pasta carbonara pairing are chardonnay or chardonnay blends.
Robust Italian dishes like mushroom-based pasta get more delectable with oaked chardonnay. Italian wine pairings like Falanghina and Vermentino also do well with carbonara pasta rich in herbs or vegetables.
Pairing Carbonara With Red Wine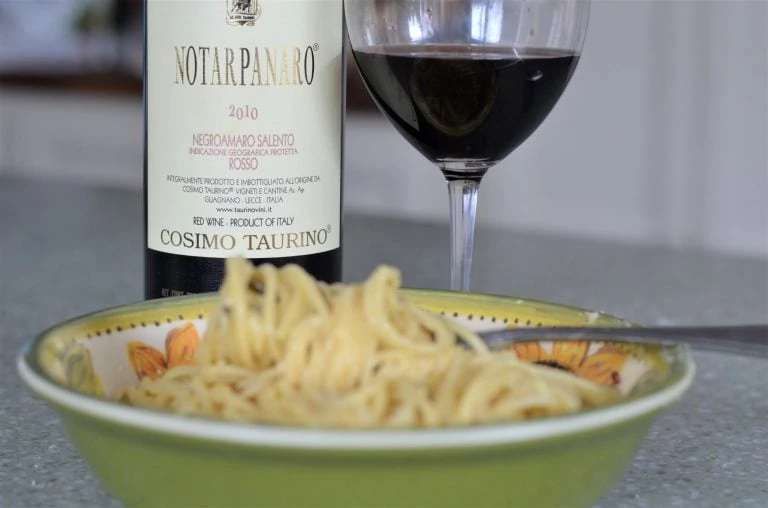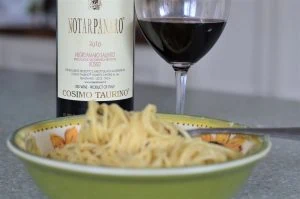 Chianti Classico, Barbera, and Pinot Noir are examples of fruity red wines with ample acidic content. Such acidity in these wines can cut through butter, cheese, and bacon flavors in your spaghetti carbonara.
Chianti Classico is well-known for its savory red fruit taste and juicy acid. It works great when you pair carbonara with various herbs or spices, as the wine can bring the best out of these flavors.
The excellent wine pairing for a flavorful dish like pasta carbonara with creamy bacon is a refreshing wine with a punch of tannin.
Cheese, especially parmesan, works well with the tannin content in your wine. If your delicious carbonara is oozing with cheese, full-bodied red wine will be too much to pair it with and can overwhelm its flavor. Light Chilean pinot noir can be a well-suited choice for such cheesy pasta.
Pairing Rosé And Sparkling Wines With Carbonara
Generally, a creamy carbonara sauce matches rosé wines, like in the case of Pasta alla Carbonara Vegetariana. Although a chilled serving of Frascati seems a typical choice for its versatility, rosé is equally a fresh wine pair for carbonara's creaminess.
A full-bodied rosé proves to be a safer choice; such wines are lively with a distinctive mineral grip ideal for carbonara pasta.
Furthermore, the bright acidity and floral notes of rosé wines provide balance, bringing out the pasta's sweetness since it's from egg yolk.
Nevertheless, the chosen wine must come with excellent strength and body so the potent flavors of the ingredients won't get overwhelming. Rosé Sancerre, even Abruzzo, and Lake Garda's rosé wines are worth trying with a real carbonara.
The rich flavors of pasta carbonara likewise pair well with sparkling wines. It is most especially true for sparkling drinks with notes of citrus fruits. Bellone, with true origins from the Lazio region, is also a naturally acidic sparkling wine. 
Prosecco will work wonderfully with the creamy carbonara sauce. On the other hand, brut champagne is also good if the pasta is seafood-based.
Some Handy Tips When You Pair Wine With Pasta
When you pair with carbonara or other similar meals, it depends on the type of pasta or the wine you wish to highlight throughout the course. Your primary focus must be on the sauce and other elements contributing to the taste and aroma.
Traditional food and wine pairing methods exist, but you can always devise an alternative or try experimenting at best.
Everyone has a different palate -- each comes with subjective tastes. Try asking for the opinions of about ten other sommeliers, and you will undoubtedly get diverse responses to a single question.
Not every Italian pasta is about tomato sauce, pasta, garlic, and pepper. But mostly, such cuisine is subtle, complex, and inventive. Regionality, tradition, and local cuisines are constantly evolving.
But if you wish to stick with the basics, never neglect matching intensity, as that is the top consideration in food and wine pairings. Your food and wine must be equally intense so none will overshadow the other.
Next is to think about a familiar flavor: it can be a taste or aroma component. There's no right or wrong pairing method as long as you can create a pleasurable experience.
Once you acquire the ability to understand wine and its elements, pairing becomes a breeze, and you no longer rely on a wine you merely like. Acidity, tannin, sugar, and aromas are wine elements that will cease to become jargon for you.
You will learn to differentiate a good wine from the best ones, familiarize the primary flavors, and better identify aroma components. Before you know it, you become a wine expert yourself.
Soon enough, you will see how each element contributes to picking a wine well-suited for your dish and vice versa.
In general, it's a good idea to have the weight of both wine and food complementing, not overpowering one another. A heavy wine should not overpower lighter meals, and it's best not to pair robust ones with something so subtle it barely exists.
If you want to be sure, then taste the wine and the food separately, and see how one affects the flavor of another. 
Above everything else, remember that even as you try to pair thoughtfully, the goal is your ultimate enjoyment. Hence, go ahead and eat what you like to eat and drink what you want to drink.
Taste Test: Why not try another "P" food that goes fantastic with wine? We won't stall your appetites any longer. Read our post here and tell us what your palate thinks afterward -- Paella Wine Pairing.
---
Watch This!
---
Frequently Asked Questions
Can you pair sparkling wines with pasta carbonara?
Yes, a crisp bubbly drink, such as sparkling wine, can complement the flavors of pasta dishes with carbonara sauce. It is a safe option if you're still new to food and wine pairing, although undoubtedly, white wines remain the best choice.
Is red wine or white wine a better pair for pasta carbonara?
Sweet white wines may not be suitable, but pasta with tomato sauce undoubtedly does well with a glass of dry white wine. However, the right wine to pair with carbonara pasta must have light to medium acidity to cut through the richness of its cream sauce.
Carbonara pairs well with different types of wine in diverse ways, depending on the wine's structure and aromas. Whether you choose a red or white wine, both wines have distinct notes and profiles that can bring out the flavors in any pasta dish.
What is the best wine to match with spaghetti's red sauce?
Medium-bodied red wine is the best wine pair for such food since it can match the acidity of the tomato sauce and will not give the wine a bland taste. However, you must pair the wine with meat if your pasta has it and match the spices if you cook pasta with many different herbs.
When it comes to wine pairing with pasta, it's best to consider the sauce, spices in the ingredients, and meat content. Pay more attention to the sauce if your pasta does not contain so many of the other elements. Pasta with rich tomato sauce, such as spaghetti, has high acidity. 
---
Conclusion
It is crucial to become familiar with different flavors, isolate each of them, and determine which among the flavors is the most prominent one. Such is a vital part before you decide about pairing wine with your pasta dishes.
While there are no hard-and-fast rules in food and wine pairing, you consider the overall experience and how to make it more pleasurable. Remember that wine drinking, even the pairing process, should be a fun and memorable experience for you.
Once your taste buds get more acquainted with the various elements in food and wine, the pairing becomes more effortless for you.