Last Updated: October 12, 2022
Hosting a large dinner gathering of friends and family used to send me into a panic. I was always concerned about what meal and drink to serve; after all, my guests' satisfaction was my aim.
However…
As time passed, I found that whenever I presented duck meat with outstanding wines, I never went wrong, as evidenced by my guests' requests for more. This piqued my interest in this cuisine pairing, prompting me to conduct further study into the most delicate recipe for it.
in this article, I'll show you some of the best options for duck wine pairing you could make. So, keep reading!
Why Pair Duck With Wines
For something as rich and fatty as duck, pairing it with a fruity or acidic wine drink is just incredible. The wine helps balance the fattiness of the duck meat - a perfect way to enjoy your meal. 
Duck is poultry; however, it is still considered dark meat with a tasty flavor. Furthermore, it is a little heavier than chicken but a little more delicate and soft than red meat. It can be prepared in various ways, each of which necessitates a particular duck wine pairing.
Tips For An Excellent Duck Wine Pairing
I wasn't that perfect at this particular cuisine when I started, and I used red wines when I should have used white or matched spicy duck meat with a highly acidic wine. But that's no longer the case because I've perfected the art of combining wine with duck.
So, if you're unsure what wine to serve with duck, don't panic; I'll give you some broad pointers. However, you are free to choose the wines based on your preferences but adhering to these guidelines will always ensure a good meal.
Whites and milder acidic reds go well with slow-cooked, fruity, spicy, or mild-flavored duck.
Reds with medium tannins and roasted duck are a great match.
Pair rich, fatty, or strongly flavored duck with bold, tannin-rich reds.
Serve duck pate of foie gras with a sweet or late-harvest white wine.
7 Lip-Smacking Duck Wine Pairings 
Now, you know some general guidelines to always follow in your duck wine pairing. Let's dive into some excellent pairings that would leave your guests salivating for more:
1. Peking Duck And Zinfandel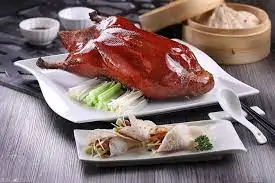 Peking duck is an Asian recipe with a perfect mix of spice, sweetness, and sourness. It's one of the most popular preparations for duck dishes. This could be due to the crispy skin and bold plum sauce many people find appealing, including me.
Several red wines can go with Peking duck, but Zinfandel is the perfect fit. Zinfandel is rich in intense spices like cinnamon and pepper that blend well with the duck's sweet and sour flavors. 
One surprising feat about Zinfandel is that despite its full body and high tannins level, it doesn't overpower the taste and flavor of the duck meal.
2. Duck Confit And Malbec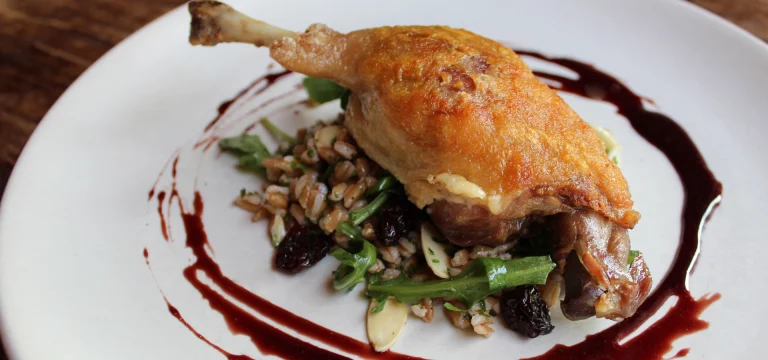 Because you're simmering cured duck legs in duck fat for several hours, the fatness of the duck meal is more than your regular duck meal. Thus, a wine with moderate to high acidity is needed, as this would help moderate the fattiness of the meal. However, most people might suggest Pinot Noir for this particular duck recipe, but I am more inclined toward Malbec.
Malbec wines have a rich, dark fruit scent with blackberry and red plum flavors and are dry and full-bodied. With aromas of vanilla, tobacco, dark chocolate, and oak, Malbec is luscious and jammy. They go well with this duck dish because they have moderate acidity and tannin content.
3. Pan Fried Duck Breast And Pinot Noir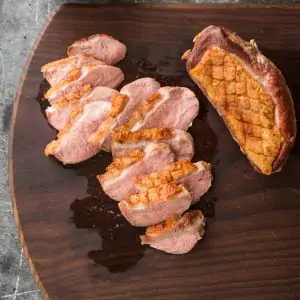 Pan-fried duck remains one of the simplest ways to prepare your duck meat, producing a lighter taste with less fat. Thus, if you're concerned about the duck's fat content, this preparation method helps you reduce the fat content.
Pinot Noir is an excellent red wine brand to pair with pan-fried duck breast meal. This famous red wine has a high acidity level with moderate tannins that don't overwhelm the flavor and taste of the duck meal. The high acidity helps cut through the fat present in the duck. 
Furthermore, because Pinot Noir is a favorite of most people, serving it with any duck meal is sure to give a delectable dish.
4. Roast Duck And Barolo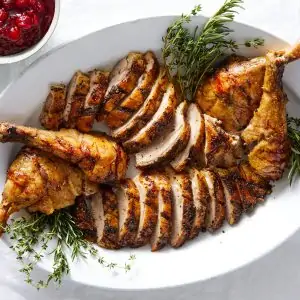 If you are a lover of roasted or grilled duck, you will know it is tastier and produces more flavors. Thus, a perfect wine combination would be one with medium tannins level.
Barolo, with its moderate tannins level and a sweet herbal note, works best with roasted duck. It also has sufficient acidity to help balance the duck's fattiness. 
One wonderful recipe you should try is roast duck served with root vegetables like beets, mushrooms, or turnips, and it's excellent with Barolo. However, Barolo is a bit pricey, but you're sure to get your money's worth.
5. Duck à L'Orange And Beaujolais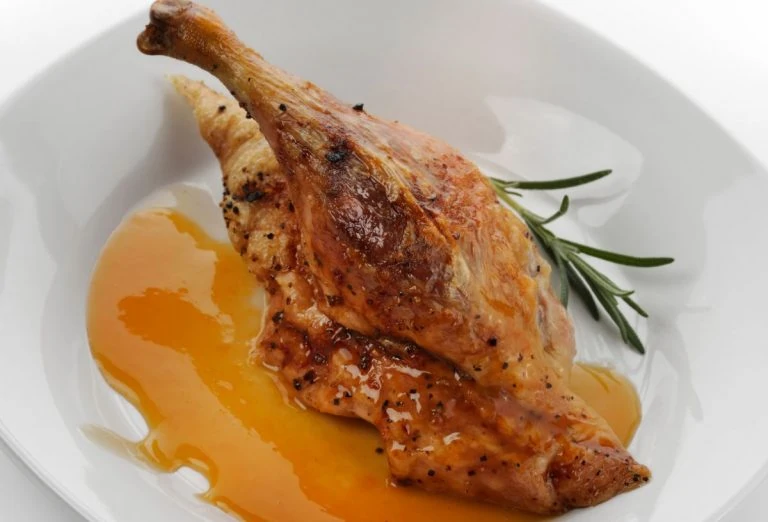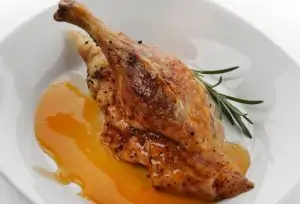 You surely can't go through this life without tasting this fantastic French cuisine. Duck à L'Orange is prepared with fresh oranges and orange liqueur. Thus, you're serving duck in a sweet and sour sauce.
The trick when selecting a wine to pair with this recipe is to look for one that would help overcome the dish's sweetness and acidity. And Beaujolais is the perfect match.
Beaujolais is full of raspberry, cranberry, and cherry flavors, making it ideal for a citrus-based duck meal. It also has a strong acidity and low tannin content, making it an excellent match for duck à l'orange.
6. Curried Duck And Gewurztraminer
If you love a spicy meal, or you're looking to try something different and serve a spicy meal for dinner. Then curried duck is one option that suits your desires. When picking a wine to go with this spicy dish, look for one with a fiery edge. And Gewurztraminer is an excellent match.
Gewurztraminer is aromatic and has a spicy bouquet with ginger, cinnamon, and pepper notes. Its zestiness makes it suitable for spicy recipes with a hint of fire. Because of its modest sweetness, Gewurztraminer also helps tame the spiciness of the curry duck meal.
7. Duck Pate Foie Gras And Sauternes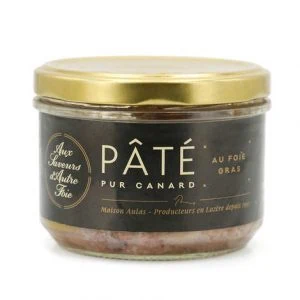 This combination is meant to contrast each other, which is different from the previous complementary matches I have mentioned. 
Duck pate foie gras is a controversial duck liver delicacy made by force-feeding the duck to enlarge the liver. It's a highly creamy dish with a savory taste. Thus, white wine such as Sauternes is an excellent match for this duck meal.
This is one of those timeless wines with duck matches everyone should try at least once. That's how good it is. Because there is balance—a thick and fatty dish with a syrupy sweet wine with racing acidity—it works. It's extravagant and stunning.
Taste Test: Would you mind "clucking" this article for now or do you feel "cheesy" doing this? Hah! (Oh my, never mind the bad-tasting jokes 🤦‍♂️). Just finish this one then proceed to our next post and don't "fowl up" on your comments (omg...we're really sorry...we can't stop...🤣) -- Best Wine With Chicken Parmesan.
---
Watch This!
---
Frequently Asked Questions
Does duck go with red or white wine?
Yes. Red wines would be an excellent pairing with the grilled duck if you realize that you have an incredible selection of white and red wines in your wine cellar and are unsure which to serve with your duck flesh. In that case, the duck pairs nicely with any of these wines, but it all relies on the duck's preparation process.
However, whites are the way to go if your duck meat is slow-cooked. On the other hand, red wines are a better bet if you're seeking a healthy option.
What wine pairs well with duck confit?
One choice you can never go wrong with is the Pinot Noir wine, which balances the duck's fattiness. Malbec and white Burgundy are also good options if Pinot Noir is unavailable. Duck confit goes well with sparkling champagne as well.
Duck confit is made from cured duck legs that have been simmered in duck fat for several hours or overnight. Thus, this dish necessitates a wine with a high acidity level. 
What color wine goes with duck?
Pinot Noir, Cabernet Sauvignon, Zinfandel, Merlot, Cabernet Franc, Petite Sirah, Sangiovese, and Malbec are just a few examples of red wines that might pair nicely with duck. You may opt for a Mourvèdre from the south of France if you want something a little darker and more intense.
The red wines in your cellar may be slightly acidic, tannin-rich, or tannin-medium. This variety dictates which duck meat would be a better fit. However, if you follow the guidelines above, pairing a colored wine with duck meat should be a breeze.
---
Conclusion
For its superb taste and quality, duck meat has proven to be a widely accepted dish. While duck flesh is delicious on its own, it would make a fantastic feast when paired with wine. It's no surprise that this combination appears in most dinners.
Although most wines go well with duck, pairing it with some specific wine brands is key to getting the most out of your duck meal. If you're unsure which brands are best for each duck dinner, you should start with the duck wine pairings I mentioned before.
You can't go wrong with them, and it's a terrific way to leave your guests wanting more!