Last Updated: October 12, 2022
The Christmas holiday is when most families get to devour the deliciously smoked ham meat. And because it's usually a festive time, it's always served ceremoniously alongside a sparkling wine bottle. 
However…
Some people don't just get it right when choosing a wine bottle to serve with the Christmas ham. They either pair the savory, sweet ham with a sour, less sweet wine that tastes like vinegar. Or they serve an entire fruity wine that doesn't help tone down the ham's fattiness.
This could easily disappoint your dinner guests, and no one wants that. As a result, knowing how to pair ham with great wine is crucial. Continue reading to learn about some fantastic ham wine pairings!
Do You Serve Red Or White Wine With Ham?
One thing you should never miss out on is pairing wine with ham during Christmas dinners. However, the problem usually lies in choosing a white or red wine to serve. 
But the good news is that both white and red wines perfectly match ham, especially if you choose the right one. Usually, your dinner guests are almost always friends and family, and thus you already know their wine preferences. And if you have a new guest, it's no biggie. Simply serve the best of both wines on the holiday dinner table and watch them pick their favorite.
The best wine with ham will depend on the preparation and glaze applied to the ham. 
Therefore, stay with me while I share simple tricks I usually use in perfecting my ham pairing wine art.
Tips For Ham Wine Pairing
Regardless of the ham you choose for dinner, there are two key things to consider when pairing wine to go with it:
Is the ham glazed?
Is the ham fatty?
Regarding the first point, glazed ham is automatically sweeter than one that hasn't been glazed. As a result, when selecting a wine for it, choose one that is likewise sweet. The ham should not be sweeter than the wine; the sweetness levels must match.
Fruity wines are your best bet because they're usually sweet. However, ensure the wine has enough acidity to counteract the salty ham. You don't have to be concerned about unglazed ham because it goes nicely with almost any wine. However, you must be cautious of point two.
If your ham is fattier based on the preparation method, always opt for highly acidic wines with high tannin content to cut through the fat in the ham. Sometimes, you might have a ham that's both sweet and fatty. Therefore, choosing a wine can be tricky, but you can work through it. Fatty hams necessitate a wine with a strong tannin content, which would clash with a sweet-flavored ham.
However…
I learned one tip to always go for crisp white wines with a hint of sweetness but enough acidity to balance the ham's fattiness. 
Without further ado, let's look at some red and white wines to pair with your ham now that you've learned some pairing tips.
Best White Wines To Pair With Ham
When searching for a bottle of white wine to pair with your ham, there are a few wines to keep an eye out for. The other wines aren't bad, but they don't pair too nicely with ham. 
Some whites to pair with ham include:
1. Riesling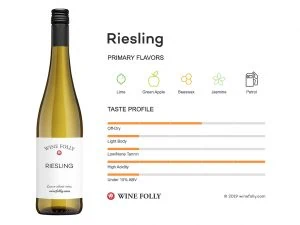 Riesling is undoubtedly the best white wine to pair with a sweetly cooked honey-glazed ham. This wine boasts apple, citrus, and peach flavors, making it a good match for smoked ham dishes. It's off-dry, meaning it's moderately sweet. However, some people consider Riesling a sweet wine, probably because of its subtle honey notes.
It also has enough acidity and citrus flavors to balance the saltiness of the ham dish. Thus, to make your guests happy, always include a bottle of Riesling when serving brunches or dinners.
2. Gewurztraminer
Gewurztraminer is an aromatic white wine grape variety. You can describe it as having a heady, blossomy, floral, aromatic aroma reminiscent of lychees, roses, talcum powder, candied orange rind, or Turkish Delight. In other words, it's perfumey with a touch of spice. It's an excellent choice for ham prepared with ginger. The sweet taste of the wine balances the spicy flavor of the ham, a perfect combination!
This wine is low in acidity and might not help cut through the ham's fattiness. Therefore, you should choose a more acidic wine if you're serving ham covered with cheese, mustard, or mayonnaise flavors.
3. Pinot Grigio
Pinot Grigio is one of the most popular white wines ever served on occasions and bars. It's light and dry with a classical taste. It has refreshing citrus and fruity flavors - notes of pear, green apple, lime, minerals, honeysuckle, and honey.
Pinot Grigio pairs nicely with ham. However, it's best to pair it with an unsweetened or unglazed ham because it's dry. Remember I said it's usually best to pair sweet hams with sweeter wines. It also has high acidity, thus great for fatty ham. And perhaps you notice on the wine bottle, Pinot Gris, you've nothing to worry about.
It's just the winery telling you that you have a sweeter wine brand. 
Pinot Gris and Pinot Grigio are made from the same grape. Still, Gris has a sweeter taste because of the honeycomb and lemon flavors.
4. Sauvignon Blanc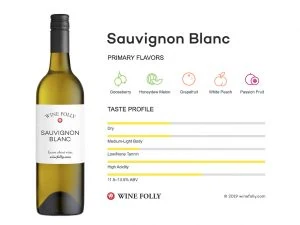 If you've gone through the list of wines I gave above, and you are shaking your head, 'Nah,' you need a more herbal, dry, and acidic wine. Then, Sauvignon Blanc is one brand of whites I suggest you get. 
Sauvignon Blanc boasts fruit flavors of lime, green apple, passion fruit, and white peach. And depending on how ripe the grapes are when the wine is made, the flavor will range from zesty lime to flowery peach. This wine matches well with ham because of the acidity, which helps counteract the ham's saltiness and fat.
It's low in alcohol levels and, in most cases, blended with bolder Semillon to give a zesty, palate-cleansing wine.
Suitable Red Wines To Serve With Ham
And if you prefer red wine, that isn't a problem because there are fantastic red wines that go well with ham. They include:
1. Pinot Noir
There isn't any wine enthusiast that hasn't tried out Pinot Noir. It's light and fruity, with a great acidity level to help balance the ham's fattiness. It's usually a perfect match with smoked or baked ham or ham with fruit glaze. Thus, if this is the meal you're serving, a bottle of Pinot Noir is your best option.
In addition, because Pinot Noir is a favorite of most people, serving it with any ham meal is sure to give a delectable dish. I usually prefer to go for the California and New Zealand Pinot Noir because of its fruitier taste.
2. Cabernet Sauvignon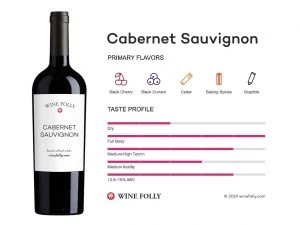 Full-bodied and tannic red wines like Cabernet Sauvignon might not be the best choice for a baked ham having that sweet taste. However, this wine would be an excellent choice for those planning to offer an unglazed ham.
Its dark fruit flavors and savory tastes of black pepper to bell pepper help complement the unsweetened ham dish. Also, Cabernet is dry (not sweet), so suitable for people concerned about their sugar intake. Furthermore, it's a wine that does better with food than without food, as by itself, it can be overwhelming.
3. Beaujolais-Villages
Beaujolais-Villages is a French wine that's light, fruity, and inexpensive. It boasts fruity notes of cherries, raspberries, and strawberries. It's not full-bodied (low in alcohol); thus, it's best served with ham-made sandwiches and snacks during brunch or lunch.
Subtle but present in this wine are delicious notes of minerals, herbs, and black pepper. 
Also…
Its high acidity helps cleanse off any ham fat sticking to your taste buds, ensuring that every bite tastes as fresh as the first.
4. Zinfandel
Zinfandel is another red wine that pairs nicely with ham, especially grilled ham. It's a light, inexpensive, and fruity red wine with delicious flavors of dark fruits like jam, blueberry, black pepper, cherry, plum, boysenberry, cranberry, and licorice, alongside a hint of spice that will definitely excite your taste buds.
Zinfandel's moderate tannin and high acidity make it taste sharp and help cut through the ham's fattiness. 
Also, if you want an alcoholic red, this is a great option. This full-bodied wine could give you that tipsy feeling with high alcohol levels of 14 - 17%.
Taste Test: Beef tastes good, too -- no, perfect -- with your best wine (red or white)! Taste our post (literally) and tell us what you think -- Beef Wellington Wine Pairing.
---
Watch This!
---
Frequently Asked Questions
What wine goes with ham?
Various wine types pair perfectly well with ham. If you are a lover of reds, then you will surely find a perfect variety to suit your taste, be it lighter reds like Pinot Noir or bold reds like Cabernet Sauvignon.
Also, if you would instead settle for whites, then the likes of Gewürztraminer and Rieslings are equally exceptional when paired with ham. You must always consider the preparation method used in making the ham. 
What wine goes with honey-glazed ham?
Baked ham with a thick, sticky-sweet, brown sugar and honey glaze coating is probably the favorite ham dish in most homes. It gives a perfect mix of sweet-salty tastes that most people find enticing, including me.
Because honey-glazed ham has a sweet taste, the perfect wine to serve with it would be a fruity wine with a moderate to high acidity level, which would be needed to counteract the salty taste alongside the fatty content of the ham. And Pinot Noir is the best choice for this.
Pinot Noir is a rich cherry-fruit beauty with enough acid and sensual depth to trim the ham's fat while adding sweet, exotic, and mystical layers to this savory ham dish.
What color wine do you drink with ham?
Red wines that go well with ham include Pinot Noir, Cabernet Sauvignon, Zinfandel, Merlot, Cabernet Franc, Sangiovese, and Malbec, to name a few. If you want something a little darker and more potent, then try a Mourvèdre from the south of France.
The color wines in your cellar may be slightly acidic, tannin-rich, or tannin-medium. This variety dictates which would be a better fit for the ham. However, if you use this article as a guide, pairing a color wine with ham should be a breeze
---
Conclusion
Homemade ham dipped into honey glaze is a terrific way to leave your guests' taste buds craving more. Serve it with a perfect bottle of red or white wine, and watch as your visitors leave with a perpetually happy smiles on their faces.
Because of the pleasure of serving a well-loved meal, many hosts opt for ham wine pairing. However, if you've never tried it out before and are a bit confused, in that case, you should start with the ham wine pairings I mentioned earlier.
Trust me when I say you can never go wrong with them. Because from experience, I never did!