Last Updated: October 11, 2022
I bet you're familiar with this oft-recited rule "Only eat oysters in months that contain the letter 'R'."
But we both know slurping an oyster in August is just as refreshing as ravaging the plump and sweet flavor in September.
Well...
So much for not eating oysters in months without 'R,' right? We feast on them all year at fine dining restaurants or at home for a classy meal.
When it comes to oyster wine pairing, I have one piece of advice: to pair with whites. That's only a piece of the puzzle so I'll recommend standout wine options on how you can make a pairing selection.
Salut.
A Backdrop On Oysters 
Oysters have been delicacies for over a hundred-sixty-thousand years ago. Evidence shows remains of the hard-shelled delicacy at the site of a prehistoric dinner in a South African cave.
Not so long ago, New York street vendors sold an abundance of fresh oysters. Gulfs and estuaries are now bedeviled with harvests over the years. 
Despite the deplorable state of Oyster reefs, unfettered love for these tan-colored crustaceans abounds. Asides from being the briny heroes of our culinary scene, its rich flavor varieties make the wine pairing with Oysters appealing.
What's responsible for such varying flavors?
Emily Tolbert, wine director at Saviour and La Grande Rue, says "Oysters, like wine, have a distinct set of flavors depending on where in the world they exist… Some are funkier, more salty side, while others are very subtle in flavor with a beautifully clean finish."
Pointers On Wine Pairing With Oysters
It's general knowledge that Champagne does justice to oyster wine pairing. However, many a wine can do the same. 
The thumb rule is sparkling and white wine are a quintessential vino match for oysters. The acidic, sour tasting notes marry the salty and buttery flavors of tasty seafood like lobster as well.
There are no set-in-stone rules, so you can always explore. However, full-bodied, oaky, and tannin-rich red wines like Cabernet or Merlot often overwhelm the salty tang of the raw Oyster.
A sweet and dry wine, on the other hand, drives up the umami of raw Oyster serving.
The Best Wine To Pair With Oysters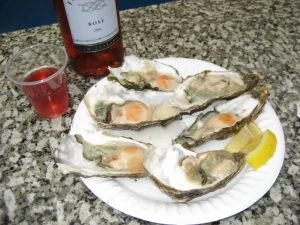 Depending on the serving and your preference, here are some refreshing wines you can pair with oysters.
Muscadet
While preserving the minerality of your oysters, Muscadet is the classic oyster wine pairing. It's dry and immensely acidic. 
As far as its lemon squeeze taste goes, a glass of Muscadet with an Oyster dish hits the mark. It's crisp and light and offers a few fruit notes to complement it.
Try a 2018 Muscadet Cotes de Grandlieu Clos De La Fine Sur Lie (Jerome Choblet). The bread-like quality from aging on the lees and unique, intense quality make a remarkable impression.
Chablis 
A vintage Chablis hits your palate with pleasant notes. The general assumption that terroir is mostly responsible for their astounding minerality isn't farfetched. 
The dry, steely, and acidic notes combine to make an epic duo. They are often regarded as the ultimate terroir and merroir pairing. 
However, if I were you, I'd avoid pairing aged or matured Chablis with Oyster. Its complexity is a mismatch for the hard-shell delicacy.
Sauvignon Blanc
The intense acidity, slightly herbaceous, and lemon zest of Sauvignon Blanc make it a perfect pair for raw oysters. The company, Proud Pour, produces sustainable Sauvignon Blanc in an effort to restore Oyster beds. 
The fruity notes complement the acidity and crispiness with succinct accuracy. What's more? Proud Pour serves our estuaries by allocating funds to restore the declining oyster reeds.
Champagne
When you think of what wine goes with oysters, Champagne first comes to mind for most sommeliers. It's the classic pairing for a classy dinner. According to research, the pairing hit off so well because of the umami flavor embedded in some Oysters and Champagne.  
Apparently, the umami taste alongside salty and sweet are one of the highly delectable flavors to human taste buds. This explains the exceptional synergy between this classy pairing.  
Champagne's fizz and vibrant acidity marry the silky, creamy, and rather complementary flavorings of the Oyster. It's fair to say they are "natural".
Albarino
Looking for a word that describes Albarino? "Summery" is the right match. It's a Spanish wine with a hint of grapefruits, peach, or white nectarine and, often, a citrusy zest. The robust rush of honeysuckle, Jasmine, Gardenias, and floral bitterness best describes the 2019 Pazo Torrado Albarino.
The intense fruity notes of apricot, lemon, peach, and ocean breeze traces enhance the summery feel. Feel free to create a summer feeling while pairing your Oyster!
Oyster And Wine Pairing Frequently Asked Questions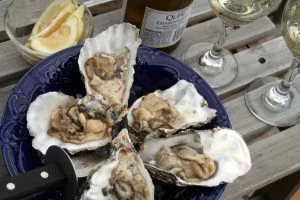 What Kind Of Wines Pair Well With Oysters?
White wines, preferably bone dry and crisp, and light ones make exquisite pairings with any oyster delicacy. Sparkling wines also have high acidity, which could mimic a spritz of lemon on the oyster. While you need a tangy wine flavor to pair, ensure that it's not overwhelming.
What Wine Goes Best With Raw Oysters?
If you are eating raw oysters, then a glass of Champagne will make your choice worthwhile. The crisp bubbly fizz of the Champagne highlights every bit of the oyster's delicate flavors. The union of these two is nothing short of complimentary.
Can You Drink Red Wine With Oysters?
Yes, you can certainly pair red wine with an oyster -- if you know your wine!  Here's a tip: go for something refreshingly light or with the least tannins like a Beaujolais, for instance.
Does Chardonnay Go With Oysters?
Yes, it does! However, a bottle of Chardonnay pairs better with cooked oysters rather than raw ones. While trying this pair, go for a slightly oaked or buttery Chardonnay. The type found in cool climate regions like Burgundy is a great choice.
In a Nutshell
White wine is the ultimate wine pairing option with oysters. Habitually, they cut through the oysters' delicate salinity highlighting unique flavors. If you're bored by certainty, then fill your palate with buttery red wine pairings. All that matters is the taste of good food!