Last Updated: October 11, 2022
When you're all new in the area of wine exploration, choosing between two well-renowned wines can be very overwhelming sometimes. Like when you're deciding which to pick between Petite Sirah vs Syrah. 
And so...
If you're looking for smart and straightforward recommendations in helping you understand your wine choices better and make confident wine shopping decisions, please keep reading.
Main Differences Between Petite Sirah vs Syrah
Among the most common misconceptions among wine-drinkers is that wine education is an arduous venture specifically for aspiring sommeliers. 
You will typically start with drinking many different wines, and you become conscious of what you consume. You take notes, pay more attention to labels until your preferences start coming through even before you know it.
More than just another feature with excessive information, this article aims to provide you with compelling ideas that will serve as your guide in picking the best wine for all your needs.
Using all this new knowledge, let's see their differences and (maybe) similarities and discover how we can enjoy all the subtlety that these famous wines can display.
The main differences between Petite Sirah and Syrah are:
Syrah wine has excellent aging potential, whereas Petite Sirah wine is not great for aging.

Syrah has worldwide wine-producing regions, whereas Petite Sirah is less widespread with rare wine production outside the United States.

Syrah has a higher acid content, whereas Petite Sirah has more intense tannins & deeper color.
Origin
The northern part of Rhône Valley in France is home to the best Syrah grapes worldwide and became Australia's most prestigious red wine in 1832.
Some would say that it originally came from Persia and was brought back to France during the twelfth century. Some studies show that this grape is the result of accidental crossing between Dureza and Mondeuse Blanche.
Petite Sirah is a grape variety that is entirely different from Syrah, although it is frequently misspelled and mistaken as Petite Syrah. 
Winegrowers in Rhône Valley call it the smaller Syrah version, which is how the confusion all began. The crossing of two distinctly different varieties, Syrah and Peloursin, is the origin of Petite Sirah, also known as the Durif grape variety.
Grape Variety
Syrah is an increasingly prevalent choice among winegrowers around the world. The grape has a blue-black shade with small, round berries having thick skin similar to Cabernet Sauvignon. 
Syrah grows well for any soil type, although it's susceptible to dry seasons. Vinegrowers also prefer growing it towards hilltops to produce grapes with more density.
While it grows in both hot and cold climates, Syrah likes plenty of sunlight to ripen despite its thick skin. 
Additionally, growing Syrah in a warm region will result in juicier fruit and smoother tannins. On the contrary, Syrah grapes from cooler places are less fruity and with spicy and earthy flavors.
Vintners find it ideal to have adequate foliage when growing Petit Sirah to provide shade and protect it from the sun's direct heat.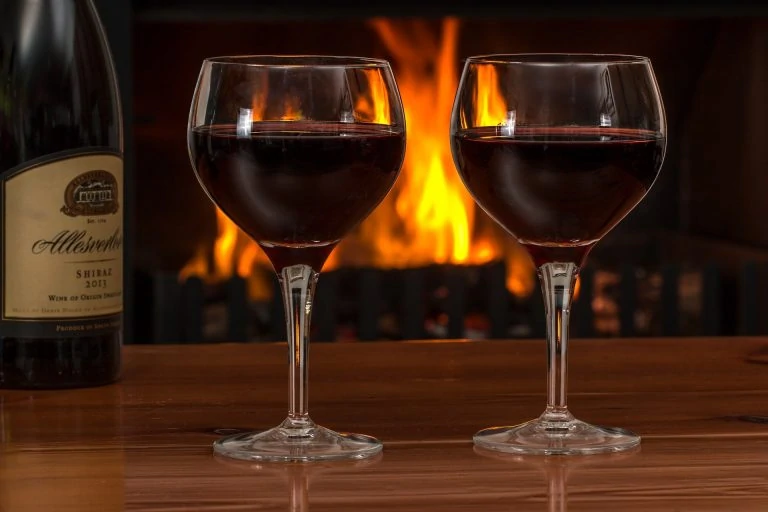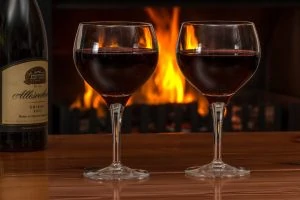 What California calls Petite Sirah is a red grape variety named "Durif." Planting the grape in varying locations will result in having different flavors. 
This grape also requires tons of sunshine; growing them at hilltops results in meaty and peppery flavors, while planting them in low areas will result in fruity, jamlike character.
France produces Petite Sirah in small quantities even if it originally came there; Australia and California are currently Petite Sirah's top yielders with their massive production. 
Nowadays, many vintners use this grape independently, while some would still use it for blending with other wines.
Wine Producing Regions
Even though Syrah originally hails from Rhône Valley, it surprisingly has lower production there. 
Syrah grape also has impressively widespread wine production in other places like in the USA, Australia, South Africa, Spain, Chile, Argentina, and Canada. 
It is often a wine blend of choice for Zinfandel in California and a highly alcoholic and tannic wine in Australia.
You might be wondering if there is a difference between Syrah vs. Petite Sirah in terms of a wine-growing region. For one, Petite Sirah is rarely grown in countries outside of the United States. 
Moreover, France is also Petite Sirah's home country and successfully expanded to other regions, including California, Australia, Argentina, Brazil, and Israel.
Characteristics
Syrah wine has more weight and richer color. Its flavor diversity is a result of the location where the grape thrives. This concept gave birth to the New World and Old World wine regions, each expressing its wines in different styles.
In warmer regions like Australia, wines are more delicate and fruit-forward with dense textures, brisk acidity, and a slightly peppery aftertaste. 
On the contrary, vintners from colder regions yield wines with less fruitiness, more weight, a streak of minerals, velvety tannins, and leathery notes. 
It also resembles the complexity of Cabernet except for the meaty flavor that only Syrah has.
Petit Sirah delivers more body, a mouth-watering character, and some spice notes. It's richly tannic and acidic with darker fruit characters like blackberries and plum. 
Petite Sirah is also the top blend for Zinfandel that results in a more assertive, intense, and typically rustic style. Although, today's Petite Sirah wines are no longer as age-worthy as they once were.
Best Food Matches
There are no stringent codes when it comes to pairing food and wine. The only rule you should be thinking about is that you should drink what you enjoy. 
Nonetheless, wine is a typical accompaniment to most meals, so it is vital to ascertain maximum enjoyment for both by making the right choices.
Further application of food and wine pairing is picking the right wine for an appropriate occasion. Choose wine and food that complement each other, with neither one overpowering the other.
So between Syrah vs. Petite Sirah, here are some of these wines' top pairing suggestions:
Whether it came from New World or the Old World regions, Syrah is a highly acidic wine that would need flavorful dishes.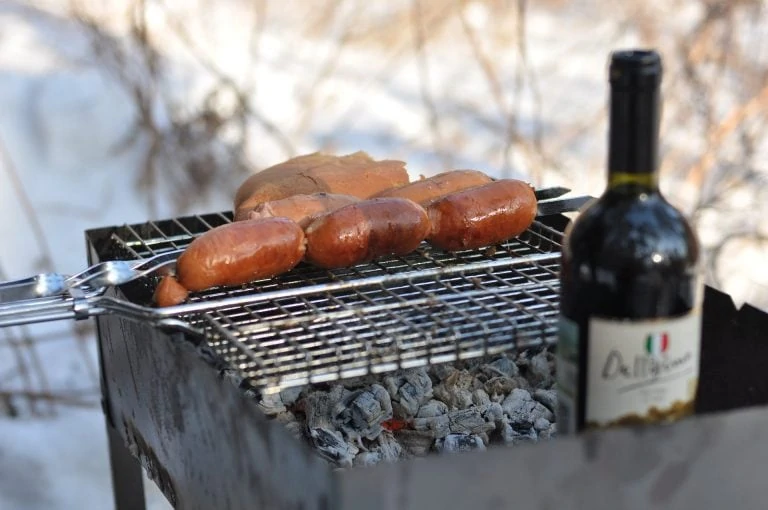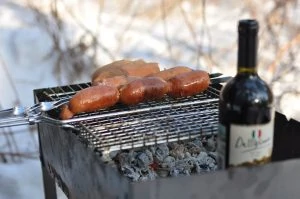 It goes well with a roasted loin of venison, spicy dishes, strong cheeses such as aged cheddar, Provolone, Boursault, and grilled steaks. 
Here are other top pairing suggestions for Syrah:
Bacon

Barbecued meat with sweet or smoky sauce

Stir-fried or pulled pork

Ribs

Hamburgers

Beef bourguignon

Tacos

Braised dishes, especially red meats

Calzone

Chestnuts

Seared tuna
Comparatively, Petite Sirah matches well with grilled steak, game dishes, spicy chili, Indian curries, tasty beef stews, and barbecued meats. 
If you love Cabernet, but you're working on a budget or searching for an excellent wine to match your favorite grilled steaks, then Petite Sirah is a great option. 
For quick reference, here are other top pairing suggestions for Petite Sirah:
Braised meat like beef or lamb

Wild mushrooms

Eggplant

Short ribs

Couscous

Enchiladas

Moroccan-spiced tagine

Venison

Pizza with oregano, mozzarella cheese, and anchovy

Pork chops with sour cherries

Red hot beans

Bold spices like cinnamon, cocoa, and cloves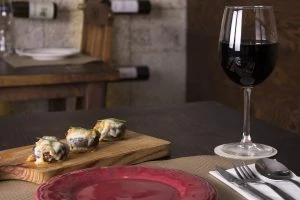 Frequently Asked Questions
Is Petite Sirah sweeter than Syrah?
Another noteworthy difference between Syrah and Petite Sirah is the sweetness level. Syrah is an elegant and tasty wine having less bitter tannin. Despite that, it's still not fruity enough and leans toward earth and spice flavors, which don't have a sweet taste at all. 
In contrast, Petite Sirah wine is bold and fruity but with almost no sugar content. However, it smells similar to black pepper, dark chocolate, sugar plum, and blueberry, making it sweeter than most dry wines.
Which is better -- Syrah or Petite Sirah?
Choosing the better wine between Syrah and Petite Sirah is influenced by individual preferences. 
There is no single answer that will directly apply to all wine drinkers since the better wine for me could not be the same for you, and that is perfectly fine. The better wine of the two is the one that is well-suited for your preferences and needs.
Syrah is the crowd-pleaser of the two because of its smoothness and elegance. Petite Sirah is relatively a wine to either love or hate contingent on your inclination for peppery flavors. 
Take a sip of each wine and get its overall vibe without sweating on the details. Try striking a match with your favorite dish -- that is how you decide which wine is better for you.
The Choices We Make
To make better choices, you only need to know and understand your preferences. If you and a wine found your way to each other, then that's it; you get smitten and start making history. 
Forget about whoever told you that you need to be an expert first to enjoy wines. The ideal way to learn anything worth knowing about vino is to open a bottle, drink, and enjoy.
Final Thoughts
In no time, wines won't just taste like "wine" any longer; you start having more awareness. Particular notes are working in harmony to create a flavor that dances on that part of your tongue you didn't even know can taste on its own.
You will become "vin-lightened" that learning will change how you see wines, that each differs in flavor and distinct sensations.
Petite Sirah is the best choice for those who fancy rich, vigorous wines; in the same way that Syrah is your best buddy if you like big wines and looking for elegance while expanding your horizons.
Petite Sirah can be just as fascinating as Syrah, especially for wine lovers who enjoy ample and robust red wine.