Last Updated: October 10, 2022
Prosecco vs Moscato... We see these two wines often in most celebrations, so people confuse one for the other. But what kind of wine are these two, and how makes them different from one another? Aside from their fame for having great taste, what other resemblances do they have?
So, together now…
Let's pop the cork and learn everything else that you need to know in choosing between Moscato vs Prosecco for your New Year's eve celebration.
Main Differences Between Prosecco And Moscato
The main differences between Prosecco vs. Moscato are:
Prosecco came from Prosecco or Glera grape, whereas Moscato came from the grape variety Muscat.

Prosecco has a bright and fresh flavor that is less sweet with 11 to 12% alcohol content, whereas Moscato is a very sweet wine with low content of alcohol up to 5.5%

Prosecco is an excellent match with cured meats, salty cheeses, and seafood dishes, whereas Moscato pairs well with lighter desserts that aren't overly sugary.
What You Need To Know About Prosecco
The Origin
Prosecco originally came from Conegliano Valdobbiadene, a small region in the Veneto, Northeast Italy. The name "prosecco" has a Slovenian origin meaning the "path through the woods." 
The Glera grape may not be as famous as any of our favorite white varietals, but these are the grapes that winemakers use in making the Prosecco wine. It also makes an easy blend with other varietals like Chardonnay, Pinot Bianco, Pinot Grigio, and more.
If you're trying to search for an Italian option and an affordable one than Champagne, Prosecco is ultimately the best wine to consider. 
Winelovers would agree that Prosecco is a wine for every occasion.
Glera Grape History And Production
Before 2009, Prosecco and Glera are the grapes that winemakers use for making Prosecco. It was only until the Italian authorities sought legal protection for its name how the French protected their claim for Champagne. Since then, people now refer to it as the Glera grapes, and it is widely famous for having higher yields of the neutral white varietals.
Prosecco makers use the Charmat method, which is a less expensive and faster process of making this wine, unlike the traditional way. In this process, they fill the pressure tank with the base wine, which is where the second fermentation happens by adding sugar and yeast.
The Charmat method is the simplest way of capturing the fermentation's carbonation, so most manufacturers use it for a volume of sparkling wine production at a lower price. The shorter tank process also allows the wine to retain the grapes' aroma and fresh fruity taste much better than producing wines using other methods.
Characteristics
Not all Prosecco wines are bubbly; in fact, it has no bubble until the 19th century. The Prosecco has three types of bubbly, namely:
Spumante or the fizziest

Frizzante or the second fizziest

Tranquilo or the wine that is entirely still and with no bubbles
There is no surprise about how Prosecco increasingly gains its reputation as a Champagne's delicious and inexpensive alternative. Most Prosecco nowadays is dry and fully sparkling. It is generally softer, crisper, and bursting with a combination of flavors including, floral, slightly peachy, and somewhat reminiscent of almonds.
Many people might not know how this wine has a rose version or Rosato because you cannot label the pink wines as "Prosecco." The rose version came from a different kind of grapes. Most Prosecco producers name their pink bottlings "spumante," the Italian term for sparkling wine.
Perfect Food Matches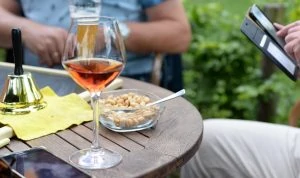 It is no secret to wine lovers that Prosecco is a lot more accessible bubbly than a Brut or champagne, pairing well with various cheeses. But aside from that, this wine is also famous for its wide range of sweetness, which means you can drink it all day long.
Prosecco has the extreme versatility of pairing perfectly with any dish, from appetizers to meat, fish, or even salads, entree, and desserts. So here are just some of the best matches with your glass of wine, but with Prosecco, you can be sure that there's a lot more:
Roasted salted nuts

Toasted pumpkin seeds

Potato chips

Popcorn

Smoked salmon

Oysters

Savory pies

Chicken or turkey

Cashews

Almonds

Parmesan

Mozzarella

Ginger

Green curry

Roasted tomatoes

Artichokes
Best Wine Alternatives For Prosecco
If you are a fan of wines that are a bit sweeter and a bit less bubbly or you prefer Prosecco's tasty flavor without the hefty price tag, then here are some other wines  you can try out for your holiday dinner:
Cava
Languishing in Prosecco's shadow and also made in the same traditional way as a Champagne, this super fizzy drink also deserves a second look.
Champagne
Undoubtedly the ultimate best in sparkling wines, Champagne can be very dry, super sweet, or anywhere in between. It is Prosecco's pricier alternative.
Moscato
It is a sweeter, sparkling wine than Prosecco. Moscato also has low-alcohol content and a subtle fizz, making it an excellent option for extended drinking hours on a hot, summer day.
Lambrusco
In the Emilia Romagna region, the Lambrusco grape is available as dry, off-dry, or sweet and makes an ideal alternative to Prosecco. It has the fruitiness and crisp bubbles that makes it deliciously drinkable with a wide range of foods.
Crémant
Another alternative having equally great value, Crémant leaves a delicate, soft, and creamy mouthfeel with every sip. It is also easily drinkable.
What You Need To Know About Moscato
The Origin
Moscato primarily came from Piedmont, and it is a semi-sweet, semi-sparkling wine with a loyal following in the United States. It is reasonably priced than most wines, low in alcohol content, and an exciting option to the regular white wines many consumers find too ordinary or boring. It came from the Muscat family of grapes with varieties that grow throughout Italy and worldwide. 
Moscato Bianco being the noblest of the family, is also famous for its other names, including Muscat blanc à Petits Grains, Muscat Blanc, and Muscat Canelli.
The same variety is responsible for Moscato's fame with the style that most retail brands wish to imitate, the Moscato d'Asti.
It became so famous not just for the younger crowd's growing taste for sweet wines but also for its starring appearance in some popular rap songs. Drake once sang about lobster and Moscato, which became the start of a new wine drinker audience.
The Moscato Grape
Moscato grape is quite challenging to grow because it is prone to mildew, requires a long growing session, and produces low yields. The Moscato Bianco is the oldest grape they grow in Piedmont, while Moscato d'Asti is what winemakers make for themselves.
It is a wine-producing native grape that is not too heavy and also not too sweet. The grape can grow in most climates, like in France, Spain, Italy, and Australia.
The grape's long history gave birth to various mutations that became the start of at least 200 variations:
Muscat Blanc

Moscatel

Moscato Giallo

Black Muscat

Orange Muscat

Muscat Ottonel

Moscatel de Setúbal
Wine Production
The hills just south of Asti town are where the Moscato d'Asti wine production zone is.  They produce an identical style, the Asti Spumante from Moscato Bianco grapes, and are often mistaken for Moscato d'Asti. 
Today's Moscato style originally came from Giovan Battista Croce, a hillside vineyard owner just above Turin. He produced sweet wines similarly to how other winemakers produce Champagnes or sparkling wines.
Both Asti and Moscato d'Asti use the Charmat method, where the second fermentation occurs in the stainless-steel tank. The manufacturers seal the stainless steel tank before fermentation, which helps achieve the optimal level of carbonation. The results are highly aromatic, fresh, and flavorful wines.
Different Types Of Moscato Wines And Characteristics
There is a global Moscato wine production, which explains the diverse offerings from every region. Here are some of them:
Moscato d'Asti (Frizzante)
A slightly sweet, very gently sparkling wine and has five to six percent alcohol content. It has Italy's highest DOCG classification, a protected guarantee of origin. This wine is a famous dessert wine pairing and a pool party wine.
Asti (Spumante)
A drier, sweeter, fully sparkling wine and has nine percent alcohol content. It also came from Piedmont and had the DOCG classification just like Moscato d'Asti.
Still Moscato
It is a sweet, non-sparkling Moscato wine and one that you can't usually find in the supermarket. It leaves a dry mouthfeel with at least twelve percent of alcohol content. This wine can be powerfully aromatic, with tropical notes that make it a perfect pair for spicy meals.
Pink Moscato
It is a popular Moscato type among pop stars and social media. The pink Moscato came from Muscat Blanc grape with a tinge of Merlot, sometimes contributing to its pink color. The berry and wild cherry flavor is the pink Moscato's most distinguishing characteristic.
Fortified Dessert Wine
It is an oak-aged wine style with a concentrated sweetness that you can pour some on top of your ice cream. It only has five to seven percent alcohol content.
Red Moscato
This wine has raspberry, rose petal, and violet notes, and it came from the Black Muscat grape variety. You will also notice this wine to have a subtle black tea and licorice taste.
Best Food Matches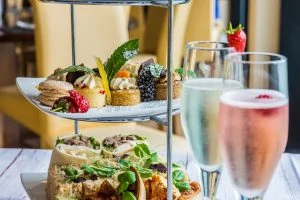 One of the best things about Moscato wine is having great food combinations. Its sweetness and moderate acidity mean that it can create balance for spicy foods. It also pairs well with the following foods:
Meat dishes with high-salt content

Light desserts

Fruit platters

Peach or nectarine tart

Warm berry pie

Asian salad

Chinese, Thai, and Vietnamese cuisines

Barbecue pork

Marinated tofu
A pink Moscato has the versatility to team up with a steak, chicken, ham, and buttery seafood. Simple dessert meals like shortcakes also pair well with the pink wine. On the contrary, the red Moscato is an excellent match for creamier cheeses like brie, gorgonzola, and soft goat cheese.
Moscato Wine Alternatives
Due to its aromatic, low-alcohol content and fizzy nature, the Moscato doesn't have many similar wines except for the following:
Gewürztraminer
It's a sweet, easy to drink wine, and one with a name that is hard to pronounce. This wine has a bold aroma with notes of citrus notes in every sip.
Riesling
It has a powerful aroma with a tinge of lemon, ripe nectarine, and varying sweetness levels. Look for the sweetest variety to get one that tastes as amazing as Moscato.
Pinot Grigio
It is famous for not having the usual characteristics of a full-bodied wine. Pinot Grigio is bright, crisp, with citrus, fresh, and almond flavors.
Prosecco
The common ground for those confused about Prosecco vs. Moscato d'Asti is that both have aromatic flavors. However, Brut Prosecco is the best option if you consider stepping out of that sweet comfort zone.
Taste Test: We just have to pit the French against the Italians to see who reigns more supreme about their wines. Proceed here to read our interesting post -- Chardonnay vs Pinot Grigio: How To Know Which One Is Best For You.
Frequently Asked Questions
Key Differences Between Prosecco And Moscato
Is Moscato or Prosecco sweeter?
Of the two wines, Moscato is the sweeter, fruitier, and the one with less alcohol content.
Which is Better -- Prosecco or Moscato?
The better wine of the two will depend on an individual's personal preference. If you are not a fan of wines having a powerful aroma, then go for Prosecco. On the other hand, if you have a sweet tooth and like having desserts, then you should go for Moscato instead.
Key Takeaways:
Now you already have a better idea of what grape each wine came from, how their taste differs, and what food makes the perfect match for them. Having this knowledge will give you the advantage of more convenient wine shopping and choosing the right one for you. 
Remember that the best wine will always be dependent on your taste and whatever suits your needs. 
You can always seek advice from the sales assistant at the wine shop. At least you no longer have to be clueless in front of their various selections. You can now shop with confidence because you will already know what you want once you finish reading this article.
Cheers to a fun-filled holiday season ahead! 😉