Last Updated: October 12, 2022
There is more to hosting luncheons and dinner parties than food planning and venue preparation -- it's all or nothing. You also think of the best wines to serve with your meal.
Hosting a house party to entertain family members and guests is a chore and preparations could end up being a stressful undertaking!
So...
Maybe you're looking for what wines go with turkey for that upcoming event or Thanksgiving party you're organizing. Lucky you for landing just on the right page.
Check out our top turkey and wine pairing recommendations, and stun your guests in no time.
The Best Wines For Turkey Dinners
There is nothing like a heartwarming meal that brings families together on Thanksgiving. Everyone looks forward to the moist turkey meat in crisp and burnished skin, with creamy potatoes, turkey gravy, cranberry sauce, and tarts on the side.
We all know how turkey dinners are staples in Thanksgiving parties. Now you wonder what wines go with turkey to make the meal memorable for everyone.
Pairing wine with food is a controversial subject, and that came as no surprise since food is at its best with the right wine pairing. It's crucial to plan such things with care; once you find a well-suited wine and turkey pairing, it brings everyone a higher level of pleasure.
There could be a lot of unfamiliar terminologies and whatnot. But what truly matters is finding the right balance between the wine's taste and the ingredients of your dish.
Everyone can learn the basics despite the seeming complexity of the science of flavor. You can begin by thinking of wine as an ingredient.
1. Red Wines
A full-bodied red wine is deep, dark, and rich in tannin that provides its antioxidant properties. Bold red wines pair well with fatty foods with savory flavors due to their high-tannin content. You can even drink a refreshing red wine without food.
Pinot noir and turkey pairing are almost a given. It comes as no surprise since this drink is the world's most popular light-bodied red wine. Most people find their turkey dinner incomplete without a good pinot noir.
Typically, pinot noir is among the red wines that many wine enthusiasts associate with Thanksgiving parties.
Its red fruit, mushroom, and spice flavors with its low tannin match the traditional flavors of a roasted turkey or stuffed turkey breast. Many wine manufacturers produce the New World pinot noir, which is a better match for turkey meals than the Old World version.
Merlot is a sweet wine with a fruity flavor with herb notes ranging from medium to full-bodied reds. It goes well with roast turkey and stuffing. Even the fruity Rioja is a revered red on a Thanksgiving table with savory flavors that match well with smoked or grilled turkey.
Moreover, a young wine like Beaujolais is lighter than the other reds on the list. Such wines have a low alcohol content and taste crisp and savory. It is lightweight, herbaceous, floral, and fruity, making it a suitable match for the turkey's dark meat.
The subtle flavors of light-bodied Beaujolais Nouveau, also with low tannin, can complement turkey cuisine on your Thanksgiving table. It's best to serve chilled Beaujolais to enhance its liveliness. 
2. White Wines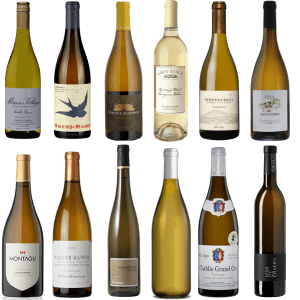 Despite the reds being well-known crowd pleasers, light-bodied white wines are easier to drink and are best sellers. A light-bodied white has increased acidity and a slightly sweet aroma, sometimes peppery too.
However, those who are fond of reds enjoy a full-bodied white wine more than the lighter ones due to its smooth and creamy flavors. Meanwhile, an oaked chardonnay from Burgundy brings out the best in a delectable turkey breast with creamy mushroom sauce.
Most turkey stuffing consists of seasonings, celery, onion, and bread, which is why unoaked chardonnay is among the best wines for your Thanksgiving turkey. Even Napa Valley's chardonnay makes excellent turkey pairings, especially a turkey sandwich and roasted turkey.
Chenin Blanc from Loire Valley or South Africa is a lightweight white wine with crisp flavors and floral aromas. It pairs well with whole roasted turkeys, cider herb gravy, and sage-herb stuffing.
A dry Riesling is a food-friendly aromatic white wine with bright acidity, making it an exceptional pair with Thanksgiving turkeys.
Riesling has apple, apricot, and honey flavors that make it an irresistible pair for turkeys with spice and herbs. It's not unusual to see Riesling on a Thanksgiving table and even on a special occasion; it's versatile enough to do well with turkeys and dessert.
Lists of the best wines that go with turkey always include a Gewürztraminer. It's understandable since Gewürztraminer is one of the most versatile wines worldwide. Such is also an aromatic medium to full-bodied wine with balanced alcohol and acidity.
Gewürztraminers are sometimes fuller with bolder aromas and flavors of flowers and fruits. Like Rieslings, you can never go wrong in pairing Gewürztraminer with a dessert.
Turkeys are white meat, as much as they have dark meat in the legs. You can pair white and dark meat with Gewürztraminer, even if it has accompaniments like cranberry sauce and mashed potatoes.
When choosing the best wine pairing for turkey, the cooking technique must be part of your consideration.
A simple preparation of a turkey's white meat can match well with light-bodied white wines like Sauvignon blanc. By contrast, more complex meal preparations of a turkey's white meat, such as those with spicy flavors, often go well with light-bodied reds.
3. Sparkling Wines
Pairing turkey with sparkling wines is even more convenient as such wines typically go well with just about everything. Prosecco and herbed turkey breast make an excellent pair; champagne and turkey pairing can work wonders but go for brut than the sweet ones.
The modern brut champagne is a well-loved style familiar to many; generally, champagnes are wine blends of chardonnay, pinot noir, and pinot Meunier.
Even the slightly fizzy Moscato d'Asti comes with delicate aromas that do not overwhelm the richness of turkey breasts. Despite being a typical apéritif, no one can deny how well a sparkling wine matches a turkey.
4. Rosé Wines
You will hardly go wrong when serving a crisp rosé wine to match a turkey dish. The deep and balmy breath of Garnacha or rosé grenache is why many see it as an undemanding wine.
Generally, Australian grenache is light and fruity; the best ones have berry, floral flavors, and peppery aromas.
It could be your go-to wine if you overcook your turkey or baked turkey, and this rosé wine is also lightweight enough for any poultry.
Grenache has ample spice that allows it to pair well with roast turkey with lots of root vegetables. Further, Alsatian rosé Riesling is best with turkey hash; smoked turkey and dry rosé also make a great pairing.
Best of all, you don't need to spend a lot to experience the exceptional pairing of fried turkey and sparkling rosé of Malbec. These rosé wines effortlessly make a winning pair with turkey cuisine.
Taste This: Have you considered shellfish for a change? Let our pincers lead the way -- Best Wine With Crab.
---
Watch This!
---
Frequently Asked Questions
Does red wine make a good pair with turkey?
If you prefer red wine with turkey meals, then ensure the wines are low in tannins. Light-bodied red wines have high acidity to cut through a turkey's rich flavor.
Not all turkey dinners are the same. There are various turkey dishes with different ingredients and preparations. Nevertheless, turkey meat is versatile and almost effortless when looking for a suitable wine pairing.
Is red or white wine a better match for turkey?
Experienced individuals in pairing wine and food can attest to the versatility of turkey meat. Red and white wines make a good turkey dinner pairing. Turkeys are lean with white and dark meat and have rich flavors on the leg part.
The excellent wine pairings for turkey depend on different factors, like ingredient preparation and cooking technique. Go for white wines with enough acidity to match lemon and garlic turkey. A bottle of red wine pairs well with smoked turkey, especially if it's spicy and bold.
What is the most common thanksgiving wine?
Turkey meals are the heart of Thanksgiving parties in most households in the United States. While a fruity Zinfandel and the peppery tasting notes of Syrah are good wine pairings, Pinot Noir complements the taste of dark meat turkey pretty well.
Likewise, unoaked chardonnay is an excellent choice of Thanksgiving wine for turkey with stuffing. The acidity of dry Riesling and the spice of Gewürztraminer also pair well with turkey, explaining why these wines are famous during Thanksgiving.
---
Conclusion
One of the stressful things about planning events is being in charge of making the perfect choice in wine selection. But remember that there's no such thing as perfect wines for Thanksgiving or any occasion.
Excellent food and wine pairing will bring you inner peace and bliss. All you have to do is choose a wine you like and be enthusiastic about it. That decision alone can go a long way in impressing your boss, client, date, or friends.
After all, the best wine with turkey dishes is one that everyone will enjoy. You may also encourage your guests to bring wines that interest them and would love for others to try. It will make your Thanksgiving dinner more fun and memorable.