Last Updated: October 12, 2022
Lasagna and wine – ahh, a pair made in heaven!
For the best culinary experience, however, not just any wine will suffice. As it is with other foods, the right vino of choice can make a world of difference. Picking your wine can be tough! 
Read on as we share some of the irresistible options for the best wine with lasagna. From fine-dining restaurant meals and cozy dinners at home to having a tasty meat lasagna or guilt-free vegetarian lasagna, these wines will make the perfect accompaniment to your pasta. 
What Wine Goes with Lasagna? 
1. Pinot Noir 
A fruity and light red wine, pinot noir will make a great option if you want something refreshing to go with your lasagna. 
It remains acidic, except for an oaked version, which will complement the taste of tomato sauce in your lasagna. 
One of the best options to consider is the MEIOMI Pinot Noir, which has rich, deep, and mouthful flavors. You will taste a mix of blackberry, blueberry, raspberry, wild berry, and cherry. The smooth and round flavor is sure to go well with mushroom lasagna. 
2. Pinot Grigio 
For a sensory lasagna wine pairing, it is hard to go wrong with pinot grigio. From tomatoes to mushrooms, the high acidity of this wine will make the ingredients stand out. 
It has crisp, light, and subtle flavors, so it will never upstage a lasagna dish. 
Globerati Pinot Grigio is one of the best white wines that should be on your radar. It is light-bodied, which means that it will not overpower the flavor of the lasagna. You can also expect hints of pear and pineapple. 
3. Zinfandel 
When it comes to lasagna and wine pairings, Zinfandel is another option that you should not miss. Using black-skinned grapes, it is grown in over 10% of California vineyards. 
It complements the flavor of beef and tomato sauces, because of its high tannin, light sweetness, and refreshing fruity flavors. 
If you are looking for the best zinfandel red wines to try, Bogle Old Vine is worth looking at. It is barrel-aged in American oak for a year, delivering flavors that are reminiscent of raspberry, black pepper, vanilla, dried herbs, and juniper. 
4. Cabernet Sauvignon 
Another top option for the best wine for lasagna, the cabernet sauvignon has high tannin and acidity with a savory flavor profile that will perfectly match the tomato sauce in a lasagna meal. 
Black currants form the base flavor for this red wine. It also has flavors of tobacco, cherry, mint, and vanilla. 
From parmesan cheese to bechamel sauce, Decoy Cabernet Sauvignon will complement the many ingredients of your favorite lasagne. It has a delicate taste with savory and earthy notes. 
5. Sauvignon Blanc 
A dry white wine, Sauvignon Blanc has fruity and spicy notes. Expect a combination of bell peppers, nutmeg, clove, peach, pear, and passionfruit flavors, depending on the specific brand that you will pick. 
While you can pair this with many types of lasagne, one of our favorites is to eat it with goat cheese lasagna. 
Kim Crawford Sauvignon Blanc will make a nice wine for lasagna. The tropical fruity notes are bursting with flavors. 
6. Sangiovese 
Whether you are having a vegetable lasagna or a version with red meat sauce, Sangiovese red wine is another great option. 
A high-tannic, full-bodied, and fruity red wine, it is not too subtle nor too strong. It is also versatile, so it goes well with beef, cheese, and vegetables. 
For a tasty wine pairing for lasagna, choose Globerati Sangiovese. Treat your palate to a combination of red cherry and dark chocolate with this fruit-forward red wine.  
7. Aglianico 
For cheesy, hearty, and meaty dishes, such as lasagna smothered with tomato sauce, Aglianico wines are perfect. 
The sour flavor and robust tannin of Aglianico red wines will balance the rich flavors of traditional lasagna with tomato sauce. 
In your search for the best wine pairings with lasagna, Amador Cellars 2015 Aglianico is one bottle that should be on your radar. It is a classic Italian wine with savory and aromatic characteristics. 
8. Chenin Blanc 
Smooth and creamy, Chenin Blanc makes a great option if you are pairing wine with seafood or vegetable lasagna. 
A lighter-bodied wine compared to most of the options on this list, it is available in different varieties. For instance, you will find one aged in an oak barrel with a flavor similar to Chardonnay. 
Pine Ridge Chenin Blanc + Viognier is one of the best wine pairings for lasagne. It is a crisp and white aromatic white blend, which will elevate the sensory experience when you are enjoying your pasta. 
9. Vermentino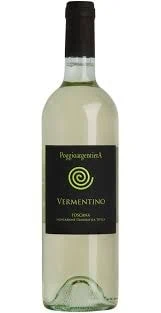 It may not be as popular as the other white wines on this list, but it will make another great option for lasagna and wine pairings. This is ideal for pesto lasagna as it complements the flavors of olive oil and pine nuts. 
Avoid serving this wine with vegetable and meat lasagna. It is too strong, which can overpower the flavors of the dish. 
An aromatic and intricately-flavored white wine, Bella Grace 2021 Vermentino is a notable pick. From its silky texture to citrus flavors, it will be the perfect accompaniment to a lasagna. 
10. Prosecco 
If you love sparkling wines, then Prosecco is an impeccable pick for a mouthwatering lasagna. 
From its crisp acidity to vibrant flavors, a Prosecco will make the richness of lasagna more noticeable.
While there is an endless selection available, La Marca Prosecco is one wine bottle that stands out. With tasting notes of peach, ripe lemon, and green apple, this delicate wine has a lively effervescence that will level up classic lasagna dishes. 
Taste Test: This article makes us cheesy all over (no pun intended)! How about priming your palates to a new level of goodness and sumptuousness? Sound delicious? Read our post and feed your imagination here -- Best Wine With Prime Rib.
---
Watch This!
---
Frequently Asked Questions 
Does white or red wine go better with lasagna? 
It depends on the type of lasagna that you will have. If it has béchamel sauce, then red wine is a better choice. On the other hand, if you are having a fish or vegetarian version, then you should go with a white or even a bubbly one. 
What wine can you use for cooking lasagna? 
Red wine is the perfect choice if you are looking for a vino to use in a lasagna recipe. It does not only add a subtle flavor but it can also improve the texture of pasta. It is especially great if you are cooking with tomato sauce. 
---
Conclusion
Whether it is made with meaty red sauce, creamy bechamel sauce, or any other sauce to suit your palate, lasagna goes well with wine. While it will pair perfectly with vino, however, you must choose a bottle wisely. From Pinot Noir to Zinfandel, we hope that this guide has enlightened you on what wine goes with lasagna.
Do you have other recommendations for a red or white wine with lasagna? Leave a comment below and let us know what we should be sipping next!