Last Updated: October 12, 2022
Apothic Crush is a purple-colored red blend that combines three grape varietals to create a medium-body sweet red commercial wine. 
What does it taste like?
Like other wine blends from this producer, such as the Apothic Red, the Crush is a pleasant tasting house wine with a long caramel-infused finish. If you are wondering how this one differs from the Apothic Red, then you're in the right place!
 In this Apothic Crush red blend review below, I discuss all the features of this cuvéé, and I compare it with other well-known blends from this winery. 
What is Apothic Crush?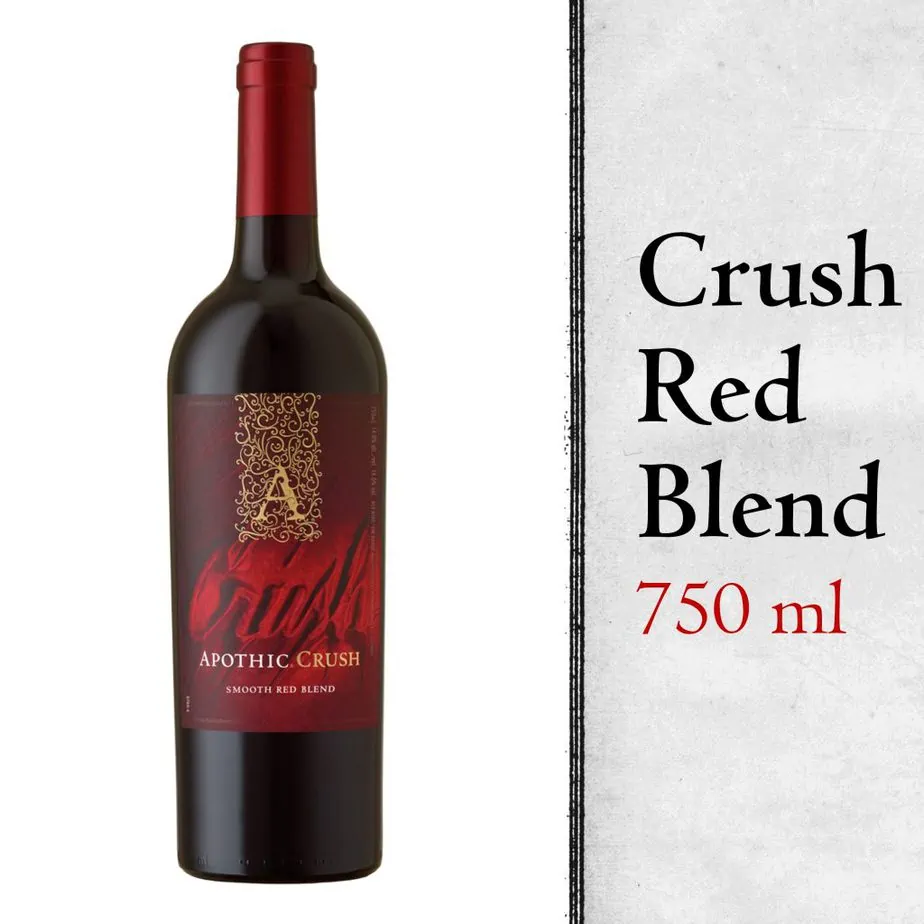 Apothic Crush is a product of Apothic Wines from Modesto, California. The winery is one of many wine-producing entities owned by E. & J Gallo Winery, currently the most prolific wine exporter in California. 
Apothic Winemaker Debbie Juergenson describes Apothic Crush as "a decadent red blend with raspberry flavors and hints of cherry, mocha, and vanilla". 
What sets the Apothic cuvéés from other blended wines in the market is their extraordinary tasting profiles. Apart from the Crush, this winery also produces the Apothic Red (their first blended wine), Apothic Dark, Apothic White, Apothic Brew, Apothic Rosé, and Apothic Inferno. 
I'll compare the tasting notes of this wine with the Dark and Red wine blends a little later in this Apothic Crush wine review.
Drawing inspiration from Apotheca, the 13th Century term for the space where wine was blended and stored, Apothic wines borrows from the master-crafted French wines of Bordeaux and the Rhône. 
The Apothic Crush blend features Petite Sirah, Pinot Noir, and Zinfandel grapes. It is a well-balanced wine that is pleasant on the palate and pairs well with various foods. The flavor profile is fruit-forward and bold, typical of California blends. 
Other flavors and aromas you can expect from this wine are vanilla, black currant, licorice, and chocolate. The Apothic Crush has an ABV of 14.5% and costs an average of $11. The 2016 vintage is the favorite for many wine drinkers. 
Apothic Crush Tasting Notes
Appearance
The Apothic Crush features a deep purple color in the glass that is opaque when held against the light. It is also a leggy wine, indicating its high alcohol content, viscosity, and sweetness. The meniscus is a lighter purple depending on the vintage. 
Aroma 
While the Apothic Crush has a high alcohol content, the wine has very little alcohol on the nose. However, the wine has rich aromas of black cherry and blackberry, with hints of mocha, vanilla, and cinnamon.
Taste
The Apothic Crush has a fruit-forward taste of dark fruits, with notes of chocolate, caramel, and vanilla as the primary flavors. The wine is sweeter and less tannic than regular red wines. However, it is also noticeably dry and astringent compared to other Apothic blends, such as the Apothic Red. 
My overall observation in this Apothic Crush wine review is that it has a more intense flavor compared to other blended wines in this category.  
It has a silky mouthfeel and a long, smooth finish with notes of blackberry and caramel. The dry taste does not linger, and the acidity is well-balanced by the sweet flavors, making it easy to drink.
Apothic Crush vs Apothic Dark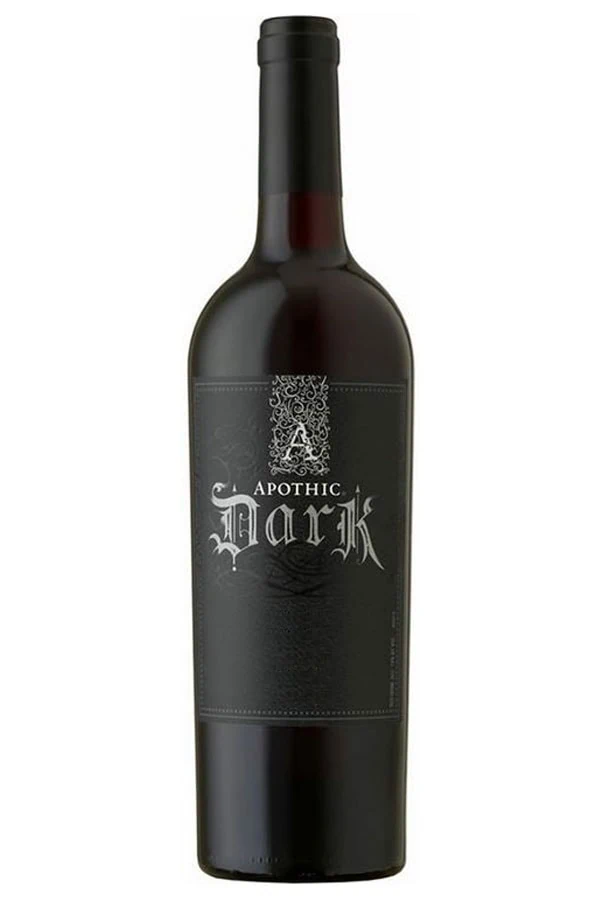 The varietal composition of the Apothic Dark wine includes Petite Sirah, Cabernet Sauvignon, Petit Verdot, and Teroldego grapes. The Apothic Crush features Petite Sirah, Pinot Noir, and Zinfandel grapes in comparison. 
Both wines feature the same appearance that includes a dark and opaque purple color and heavy viscosity. They also have a similar tasting profile of dark fruit flavors with chocolate, caramel, and licorice notes. 
However, while the Crush has a smooth, well-balanced finish, the Apothic Dark is unrefined and may leave a bad taste in your mouth. 
Apothic Red vs Apothic Crush Wine
The Apothic Red features four grape varietals and has the same viscosity and dark color as the Crush. However, while the latter has more ABV percentage, the alcohol is not noticeable in the aroma. 
The Apothic Red is sweet with intense fruit aromas and tasting notes like the Crush, although it needs more aerating for the taste notes to come out. 
On the other hand, the Crush is more astringent and dry, plus it costs slightly more. However, both have an excellent finish and pair well with desserts.
Taste Test: Know more about Apothic Red here -- Apothic Red Wine Review.
Food Pairing
The Apothic Crush is a smooth red wine that pairs well with rind cheeses such as Brie and Camembert and light beef dishes such as mincemeat. 
While the wine has medium tannin and notable astringency, it may not pair very well with rich, intensely flavored dishes such as beef steaks. 
Other food accompaniments I recommend include lamb dishes, cold cuts, roast vegetable salads, chicken, and turkey dishes. 
---
Alternatives
Midnight Dark Red
While looking for wine alternatives for this Apothic Crush review, I came across the Midnight Dark Red from the Ménage à Trois winery. It is a full-bodied wine that makes an excellent alternative to the Apothic Crush.
The wine is a delicious blend of Merlot, Cabernet Sauvignon, Petite Sirah, and Petit Verdot grapes that give this wine a different taste profile from the Crush.
Plus, it has more intense tannins and acidity than the Crush, making it a good option for heavy beef dishes like beef steaks. In comparison, the Crush is delicious with lightly flavored dishes.  
Pros
Highly quaffable with fruit-forward flavors
It pairs well with various light dishes
Moderate tannins and well-balanced finish
Cons
Contains sulfites
Fruity but not sweet for entry-level consumers
It has limited food pairing
---
Watch This!
---
Frequently Asked Questions
Is the Apothic Crush red wine sweet?
No, but the Apothic Crush is smoother than most red blends on the market. It features spicy cinnamon notes and is a little drier and acidic in the finish.
How do you drink the Apothic Crush wine?
Apothic recommends drinking their red blends at room temperature or slightly chilled. The Crush is typically ready to drink when opened, unlike the Apothic Red, which requires a little time to aerate. 
Chilling the wine brings out the fruity flavors, and you will enjoy drinking it more than if you drank it at room temperature. Ultimately, how you drink your Apothis Crush is a matter of personal preference. 
How long does the Apothic Crush last when opened?
Red wines typically last 3-5 days once opened, and the more tannins the wine has, the more days it lasts. The Apothic Crush can last up to six days if you close the bottle with the cork to prevent oxidation and store it in a cool, dark place. 
---
Conclusion
To conclude my Apothic Crush red blend review, if you have tried any of the other wines from the Apothic Winery, you may find that this blend makes a great everyday sipper. 
However, while this wine pairs well with some light dishes, it performs better as a standalone wine. It is also an excellent choice for consumers who prefer a dry red wine with less sweetness, unlike the Apothic Red.