Last Updated: October 10, 2022
Ever tasted a glass of wine and all you wonder is, what's the fuss about this drink?
Well, that's okay. 
I've been there too. I poured myself a glass of Sauvignon Blanc at a friend's home bar, and I swore I tasted cat piss! Meanwhile, a few weeks earlier, he excitedly told me it has guava and passion fruit flavors – I guess I just didn't appreciate it at the time.
Like you... 
I still had to drink wine because it seemed like the perfect drink for my date night. But I knew I wasn't going to serve her that same wine. And I wanted something I'd also enjoy. So, I got a bottle of Rosé to pair with my homemade steak – the rest they say is history.
Afterward, I drew closer to wine – and my date. I started out tasting sweet and easy-drinking wines with the help of my wine connoisseur friend who served me piss. 
To save you the same experience... 
I decided to share the best wines for people who don't like wine. Believe it when I say there's even wine that doesn't taste like alcohol – but it'll still get you tipsy or drunk, anyway.  
Of course, these wines aren't only for date nights. You can drink them alone to ease stress, by the poolside, or as a gift to a person who doesn't like wine.
So, let's go check them out.
Best Wines To Serve People Who Don't Like Wine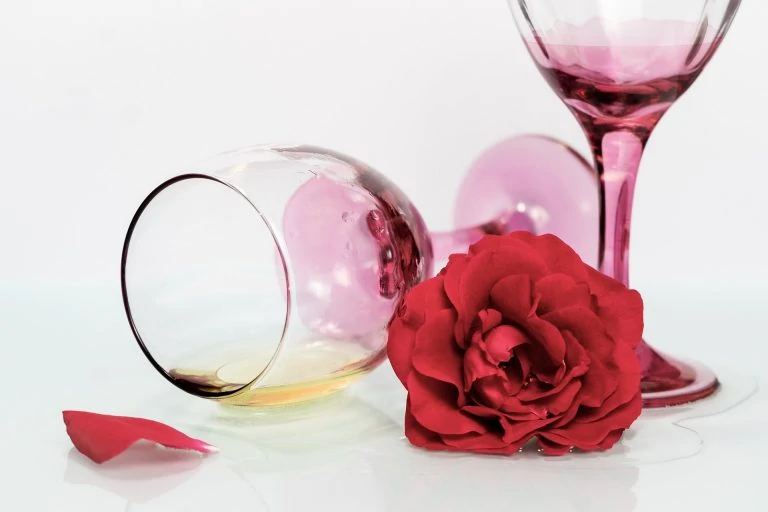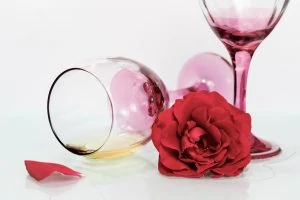 Rosé
Rosé—pronounced ro-zay—is typically a wine that takes some of its grape skin colors. But not enough to qualify it as red wine. It's famous for its pink or rose gold hue, not excluding other colors, like peach, mango, or copper. 
For Victoria at Good Housekeeping, "It's a flirty and frivolous sibling of red wine and white wine." 
Rosé tastes a bit like red wine but with a crisp and fruity note. It can either be sweet or dry, but premium ones made in the "Old World" are mostly dry. But you'd mostly find a sweet one over the counter, except some manufacturers try to mimic traditional producers to sell at affordable rates.
All in all, there are almost a dozen styles of Rosé. I'd suggest the classic Provence Rosé or a bottle of Cabernet Sauvignon for people who don't like wine. Syrah or Tavel would be too dry or potentially distasteful to an amateur sipper.
Of course, you should serve this pink delicacy chilled. But how chilled should it be?
Too cold makes it bland. And too warm makes it sour.
Don't fret. For someone who doesn't like wine, (just, yet), you won't need to be exact on temperature numbers. But you can follow the 20:20 rule.
It's simple. Chill white wine (Rosé) in a fridge (don't ice or freeze), and take out twenty minutes before serving.
Foods That Go Well With Rosé
Technically, you can pair any cuisine with Rosé, since it has so many styles. It's the wine of choice at many barbecue parties, picnics, dinners … you name it.
Sweet Rosé (what you should be drinking) pairs well with barbecue or red meats, roasted corn (any roasted food), and most sauces. The high residual sugar and fruity aroma also collide well with spicy foods and desserts. 
Similar Wines
Give Pinot Noir, Cabernet Sauvignon, Champagne, or White Zinfandel a try as well.
High Points
Pairs well with savory foods

Fresh, fruity flavors

Can be dry but

Plethora of styles you can select from
Turnoffs
Don't buy Rosé that costs over $25
Lambrusco - Red Sea Of Sweetness
Lambrusco is a sparkling Italian red wine. It's also the name of the family of grapes used to make this wine in the medieval region of Emilia-Romagna.
It's literally one of the most refreshing Italian wines, filling a cup with a bubbly red sea of sweetness.
Lambrusco is typically made using the Charmat method. It may be the most inexpensive production method, but it's what a person who doesn't like wine will enjoy. The other two methods produce bubblier and opulent wines, so you may not fancy them despite their premium status. - A bottle of Lambrusco will be labeled sweet or dry anyway.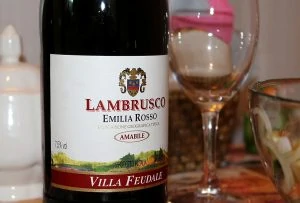 Pairing Lambrusco With Food
Lambrusco makes a delectable pairing with various foods (as it should be) and is also affordable.
It's almost certain you'd enjoy pouring a glass of Lambrusco while serving any food for a perfect night. Sweet Lambruscos soothe your taste buds when you order spicy Thai or Indian dishes. And they pair well with sugary desserts as well.
If you want to pair with meats, you'd have a better experience with dry options, like Lambrusco Grasparossa. Or if you're having pizza!
Unlike most red wines, you should serve Lambrusco chilled. Refrigerate or cool the wine in an ice bucket for about 20 minutes before you pop it.
Similar Wines
There are quite a number of sweet red wines like Lambrusco, but I hold Brachetto and Ruby Port in high regard.
High Points
Pairs with sweet, spicy, or beefy meals

A pizza delight

Fruity and lively

Inexpensive date night or everyday wine
Turnoffs
High acidity

Best enjoyed with food
Moscato – Sweetest Of Them All
Moscato is usually among the first wines recommended to people who don't like wine by aficionados.
It's also the Italian name for Muscat, the group of grapes used in the manufacture of said wine. They happen to be one of the oldest wine grapes, famous for sweet floral flavors, as with their wines.
If you want to throw a person who doesn't like wine off their feet with a heavenly-scented and rich wine, a bottle of Moscato will do. Moscatos usually contain low alcohol since they are made sweet, but you'd also find dry variations.
Food Pairings
Moscato isn't a typical main dish wine but a dessert wine. It also pairs with spicy foods, due to its low alcohol and relatively high sugar content.
So, you can serve Moscato with hot spices, like Thai and Indian food, vegetables, light fish fillets, BBQ pork, etc.
Moscato is extremely easy and sweet on the palate, so it's not unusual to have a glass alone. (don't get carried away, it still contains around 5% alcohol). And it makes a delightful aperitif.
If you want the fruity and floral scents of Moscato dancing in a flute, serve it chilled. The Candoni De Zani family, for instance, advises immersing the bottle in an ice bucket for thirty minutes.
But never serve Moscato warm. It's even better to drink Moscato that's too cold.
Similar Wines
Sometimes, Moscato can make a zesty alternative for Champagne. Riesling also exhibits the sweet fruity aromatic appeal and taste of Moscato.
High Points
Perfumed fruit and berry aromas

Rich and fruity taste

Affordable

Perfect for someone with a low alcohol threshold
Turnoffs
Riesling - Sweet German White Wine
If wines had siblings, Riesling would be a sister to Moscato. It's an aromatic grape wine with a similar flowery scent and high acidity to the Moscato. Well, Riesling is a German wine, for the most part.
Riesling is typically listed as one of the "top 3" white wines, alongside Chardonnay and Sauvignon blanc. This wine can taste like apples and peach or lime and citrus, or even have notes of petrol (aged ones), depending on its place of origin.
But you most likely won't be keeping a bottle for years, will you? So, you don't have to worry about serving someone who doesn't like "petrol" to drink.
Pairing Riesling With Food
Due to its high acidity and sugar content, you can pair Riesling with a variety of foods - especially chilly and spicy cuisines. Also, you can pair it with white fish and pork because it's light.
The sharp and crisp taste of Riesling also goes well with salty foods, cheese, and vegetables.
Similar Wines
Riesling is quite similar to Moscato, and you'd also like a Chardonnay and Sauvignon blanc if you like it.
High Points
Fruity and grapey aromas

Delicate and sweet  

Thirst-quenching crispiness
Turnoffs
Sour notes from its high acidity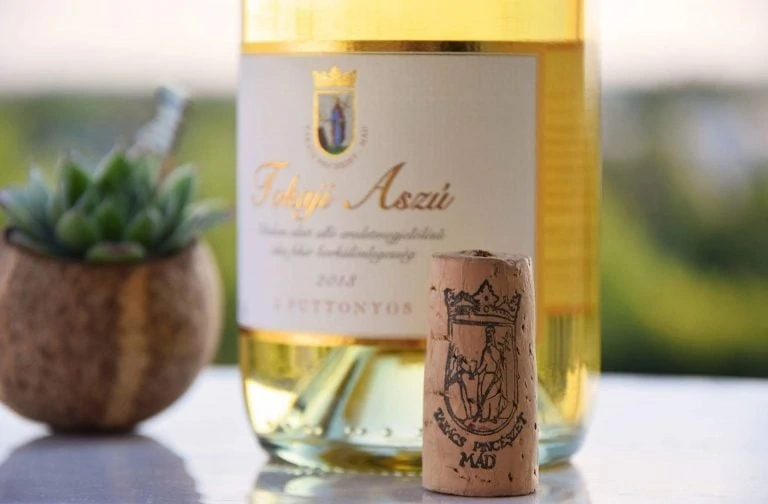 White Zinfandel – California Pink Wine
It's hard to make a list of wines for people who don't like wine and leave out White Zinfadel - a wine that's hated by wine lovers because people drink it when they don't actually like wine.
This Rosé lookalike is Sutter Homes's invention which still sells the White Zinfadel bottles to this day. White Zinfandels are made from red zinfandel grapes that normally make bold and spicy red wines. The sweet pink-colored wine we've come to like results from a fortunate calamity (stuck fermentation) by the owner, Bob Trinchero.
It's as full of life as its pink hue. The White Zinfandel is an "easy-drinking, sugary juice" like it's the best wine for non-wine drinkers, and they would get accustomed to it immediately. It's comparable to drinking chilled fresh juice with a sweet tropical accent and crisp freshness.
Pairing White Zinfandel With Food
White Zinfandel, like most wines, is produced in different styles. For this purpose, you'd prefer a sweet to semi-sweet style, so you don't "foul" your palette. The fruity will go with white meats like pork and fish fillets, and all kinds of seafood.
Like most white wines, White Zin would pair with cream-based desserts, spicy continental foods, and sauces, like tomato sauces.
Always serve White Zinfandel cold. It accentuates its sweetness and flavors.
Similar Wine For People Who Don't Like Wine
Rosé has to be the closest one since they are relatively the same wine. If White Zinfandel was a cake, Rosé is practically the same cake, but with fancy icing on the top.
High Points
Smooth sweet taste

Great for spicy foods

Romantic pink hue

Cheap
Turnoffs
It varies among its many products
Champagne - Celebratory Wine For Anyone Or Any Occasion
It's safe to say Champagne is the godfather of sparkling wines.
Fast fact:
It's illegal to name any product Champagne unless made with specific grapes grown under approved practices in the Champagne region of France. In the US, only products approved before 2006 are allowed to continue their use. And it's entirely banned in Oregon.
Talk about classy.
Champagnes are typically made solely from white Chardonnay, Pinot Noir, Pinot Meunier, or a mixture of these grapes. Sometimes with four other grape varieties for historical reasons.
Bottom line... Champagne is a fizzy bottle of tastiness that can be enjoyed alone or paired with a meal. It's the "most celebratory bubbly beverage" for a reason. You would enjoy it.
Foods To Pair With Champagne
For a person who doesn't like wine, Doux Champagne - the sweetest of champagne styles - is more appropriate. Fortunately, it's also the best type to pair with foods.
Serving Champagne with almost any dish, from seafood to roast chicken will appeal to your palate. It can also be paired with cream-based sauces and equally sweet desserts. This would cancel out any trace of sourness from the high acid content of its grapes.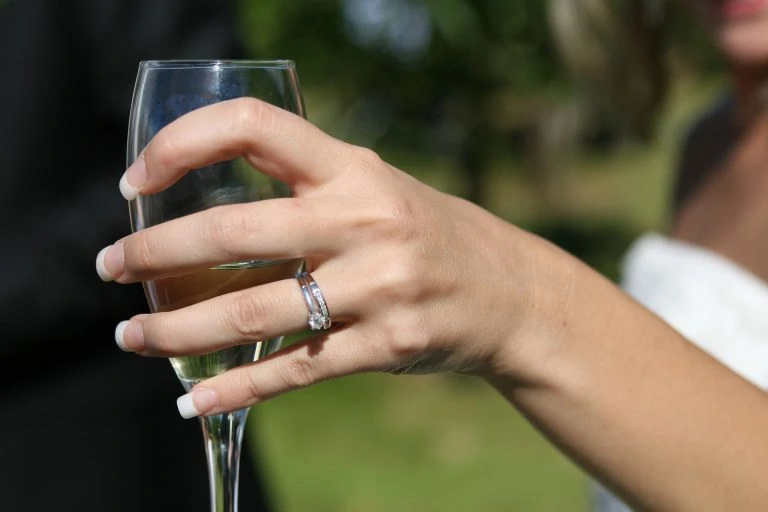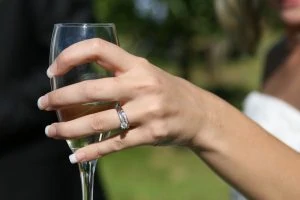 Serving Champagne
That said, Champagne is best served chilled. Often, it's cooled in an ice bucket, thirty minutes before pouring it into the glass. This helps to keep the renowned bubbles intact and exposes the flavors.
Also, tilt the glass at an angle if you want to keep the bubbles further locked in. It's best to serve any sparkling wine this way.
Similar Wines
For a person who doesn't like wine, Doux - the sweetest champagne style - is more appropriate.
High Points
Symbol of luxury and celebration

Goes with daytime or nighttime entertainment
Turnoffs
Can be expensive

High acidity
Chardonnay
Long before ever trying out this sparkling wine, I've been a fan of its name. Unsurprisingly, Chardonnay is also the most popular white wine in the world. Dave says "it's easy to say and it sounds like it ends with a smile." Well, when you toast to loved ones or alone.
Chardonnay's versatility and adaptability are what make it so popular. Its green-skinned grapes can produce a crisp and sweet wine or oaked and buttery flavor. There's a Chardonnay for everyone. Essentially, it's a blank canvas waiting for the wine producer to paint a fizzy work of art.
Warm-climate Chardonnay exhibits the popular bold and boozy flavor, thanks to California. But cooler climates, like Burgundy - Chardonnay's hometown, produce lean, citrusy, and easy-drinking wines that would shock a naysayer.
Foods to Pair With Chardonnay
Being an all-around wine, you can pair Chardonnay with many food options. You just need to have the right bottle, for the right type of food.
Regardless, they'd go with all sorts of meat pairings (mostly whites), vegetables, soft cheeses, and spices like parsley and tarragon. And even buttery popcorn.
Similar Wines
If you like Chardonnay, you should try out similar varieties like Marsanne, Viognier, and Roussanne.
High Points
Goes well with a host of dishes

Has a fizzy and toasty flavor

Has a sweet and creamy taste

Good conversation starter
Turnoffs
Oaked Chardonnay might have "in your face" flavors

Zesty Chardonnay can be "sour" or medium acidic

Taste and quality are based on the terroir of the grapes
Other Wines To Try If You Like Beer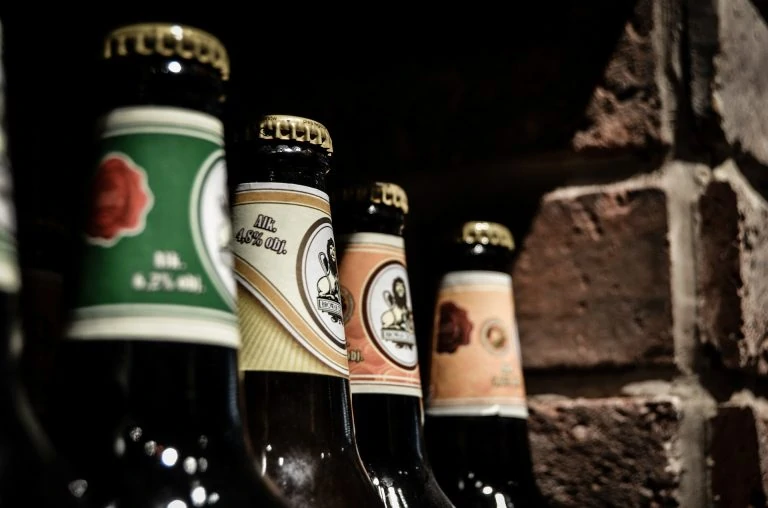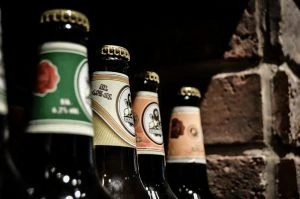 If you enjoy beer but don't really like wine, you wouldn't mind drinking a bottle of Champagne. However, Champagne is more of a celebratory drink and costs a fortune compared to beer.
Folks enjoying a "fun" night out might have a look at their empty wallets after downing a couple of glasses of Champagne. But there's a much more affordable option called Cava. It's bubbly, tastes crispy, and has a citrusy aroma, just like Champagne.
The kicker: premium Cava costs only a fraction of the price of Champagne.
Also, you can try Shiraz, Bordeaux, or Carmenere if you drink Belgian Ale. They are opulent, masculine wines you'd love.
Wines To Try If You Like Hard Liquor
Any hard liquor sipper would love the taste of a single malt scotch. Many a wine exhibit the quick high, and strong, but flavorful undertones of most liquors. The list could be unending when you consider different gins, whiskeys, cognacs, and their unique flavors.
So, you can either research an identical wine alternative to your favorite liquor or try out high-boozy wines. Well, I'll go with the latter and recommend Syrah, Pinot Noir, and French Sauvignon Blanc.
Rarely do I see a liquor drinker turn down a strong alcoholic drink. So, I'll recommend even stronger wines like Amarone, Port, Marsala, or Sherry - real Sherry is actually sipped like fine Whiskey.
Taste Test: Joining a wine club will lessen the pressure of having served wines you don't like at all. Try this one for starters -- Firstleaf Review.
Sipping Up
All these wines and you're unable to find one that could sit well on an inexperienced palate?
Let's do it this way:
Trust me, try out two recommendations off this list for dinner or while binge-watching your favorite tv show. Preferably, a white first, then a red later.
Also, be sure to pour yourself a glass at the recommended temperatures. Or stick to chilled for sweet, low-bodied white wines, and warm for tannic full-bodied reds.
Tried any yet? Which wine tastes better: red or white wine?
We'd love to hear from you! 😉