Last Updated: October 10, 2022
The one thing that sets the line between eating and dining is wine.
It can be a Thanksgiving dinner with your family, an online Christmas party amidst the COVID-19 pandemic or a casual get together at your place with some friends and pasta. In all cases, you need to add elegance and class, and that you can do with some fine wine, even for pasta.
Pairing wine with food... 
It's not a one-fix-for-all thing, instead, you need to proceed very carefully lest you ruin the whole experience. But if coupled right, wine and pasta can form the perfect match and lighten up your dinner table like nothing else. And that'll make the perfect match-up of the best wine with pasta.
The type of wine you should pick will depend on some specifics of your recipe, so hang tight as I take you through some of the best wine to go with spaghetti and assorted pasta.
Best Wines To Go With Pasta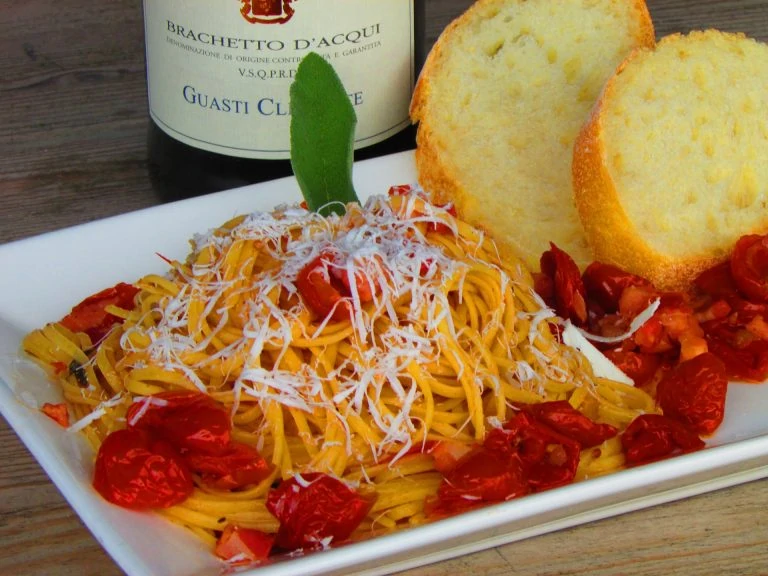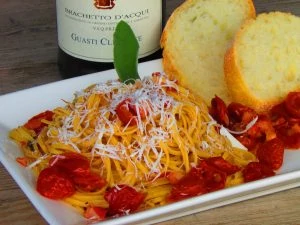 Are you wondering 'what wine goes with pasta?'
The thing with wine and food pairing is that you need to understand the subsurface factors, or more appropriately: the taste influencers of the food. Pasta may be based on acidic tomato sauces, or something creamy, or spicy, the list goes on.
In all cases, you will need the sort of wine that goes along well and accentuates the taste instead of countering it or masking it entirely.
Here are some popular options that you can consider for a spaghetti partner:
Red Wines
Cabernet Sauvignon
If you're looking for a wine to go along with your spaghetti cooked in tomato sauce then look no further: red wines are perfect for filling the role and the Cabernet Sauvignon is a prized food partner in this category.
Hailing from the Gallic lands of mainland Europe, the cabernet is a perfect companion for tomato sauce-based pasta owing to its acidic nature.
The high level of tannins, coupled with noticeable acidity and a blend of taste bearers like tobacco, vanilla, mint, spice, black currant, berries, and coffee, all conspire to make the cabernet a perfect delight.
It is, without a doubt, the best wine to go with pasta based on tomato sauce.
Pinot Noir
The Pinot Noir is a versatile choice if you're looking for the best wine for pasta, especially spaghetti. It is a light red blend with all the ingredients to go along with tomato sauce-based pasta, however, if you go the fruity variant, you can also try it with cream-based dishes.
Tomato sauces like marinara will pair perfectly with this brew, and the same can be said for pesto sauce and mushrooms. So if you feel like getting creative with your spaghetti, you don't have to worry about picking a different wine for each type – this babe will take care of them all.
Best of all, if you're planning on wowing your significant other with a romantic home-cooked candle-light dinner, the Pinot Noir, often dubbed as a 'sensual wine,' will back you up perfectly.
Zinfandel
You can find Zinfandel in full-bodied, medium-full, and light-bodied variants, and all are suited for different platters. This versatility, the strong alcohol percentage, its rich taste, and the iconic dark shade, all make Zinfandel a feast for the eyes and the tongue.
The high level of tannins ascertains its perfect coupling with red sauce pasta. This affiliation is only further strengthened by the hint of a spicy touch in its flavor, rather pepper-like at some points, but embedded within the basic taste palette of cherries and grapes.
While the aforementioned is true for the stronger varieties, you can easily pair up lighter forms, often dubbed as 'white Zinfandel' with white cream-based pasta.
If you're planning on having meatball spaghetti, a glass of Zinfandel should be aces on your list of food pairings.
Merlot
If you're not all that into red wine and need something versatile yet easy to drink, then the sweet touch of Merlot might be right up your alley. It is by no means a dessert wine, but the sweetness is prominent and makes it easy to drink, especially for beginners.
It pairs perfectly with several dishes especially those with major portions of meat, meaning that your spaghetti and meatballs just found their soul mate! The fruity taste, coupled with a medium level of tannins will make it perfect for all sorts of pasta dishes cooked in tomato sauce.
However, you may want to keep it away from the creamier ones.
Sangiovese
If you're looking for something that lies between the Merlot's sweetness and Cabernet's strong acidic taste, then this red wine is your answer.
The fruit and tannin content is perfectly balanced in Sangiovese to provide just the right amount of each, and it goes perfectly with tomato sauce-based dishes.
It should come as no surprise considering the mix of acidity and cherry-based flavor which accentuates the taste of tomato-based sauces.
White Wines
Riesling
The blend of aromas and flavors offered by a glass of this fine white wine is iconic, to say the least. Depending on the ingredients added (where they were grown), the taste may be a bit tart, featuring flavors of peach, pear, and apple in a perfect blend.
Generally, the taste is a blend of sweet and spicy, and it pairs perfectly with cream sauce-based dishes but not with red ones.
Chardonnay
When someone says "white wine," the first thing that pops into my mind is Chardonnay.
It takes a lot to be the best of a kind, and this one's got it all. Chardonnay couples up perfectly with pasta, especially those with cream-based sauces, such is the level of bonding that no other wine can come even close to competing it for this pairing.
You can also wash down spaghetti with a chilled glass of this fine American liquor.
Mushrooms, pesto sauces, cheese sauces, and vegetable pasta are all enveloped under the canopy of this white wine.
Wine Pairing Based On Type Of Pasta/Sauce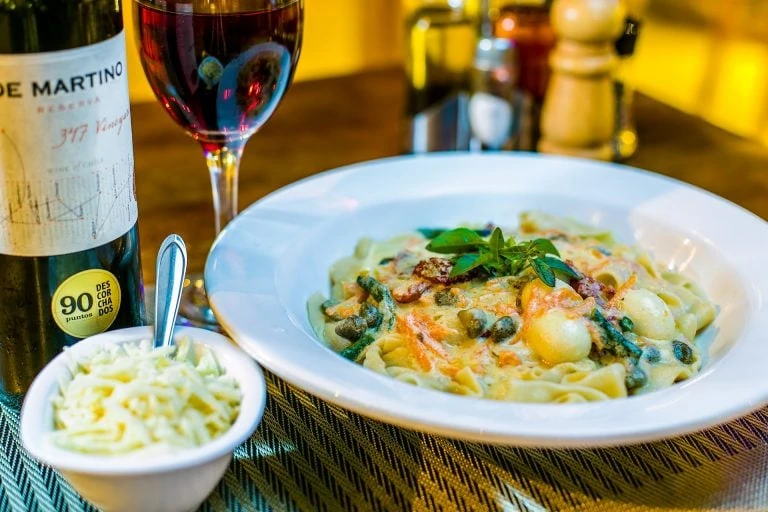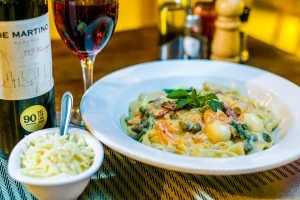 To choose between a red or white wine with pasta, it is important to understand the ingredients of your dish so that you can pick something that goes perfectly with it.
This parameter is important to consider because unless the tastes resonate, the whole experience will be ruined:
Tomato Sauce
Tomato sauces have an inherent acidity which means that you'll be best off coupling them with red wines such as Merlot, Cabernet Sauvignon, Zinfandel, and Sangiovese.
Cheese Sauce
Cheese-based pasta is best paired with light-bodied white wines such as Chardonnay and riesling, however, you can also try out the Pinot Noir.
Seafood Pasta
If you fancy some spaghetti with clams, white wines will once again come forward in this match-making mission, you'll be best off with a bottle of America's number one: Chardonnay.
But you can also try out chablis, pinot grigio, grenache blanc, and rosé.
Pesto Sauce
Pesto-based kinds of pasta are best served with white wines, however red pesto will couple perfectly with red wines as well.
Vegetable Pasta
Veganism is no more a one-person thing but instead, whole families are now making the shift. So if you fancy vegetable pasta, you can easily wash them down with a white wine like Chardonnay.
Spicy Pasta
Spicy foods in general and pasta in specific need to be coupled very carefully lest you compromise the flavor. Your best bet would be to go for dry wines like riesling or light-bodied red ones like Zinfandel.
Frequently Asked Questions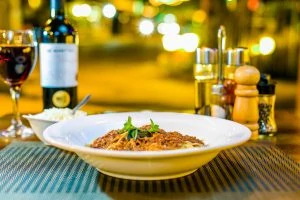 In case you're still wondering: 'what wine goes with pasta,' let me summarize the facts:
What kind of wine goes with pasta and red sauce?
Red sauces are best coupled with red wines, both medium-full and full-bodied. Unless the wine offers a hint of acidity in its flavor, it will ruin the dining experience with tomato sauce-based pasta. You can try out Merlot, Cabernet Sauvignon, Zinfandel, and Sangiovese to go with such dishes.
What kind of wine goes with pasta and white sauce?
Cream sauce-based pasta doesn't go very well with red wines except for the lighter versions. Ideally, you should couple with white wines exemplified by Riesling and Chardonnay on this list; however, some versatile red wines like Pinot Noir will also work with such dishes.
What kind of wine goes with spaghetti and meatballs?
If you're still torn apart by the pairing between red or white wine, or which is the best wine with spaghetti, then just consider one of these options, based on the recipe:
Red Wine
Cabernet Sauvignon

Pinot Noir

Zinfandel

Merlot

Sangiovese
White Wine
Bottom Line
I hope that by now you won't be confused about what wine goes with spaghetti. In either case, the wine reflects elegance in dining, if you learn to couple it perfectly with food, you'll never forget the savory experience.
Lastly, of all the options I have mentioned and many more out there, the perfect one for you will be based on your personal preference.
Just go for what feels the best.
Cheers to spaghetti and the perfect wine to go with it!