Last Updated: October 12, 2022
Affordable and approachable, Malbec is one of the best entry-level wines. From its dark-fruity notes to its rich flavor, it is intriguing, even if it is not as popular as Merlot and Cabernet Sauvignon. 
Will you try one?
Read this article to know more about this wine. It is affordable but is this enough for you to buy one? 
Let's proceed with the Trapiche Malbec wine review!
Trapiche Malbec Overview 
Founded in 1883, Trapiche is an Argentinian winemaker that emphasizes not only the quality of its products but also sustainability. They have bio-dynamic farms that do not use fungicides, herbicides, and chemicals, resulting in an incredible taste despite its price point. 
Their vineyard is in Mendoza, specifically at the foothills of the Andes Mountain. They are known for their ability to extract the best grapes from their 2,470-acre terroir, working with more than 200 independent wine producers. 
While the company has a wide array of products, in this review, our focus is on Trapiche Malbec. At an average price of $5 to $8, it is a budget-friendly Argentinian Malbec. 
The Trapiche Vineyards Malbec contains 13.5% alcohol. 
Trapiche Malbec Review – Product Tasting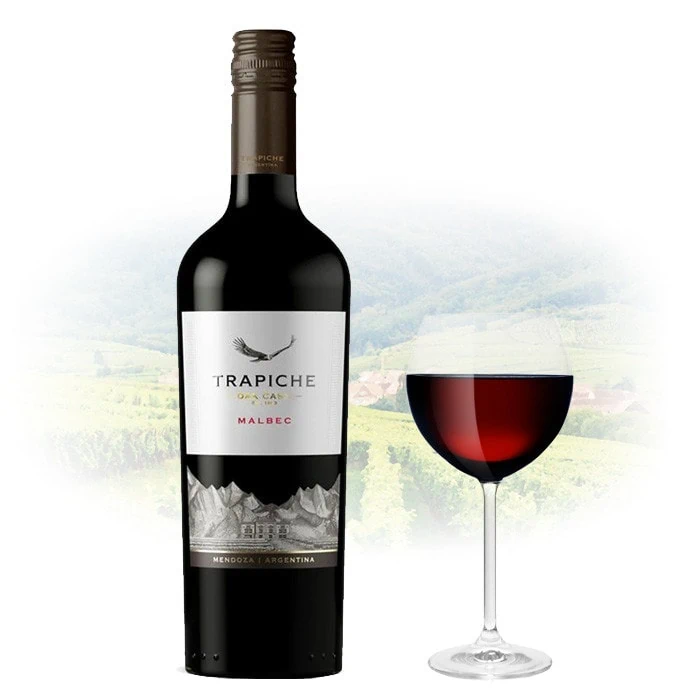 Appearance 
As a dark wine, you cannot see much of its color when it is in a glass. If you look closer, however, you will find semi-opaque deep ruby or dark violet color. The core looks deep purple that transitions into a rim with a slightly tinged red color.  
Another important thing to note about its appearance is that it is leggy. After pouring, the wine legs are immediately apparent. They drop slowly to the bottom of the glass at varying speeds. 
Aroma 
On the nose, the Trapiche Malbec has a complex aroma. It was easily prevalent even if your nose is far off the glass. 
It has a tart smell that is reminiscent of bright and fresh black fruit. 
For the best aroma, I suggest decanting the wine. It will not only remove any possible sediment, but it will also increase the vibrance of its subtle aromas. 
Taste 
On the tongue, it has a round and intense flavor as also noted in other Trapiche Malbec reviews.
It is a dark red wine, but I was surprised by its tartness, although subtle.
Aside from citrus, the taste also reminds me of black cherry, pomegranate, raspberry, blackberry, ripe plum, vanilla, oak, and chocolate. 
The Trapiche Malbec tasting notes are not far from any other similar Malbecs I have previously tried.  
Mouthfeel and Tannins 
It has a creamy and fruity mouthfeel, but the sweetness is not overpowering. 
Meanwhile, typical of Malbec, this wine has low tannins. As a result, drinking it is a smooth experience in the mouth and not as bitter as other reds. 
Finish 
With a plentiful finish, the flavor of the Trapiche Malbec stays on the mouth for about 15 seconds after sipping. 
The finish is not super long. If you prefer a more lingering taste, then you might be better off drinking Cabernet Sauvignon. 
Overall 
This is an easy-drinking Malbec. It is a great option for people who are looking for complex flavors without the boldness of a typical red wine. Nonetheless, this is not for wine drinkers who are looking for a deep taste. 
Food Pairings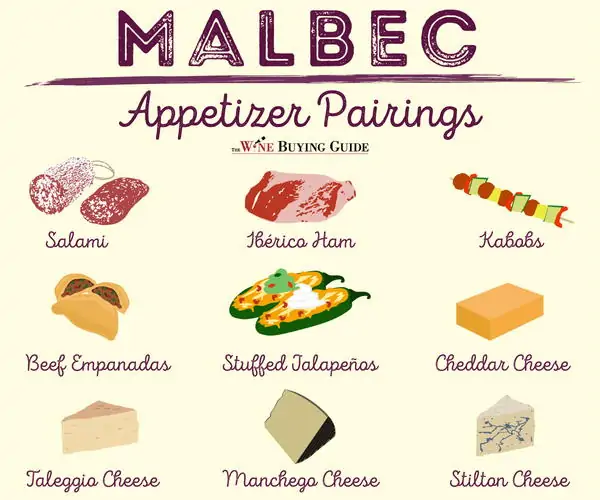 In many of the Trapiche Malbec reviews, this wine is often recommended to pair with lean red meats. Avoid fattier meats as the latter might end up overwhelming the flavor of the wine. Lean grilled beef, turkey, and ostrich are great choices. 
Trapiche Malbec also goes well with semi-hard cheese, such as Gruyere, Edam, and Gouda. 
Pasta is also a great accompaniment. 
---
Alternatives To Trapiche Malbec 
This Trapiche Malbec wine review will also give you a quick look at some of the alternatives that are worth considering: 
Realm Cellars - The Tempest Merlot 

If Trapiche Malbec is too tangy and fruity for you, then you might want to try The Tempest Merlot from Realm Cellars. This Bordeaux red blend from Napa Valley, California has some tasting notes of blackberry, black cherry, and blueberry. 
Printhie Mt. Canobolas Shiraz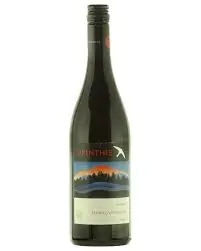 While a bit more expensive than Trapiche Malbec, this Shiraz is highly-recommended for those who prefer a smoky flavor. It has a more intense pepper-like finish compared to the subtleness of Trapiche Malbec. Nonetheless, the two wines are the same in the sense that they are both dry and have 13.5% alcohol. 
Pros
Affordable without sacrificing the overall quality 
A great choice for anyone new to wines 
No strong alcohol scent that can overpower taste and aroma 
Has a smooth finish because of having low tannins 
Cons 
Not for people who prefer a long finish 
The flavor lacks depth
Taste Test: White wine is a good alternative to dark wine if your taste buds prefer the former. Read our article about a particular white wine that might or might not be your first choice -- Beringer White Zinfandel Review.
---
Watch This!
---
Frequently Asked Questions 
What is the best way to serve Trapiche Malbec? 
The best way to serve Trapiche Malbec is straight out of the fridge. Do not consume it at room temperature. Putting it in the fridge for at least half an hour before drinking is already enough.
It will cool the wine down for a bit, allowing you to enjoy a fuller flavor. As for the glass, serve it in a wide-bowled glass to experience the intense aroma. Decanting is also recommended to unleash its complexity. 
Is Trapiche Malbec dry? 
Yes, Trapiche Malbec is a dry wine. This means that it has no residual sugar, which also lessens the sweetness. Even so, it has intense fruity notes that add to the complexity of its flavors. 
Is Trapiche Malbec sweet? 
Yes, Trapiche Malbec is sweet. The sweetness is not overpowering, just enough to excite the mouth, and will not linger for a long time. Plus, the sweetness is balanced by the tartness from the taste of fruits like ripe plums and cherries.  
---
Conclusion 
If you are new to the world of wines or looking for a drink with medium alcohol content, then check out Trapiche Malbec. It is a dry wine with minimal sweetness. Meanwhile, being low in tannins, you can expect a smooth finish. 
Is there anything else that you would like to add to this Trapiche Malbec wine review? Do not hesitate to leave a comment below.