Last Updated: October 12, 2022
Barolo wine is a classic from the Piedmont region in Italy that is often the subject of controversy. However, it never fails to be one of the best full-bodied red wines worldwide.
It's a potent wine rich in tannin and acidity, so many would resort to aging it first before drinking. But an excellent combination of food and wine is essential to enjoy this beverage fully.
Thus...
Please keep reading if you ever ponder about the best Barolo food pairing. Let's discover how flavors and aromas influence our food choices and find out what dishes are well-suited for Barolo wine.
The Best Barolo Food Pairing Recommendations
Wine drinkers know that Barolo is not the king of the wines for no reason. It is renowned for its solid tannins and deviating aromas of rose and tar. The first thing you must learn in food and wine pairing is to find the balance between a wine's taste and the ingredients in the dish.
Finding the right balance requires familiarity in identifying primary flavors, such as sweet, bitter, salty, acidic, etc. Once you learn how to taste and smell a Barolo wine, you may also experiment and devise your menus and recipes according to your preference.
You can enhance the art of drinking wine with a profound understanding of how flavors work, especially when pairing it with various meals.
Since the Nebbiolo grape is rich in tannin and acid, it contributes to the potency of a Barolo wine. It's good that such an Italian wine also contains high alcohol to balance the flavors. 
There are several primary flavors typical in Barolos; the red fruit flavor, dried fruit, spice, herb, and flowers. Red fruit is part of its primary flavors; smoke, leather, and tar are earthy notes comprising the secondary flavors. 
Aside from the red and black cherries, rose petals, and dark chocolate notes you can expect from this famous wine, Barolo also has oak flavors. The oak flavors include white truffles, leather, wild mushrooms, and coffee, typical notes in aged Barolo wines.
Given the number of dishes and wines available today, you can consider an extensive range of pairing options. For Barolo pairing you can try, check out the following:
1. Meat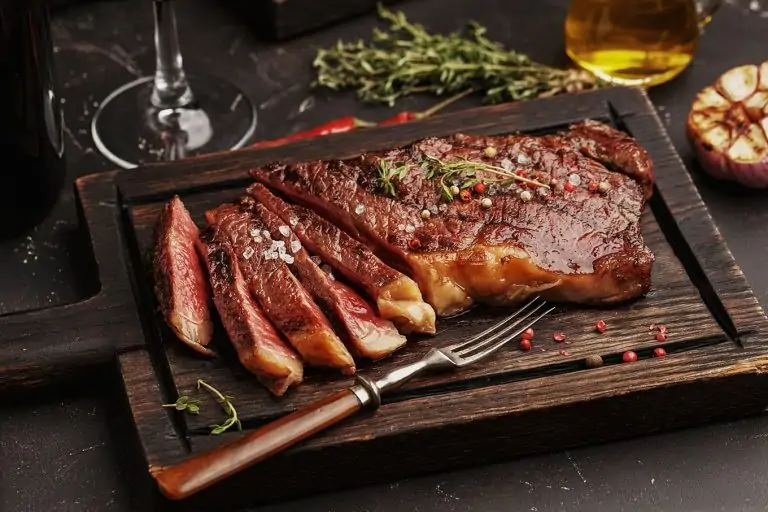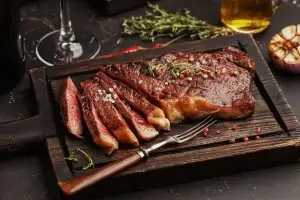 Food pairings with Barolo wines are not as challenging as with the other reds due to the broad range of options. The proper selection of dishes is a match made in heaven with such wine.
Typically, red meat is substantial enough to match the potency of a Barolo.
Once your taste buds are well-trained to understand the nuances of a Barolo, the pleasure of wine drinking can be very rewarding. Roast or stewed beef and braised meat such as wild boar, beef, or lamb are excellent food pairings for Barolo.
Wild Boar is lean meat and may lack the potency to subdue Barolo's tannic profile. However, you may still pair it with Barolo if you add extra fat as you cook wild boar with olive oil.
Due to its high acidity, young Nebbiolos pair well with fatty meats, as the tannins soften the flavors of meat dishes. Contrarily, the variety of flavors in mature, aged Barolo is richer and more complex, with notes of tar, licorice, cranberries, and rose.
Venison and beef ragù can be an ideal match for aged Barolos. Barolos tend to have softer tannins if you serve them with protein-rich, fatty foods, such as medium rare ribeye steak.
But generally, some of the other best food pairings with Barolo are grilled beef, beef filets in tomato sauce, beef roast, braised beef, and Carpaccio. Additionally, Osso Buco is a Lombard cuisine that tastes so well with this wine; it's veal shanks braised with vegetables.
Veal has ample fat content to complement Barolo's complexity. You can try several rich veal meals with Barolo; Italians are fond of doing that.
While it isn't always straightforward to match Barolo with raw dishes, raw beef is an exemption for the king of the wines, like in steak tartare. Vegetarian dishes are also worth considering when looking for meals to pair with this Italian favorite.
Not to mention lamb stew and pork chops also do well with this red wine. Even the sweet fatty meats of Coniglio Brasato al Barolo is a Piedmontese cuisine that complements a Barolo.
2. Pasta/Pizza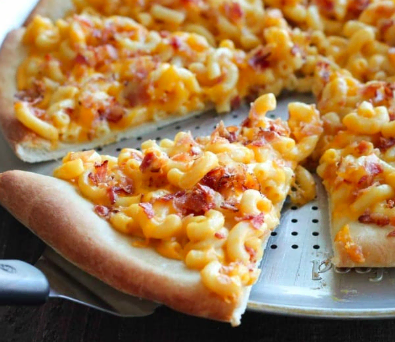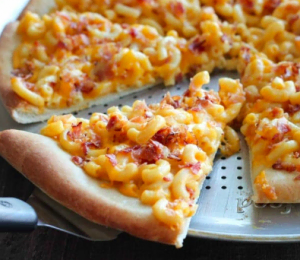 Like Brasato al Barolo, Tajarin is another Piedmontese cuisine specialty. It's a thin pasta typically served with butter and sage or white truffle sauce and as an accompaniment to beef ragù.
Such a dish makes an exceptional pair with Barolo or meals with aromatic truffles, like spaghetti with tagliatelle.
White truffle dishes paired with wines from Nebbiolo grapes yield earthy and intense flavors. Likewise, Barolo and a risotto dish are a great match. In the same way, such red wine is delectable when paired with pasta in tomato sauce; a poached egg on the top makes it ideal.
Aromas and flavors define white truffles and Barolo pairing than texture and taste. Even the smell of white truffles on steaming pasta while swirling a glass of Barolo can excite your sense of smell. It also satisfies your taste bud when you pair such dishes with a Barolo.
Tomatoes are savory, while cheese provides some body and creaminess. Barolo's high acidity balances the acidic content in tomato sauces. Pizza Capricciosa is rich with tasty meat ingredients, making it one of the best food pairings with Barolo.
Taste Test: Many find lasagna goes well with wine, too! Figure out if this is true or false by digesting our post and passing comments later on -- Wine With Lasagna.
3. Cheese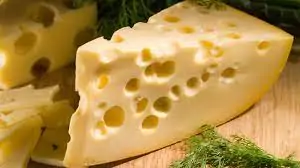 When drinking this intensely tannic wine, look for creamy, cheesy dishes containing high fats. Such dishes can neutralize the potent tannins of Barolo.
While some recommend less flavorful cheeses, parmesan and Gorgonzola with Barolo make a standout pair.
Barolo wine and vegetarian dishes like a fresh green salad with creamy goat cheese are an unbeatable combination. Even Montasio cheese has prominent acidity that pairs well with the intensity of a Barolo.
The pungent Taleggio from a raw or pasteurized cow's milk tastes great with a full-bodied red, such as Piedmont's Barolo wine. It was traditional for Italian families to return home after lunch for generous feasts consisting of pasta or risotto with meat and vegetables.
During such meals, cheese is sometimes an appetizer; otherwise, cheese can be part of the dessert courses. Some others that also pair well with such a tannic drink are strong cheeses, like Parmigiano Reggiano and old Cheddar.
Blue cheeses, such as Castelmagno and Danish blue, match well with such an intense wine.
4. Charcuterie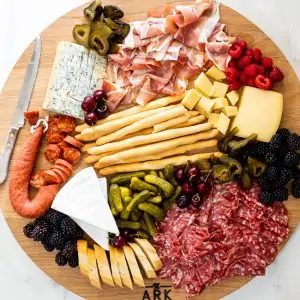 A charcuterie plate can have various flavors ranging from salami to prosciutto, Parmesan cheese, and fruity berries. Such a variety makes a good pair with a matured Barolo in all its tertiary flavors, including black fruits and dried rose petals.
For such reasons, many wine drinkers find charcuterie a long-standing rockstar at parties.
Contrary to the misconception of several individuals, charcuterie is not merely a cheese board. The combination of salty, fatty, sometimes spicy, and beautifully arranged cured meats make for an extraordinary dish that matches lusciously with a Barolo.
5. Asian Food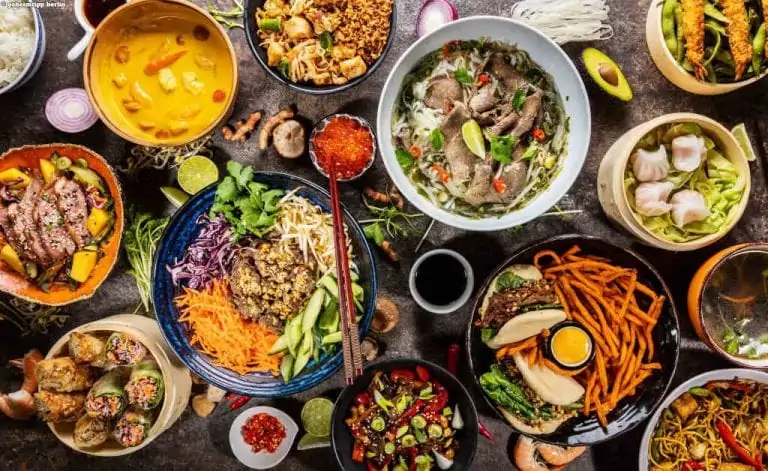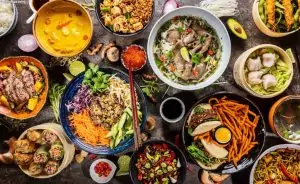 Immature Barolo pairs perfectly with moderately spiced Asian food. Typically, Asian cuisines are rich in tannins, suitably complementing Barolo's flavors.
When pairing with reds as potent as the Barolo, it's best to focus on choosing less acidic dishes.
But if you go for spicy meals, they shouldn't be too overwhelming -- mild spices will match beautifully with the wine's aromas. Gone are the days when most people believe that non-western meals only pair well with beer.
As Barolo contains high acid, the right amount of spice common in many Asian cuisines can be refreshing for your palate. However, not all Asian dishes make a suitable pair for the king, as it is still dependent on the meal's ingredients.
Taiwanese cuisine takes pride in their well-known street food, deep-fried pork intestines, as it makes a good match with the high tannins of Barolo.
Even Thailand's Koi Soi is worth considering. This hand-chopped raw beef salad is one of the best wine pairings with Piedmont's popular grape.
6. Game Meat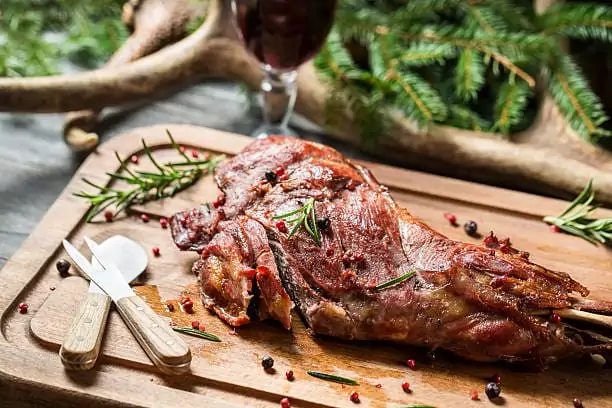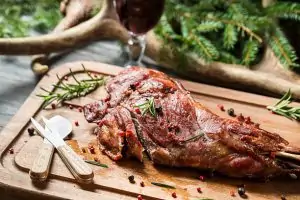 Pairing this highly-tannic wine with roasted duck is typical in Northern Italy. Barolo's high acidity pairs well with the rich, sumptuous flavor in game meats, like wild pigeon, pheasant, and guinea hen.
Nevertheless, the duck is always more accessible than the other game birds.
You can never go wrong when matching a well-aged Italian Barolo with venison in rich red wine sauce and roasted chestnuts. Moreover, wild poultry such as guineafowl, foie gras, and a roast goose make a good pair.
These dishes are top hits when matched with the king. The bitter tannic Barolo often dominates the flavor of most food. Game meats are rich in protein and can soften the bitter taste of a Barolo.
Taste Test: Game meat appears to rise as one popular food pairing with your best wines! We have another one for you (although this one is not a game). Read our article and let your palates do the commenting -- Best Wine With Alfredo.
---
Watch This!
---
Frequently Asked Questions
What pasta makes a good pair with Barolo?
You may pair Barolo with any pasta that has rich sauces. A young Barolo with high tannins, flavors of riper fruits, and high acid component do so well with meaty dishes like Tajarin in white truffle. Moreover, drinking Barolo with duck ragù and fresh gnocchi makes a perfect match.
Handmade pasta with ragu sauce comes with a rich flavor, well-suited for Barolo food pairings. If you have pasta with parmesan cheese, a Barolo wine can contrast the sharpness of parmesan, and it also goes well with meaty mushroom toppings.
Is it okay to pair Barolo with pizza?
Yes, most pizzas have meaty ingredients and, as such, are rich in various flavors. The taste of red cherry and spice in rich red Barolo brings out the savory elements of pizza. This Italian wine is already full of life, but it's best to serve Barolo slightly chilled when paired with pizza. 
It is especially true when you're drinking this powerful red wine, particularly a bottle-age Barolo, with Funghi pizza. Such a pizza is creamy and topped with tasty herbs. As this wine ages, its high acidity blends with comparable flavor characteristics in Funghi or mushroom pizzas.
Does Barolo taste good even with no food?
No. Since it's a full-bodied red wine that's highly tannic and acidic, it may not be the best idea to have it without food. Cabernet Sauvignon and Merlot are the easiest red wines to drink, even with no food accompaniment. 
However, many wine drinkers will not recommend having a highly acidic wine with no meal. Its mouth-dry after-feel will make you feel like you have puckery lips if you drink Barolo without a hearty dish.
---
Conclusion
Learning how ingredients influence the best food choices to match our wines allows us to enjoy it more. You don't have to become a wine expert to understand the fundamentals of food and wine pairing.
We know it's not easy, especially for new wine drinkers. But we can also try not to overcomplicate the basics of a well-suited food pairing for a Barolo. 
If you get more familiar with the characteristics of Nebbiolo grapes, you'll be more confident in food selection for an aged Barolo and the younger wines. Remember that the goal is to have Barolo complement the ingredients of your food and vice versa.