Last Updated: October 11, 2022
If you're anything like me, the warmer the weather gets, the more I crave delicious seafood that I can easily make at home. 
Here's my little secret:
One of my all-time favorite seafood dishes is shrimp scampi! The mix of shrimp and buttery garlic flavors is even more flavorful when paired with the perfect wine. 
You might be thinking, what wine goes with shrimp scampi? In this article, I'm going to be listing a few of the white wines I've tried that make the perfect shrimp scampi wine pairing. 
Wines To Perfectly Pair With Shrimp Scampi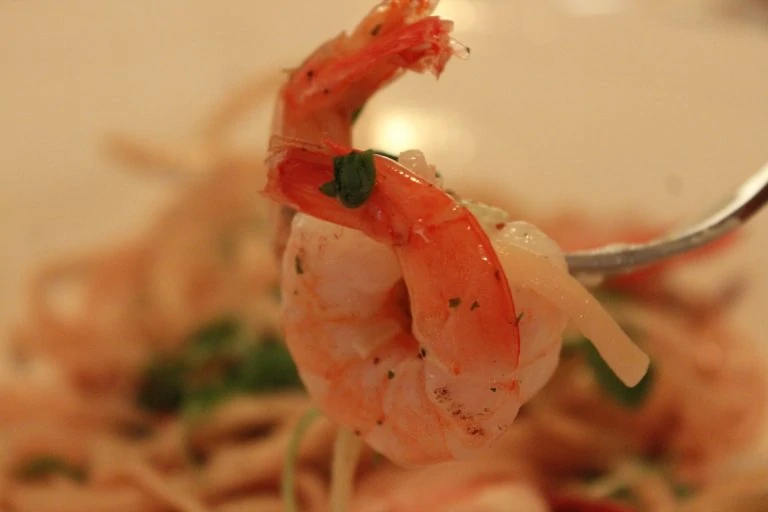 Pinot Grigio
In my experience, the best wine pairing with shrimp scampi is a Pinot Grigio. This type of white wine is light and crisp. 
With a more neutral aroma than most wines, Pinot Grigios keep the dish light and flavorful without being overpowering. This wine has citrus and floral flavors which mingle perfectly with the garlic, butter, and lemon tastes in the shrimp scampi dish. 
The citrus notes in the Pinot Grigios provide the acidity needed to balance the buttery flavor of the dish. You want to pair your shrimp scampi with a wine that will complement the dish, rather than overtake the flavors. 
I tend to stick to a neutral Pinot Grigio with a slight lemony and acidic finish to create the ideal pairing for my palate.
Sauvignon Blanc
Sauvignon Blanc is another light and crisp wine that can make a great shrimp scampi wine pairing. The citrusy tropical flavors and a hint of herbaceous notes provide acidity to the palate. 
These flavors in Sauvignon Blanc are ideal in balancing the heavy garlic presence in shrimp scampi. 
This wine is often drier than Pinot Grigio, making it a much more aromatic white wine that some may say is pungent. This wine often encompasses a grapefruit or tropical scent paired with a grassy aroma. 
While I enjoy pairing Sauvignon Blanc with this dish, if you have a sensitive nose you should stick to another type of wine for shrimp scampi.
Vermentino
Vermentino wines are often overlooked when discussing the best white wine for shrimp scampi. With floral and powerful citrus notes, Vermentino provides a pleasant aroma and couples well with a wide variety of seafood dishes.
The palate will get full flavors of fruit and lemon, giving a crisp and refreshing taste with every sip. Vermentino is dry and contains a distinct bitter finish that helps offset the buttery garlic flavors of shrimp scampi. 
The full flavors and bitter finish create a slightly heavier white wine than other types.
If you plan on serving your shrimp scampi with pasta, Vermentino is a flawless pairing.
Prosecco
If you prefer sparkling wine, Prosecco is a popular alternative to the white wines that are typically paired with shrimp scampi. 
Prosecco is a light-bodied and crisp wine that is highly aromatic. It has vibrant fruit and floral aromas that help counteract the garlic scent of the shrimp scampi. 
With a high amount of acidity and frothy bubbles, Prosecco is a refreshing wine that easily pairs with buttery dishes. The fruity flavors are just enough to give a fresh taste, rather than making the wine too sweet. 
I enjoy pairing Prosecco with shrimp scampi on hot summer days when I want a bubbly but dry beverage.
Rosé
The darkest wine that I would pair with shrimp scampi is Rosé, which is considered a light, easy to drink red wine. This type of wine has floral and fruit aromas with bright and crisp notes that create a drier taste than other red wines.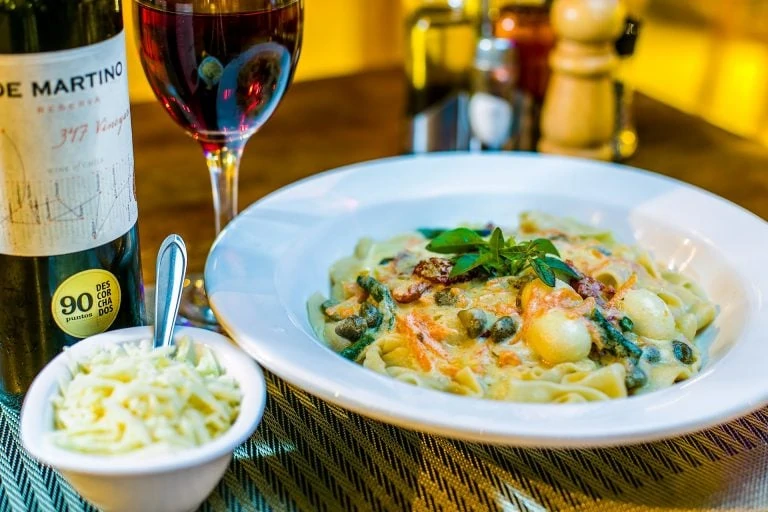 While some Rosés are on the sweeter side, you want to make sure you pair your shrimp scampi with a Rosé with notes of citrus and a lemony finish. This will help balance the flavors of the wine with the taste of the dish in a way that is not overpowering.
Taste Test
: Shrimps do pair well with wine! How about scallops? Do you even consider scallops a unique cuisine? Find out if your gastronomical interests likewise "swim" in this not so out-of-the-ordinary food pairing scheme --
The Best Scallops Wine Pairing
.
Frequently Asked Questions
What kind of wine goes with shrimp scampi?
The best wine for shrimp scampi is a zesty, crisp white wine. The garlic and shrimp flavors in the dish are best complemented by the lighter-bodied flavor of the types of wines mentioned above. Visit VinePair to learn more about the types of wines mentioned in this article and how to pair them with other dishes.
What drink goes with shrimp scampi?
If you're looking for an alcoholic beverage other than white wine, then gin cocktails are an alternative that includes zesty lemon flavoring which helps accentuate the flavors in the dish. If you're more of a beer drinker, then try a German wheat beer or weissbier. There are a lot of seafood dishes that can be paired with your favorite beer, as well.
Can you pair red wine with shrimp?
Yes. If you plan on cooking shrimp in a red sauce or with strong spices, then red wine like Pinot Noir is preferable due to its smooth and herbal flavors. Stay away from red wines with an oaky flavor, though. 
Most people have been under the impression that white wine is served with seafood while red wine is strictly a beverage best suited for dishes with red meat.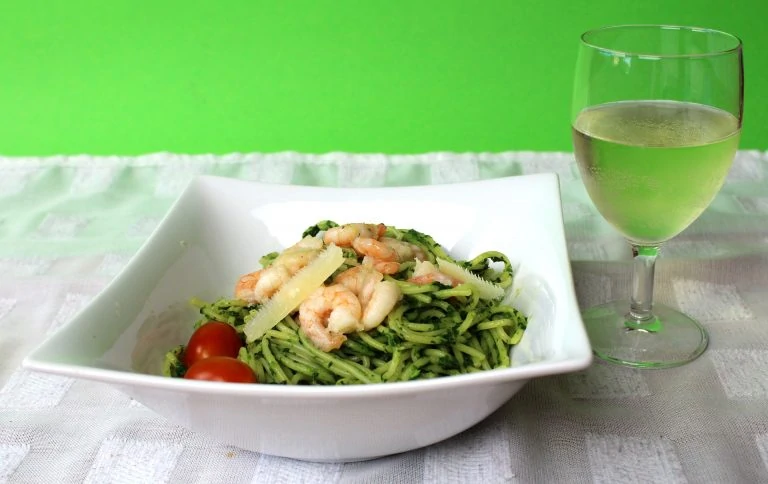 My Final Thoughts
The most important factor to consider when choosing the best white wine for shrimp scampi is to ensure it's a dry wine with an aroma and finish that you find enjoyable. 
You want to make sure the wine you choose is one that pleases the palate while complementing your delicious shrimp dish.
If you're still unsure about what wine to pick, you can always choose a reasonably priced bottle of each and make your own wine tasting to sample with your shrimp scampi dish. No matter which one you like the most, be sure to enjoy it!