Last Updated: October 12, 2022
There can be diverse schools of thought regarding wine and food pairings. There's the traditional sommelier's approach and the other one that says food pairing does not come with hard-and-fast rules.
Nevertheless...
Understanding both methods, in addition to learning from the experiences of others, is what makes more sense. But in your journey to discovering more about French wines, you might wonder what the best Chateauneuf Du Pape food pairing could be.
Many individuals like you would also love to know, so please keep reading as we find out how to maximize your dining experience.
The Finest Chateauneuf Du Pape Food Pairing
A wine's taste can be subjective, but the wine drinker's critique is not merely a matter of opinion. Châteauneuf Du Pape is anything but sleek;  it can be intense and intricate but pleasurable to drink. 
When considering the best food pairing for your Châteauneuf Du Pape wine, you must first pay attention to the wine's effects on your palate. The main objective of pairing your delicious wine with food is to highlight your drink's essential characteristics.
Wine makes an excellent food match, like side sauces, and it's undeniable that many foods are more enjoyable when you eat them with wine.
1. Beef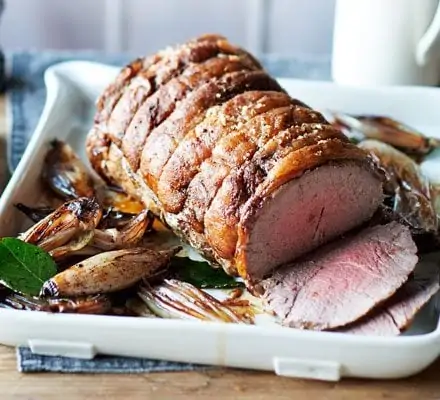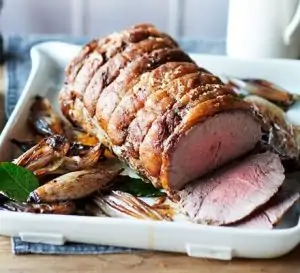 French full-bodied Châteauneuf du Pape red wines from the Rhône Valley are spicy, dense, earthy, and rich; hence, they pair well with meat. Since this wine region produces blended wines from different grapes, they effortlessly complement many dishes.
Simmering beef bourguignon too long can overwhelm a red Burgundy, but something with more body like Châteauneuf du Pape is more suitable.
Dishes such as beef cheeks with carrots, cheese, beef stew, and roast beef make excellent pairs with a full-bodied wine like Chateauneuf du Pape. The same goes for steaks, like steak au poivre, a famous dish in France, or pepper steak in English; it matches well with Chateauneuf.
If you're planning a meat-based menu for your next luncheon party, you might want to consider Domaine du Vieux télégraphe. It is a famous Châteauneuf du Pape wine that does wonders with meaty dishes.
Taste Test: Beef appears to be the number one choice to pair wines with. In this regard, could we whet your appetites further by inviting you to bite into our post dealing with one of the most popular beef dishes around the globe? Proceed here -- Beef Stroganoff Wine Pairing.
2. Duck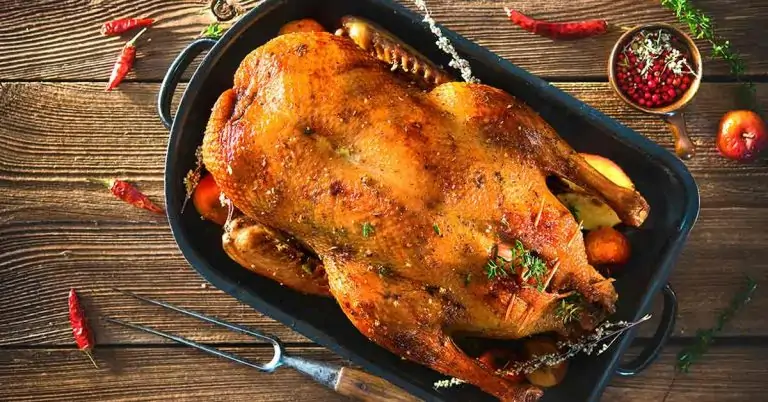 While Burgundy undoubtedly matches well with duck meals, Chateauneuf Du Pape is also a good pairing. Full-bodied red Châteauneuf and duck meals, such as duck with black pepper, roasted duck or as confit, and foie gras make a perfect combination.
Others prefer not to have their Châteauneuf wine with any poultry, such as chicken, since the suitable food pair must have an equally intense flavor.
However, the duck's firm texture and gamey flavor make it a savory ingredient that pairs well with wine as full-bodied as Chateauneuf. This poultry's meat is naturally fatty and rich in flavor, so choosing a robust wine will balance the taste.
Braised duck with pork sausages and beans has bold flavors to match any wine based on Grenache, like red Chateauneuf. Duck breast, duck risotto, and other duck recipes are excellent options, too.
Taste Test: We wrote an article dealing primarily with French cuisine with duck as its main ingredient and chose fine wines as its perfect table mate. Fill your appetites by going here -- Cassoulet Wine Pairing.
3. Lamb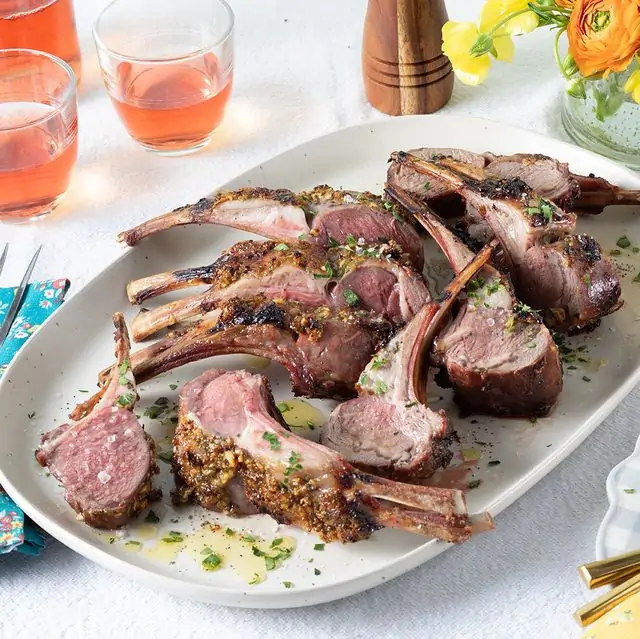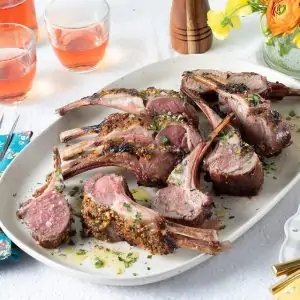 Stewed and roasted lamb, lamb curry, lamb kebabs, and lamb shoulder with thyme are irresistible matches for a vibrant Chateauneuf.
If fish recipes best complement a lighter wine, then Chateauneuf du Pape wine will not overwhelm lamb-based meals.
Aside from its diverse styles, such wine has a spicy, refreshing character that makes it perfect for such recipes. Generally, a red wine from France is an excellent match. 
The likes of Bordeaux, Chateauneuf du Pape red-blend, and other Rhône-style reds pair suitably with spice-rubbed lamb and the slow-roasted shoulder of an older lamb.
4. Cheese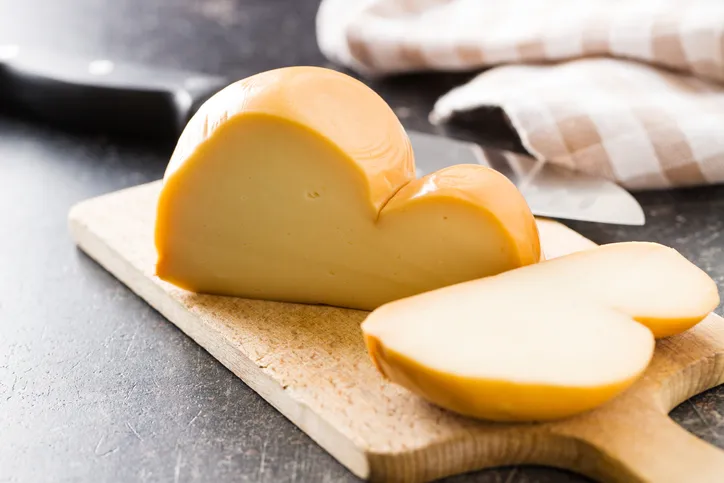 Châteauneuf du Pape and raw milk Epoisses are a great match, as well as pairing this vibrant wine with cheeses like Beaufort, Camembert, Maroilles, and Pont l'Eveque. Even pungent cheeses, such as Tete de Moine, a Swiss shaved cow's milk cheese, blend beautifully with Châteauneuf du Pape. 
Generally, there is no better way to appreciate wine and its geography than to pair it with local foods from the same region. Thus, most of these cheeses that pair well with Châteauneuf are from France.
5. Seafood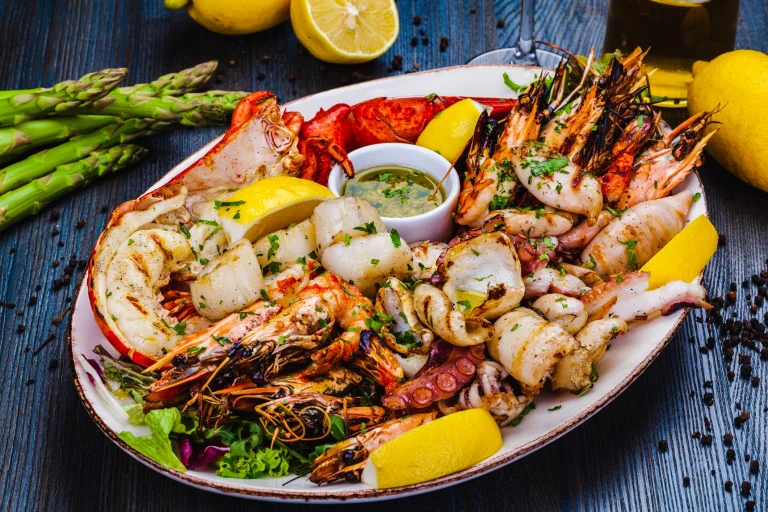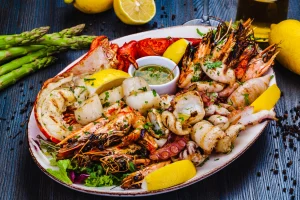 The earthy flavors of Chateauneuf du Pape red wine and a southern Rhône Grenache pair well with tuna. Monkfish, mushrooms and mushroom sauces, scallops, sea bass, and other mild fishes such as halibut, trout, etc., are great matches for Chateauneuf white wines.
Fish fillets with cream,  crayfish, and fish stew, especially with rich sauces, do well with a full-bodied wine such as the Châteauneuf du Pape. Châteauneuf du Pape is the best wine to pair seafood with texture and tender flesh, which means it has a more distinct flavor.
If you have delicate, lightly-flavored seafood on your menu, then serve it with a tasty sauce if you wish to pair it with such a wine.
Taste Test: Mussels also taste great with wines that compliment their saltiness. Proceed here to read about our post regarding this awesome food pairing -- Best Wine For Mussels.
6. Meals With Herbs And Spices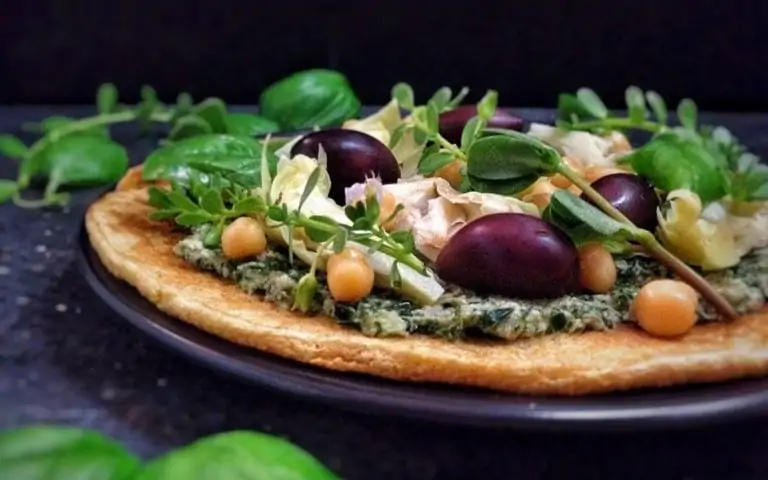 You will have no trouble pairing the earthy, spicy, and black cherry flavors of red Chateauneuf with a diverse range of herbs, spices, sauces, and dressings.
Châteauneuf du Pape white wines match menus with pesto and basil and Mediterranean cuisine, especially those with anchovies, olives, and black peppers.
The right choice of seasonings can make or break your overall dining experience, especially when paired with wine.
Wines from the Rhône Valley, France, like Chateauneuf du Pape are often savory, herbal, and floral; hence, it's best to match them with a similar flavor profile.
Any dish with rosemary, thyme, and pepper blends well with the flavors of Chateauneuf. Even mushroom sauce, French onion soup, vegetable-based dishes, and pasta in tomato sauce make a great pair.
---
A Closer Look At Chateauneuf Du Pape Wine
In the 12th and 13th centuries, Rhône monasteries grew vines and made wine, but none gained the fame and success of their counterparts in Burgundy. In 1305, Pope Clement V temporarily moved from Rome to Avignon, paving the way for recognizing the region's potential.
Pope John XXII planted the vineyards, producing one of the most famous wines of the Rhône in the 14th century. After the worldwide phylloxera epidemic hit these vineyards, replanting them happened at the beginning of the 20th century.
Recovering from the devastation caused by the phylloxera epidemic, Château Rayas introduced its first wine in the 1920s.
Chateauneuf du Pape features a Mediterranean climate that allows various grapes to thrive well. In regions such as Chateauneuf du Pape and Chianti, you will experience moderate winters and dry, humid summers.
France has different wine regions. It surprises many how the vineyards in Chateauneuf Du Pape grow in pebbles with no sight of dirt. Château Rayas, one of the finest estates in Chateauneuf du Pape appellation, produces wines using a single grape variety, Grenache.
Rayas represents greatness in the appellation better than the other wines -- you can compare it to the first yield of Bordeaux in the southern Rhône. This region proves to be more successful than the wine production in the northern Rhône.
If you're training your palates to become more familiar with Chateauneuf du Pape, here are some crucial things you must know:
Red Chateauneuf du Pape is typically a Grenache blend that includes other grapes like Syrah, Mourvèdre, and Cinsault.
It is ruby-colored and heavily textured, with red and black fruits, game, tar, leather, and garrigue-tasting notes.
Rich and spicy, it has fine tannins and higher alcohol content than Bordeaux or Hermitage.
In the case of Châteauneuf du Pape, food pairings with older wines aged in oak barrels are more of an exception than a rule.
The wines are rather tight when young, becoming subtle and improving after several years or even decades.
There are remarkable Chateauneuf white wines, although they're not as common as red wines.
---
Watch This!
---
Frequently Asked Questions
What cheese makes a good match for Châteauneuf Du Pape?
Chateauneuf du Pape pairs perfectly even with pungent cheeses. Deciding on well-suited food pairs will be a matter of personal preference. If you want a tip on what Chateauneuf du Pape pairs with, then wine and cheese from the same region generally go well together.
It's not surprising that many individuals savor cheese and wine together in climates nurturing abundant vineyards and dairy animals. Sweet white Chateauneuf du pape wines make an excellent match for goat and sheep cheeses.
Can you pair turkey with Châteauneuf Du Pape?
Yes. Despite food and wine pairings being about personal preferences, some pairings bring out the best in food and wine. Some individuals prefer not to match Chateauneuf du Pape with chicken and turkey, but others find them a delectable pair.
The smoky and fruit-forward character of Chateauneuf du pape wines tastes so good when you pair it with a roasted turkey. Such a full-bodied wine is one of your best options to serve, especially for overcooked or leftover turkey dishes.
Châteauneuf Du Pape is from what grape?
The Châteauneuf Du Pape appellation hails from southern Rhône Valley. Several grape varieties in Châteauneuf Du Pape red wines include Grenache, Mourvèdre, Syrah, Terret Noir, Picpoul, Counoise, Terret Noir, Cinsault, Vaccarèse, and Muscardin. 
Grenache Blanc, Picardan, Roussanne, Clairette, and Bourboulenc comprises the white wine blend. Some winemakers use all these varieties, like in Château de Beaucastel. Many producers nowadays only use Grenache, Syrah, Mourvèdre, and Cinsault in a red wine blend.
---
Conclusion
The wine offers a fascinating range of flavors, and many people, even amateur wine drinkers, enjoy it. But to better enhance your wine-drinking experience, you must know that despite the countless research about the subject, you'll never know it all.
Creative experimentation and thoughtful methods are keys to pairing food and wine successfully. Nevertheless, remember to have fun still as you carefully plan what food to pair your wine with, especially a famous, luxurious one like Chateauneuf Du Pape.
Take it easy, and don't obsess over finding the perfect food pairings. Be creative in finding ways for the meal and wine to act like peers. Embrace personal taste, keep an open mind, and don't be afraid to bend the rules when trying out new strategies.